Research article

Open Access
An extremely rich repertoire of bursting patterns during the development of cortical cultures
Received: 01 September 2005
Accepted: 07 February 2006
Published: 07 February 2006
Abstract
Background
We have collected a comprehensive set of multi-unit data on dissociated cortical cultures. Previous studies of the development of the electrical activity of dissociated cultures of cortical neurons each focused on limited aspects of its dynamics, and were often based on small numbers of observed cultures. We followed 58 cultures of different densities – 3000 to 50,000 neurons on areas of 30 to 75 mm2 – growing on multi-electrode arrays (MEAs) during the first five weeks of their development.
Results
Plating density had a profound effect on development. While the aggregate spike detection rate scaled linearly with density, as expected from the number of cells in proximity to electrodes, dense cultures started to exhibit bursting behavior earlier in development than sparser cultures. Analysis of responses to electrical stimulation suggests that axonal outgrowth likewise occurred faster in dense cultures. After two weeks, the network activity was dominated by population bursts in most cultures. In contrast to previous reports, development continued with changing burst patterns throughout the observation period. Burst patterns were extremely varied, with inter-burst intervals between 1 and 300 s, different amounts of temporal clustering of bursts, and different firing rate profiles during bursts. During certain stages of development bursts were organized into tight clusters with highly conserved internal structure.
Conclusion
Dissociated cultures of cortical cells exhibited a much richer repertoire of activity patterns than previously reported. Except for the very sparsest cultures, all cultures exhibited globally synchronized bursts, but bursting patterns changed over the course of development, and varied considerably between preparations. This emphasizes the importance of using multiple preparations – not just multiple cultures from one preparation – in any study involving neuronal cultures.
These results are based on 963 half-hour-long recordings. To encourage further investigation of the rich range of behaviors exhibited by cortical cells in vitro, we are making the data available to other researchers, together with Matlab code to facilitate access.
Keywords
Firing Rate
Dense Culture
Burst Size
Spike Count
Cortical Culture
Background
Dissociated cultures of cortical cells grown on multi-electrode arrays (MEAs) have been used in many studies of network physiology because of their superior accessibility compared to in vivo models, in terms of electrical recording and stimulation, pharmacological manipulation and imaging. These studies described fundamental properties of network activity patterns [1–5], plasticity [6, 7], learning in vitro [8–12], applications of cell cultures in pharmacological testing [13], and models of epilepsy [14].
Cortical cells in culture retain many of the properties found in their in vivo context, but important differences assuredly exist [3, 8]. Therefore, the development of neuronal cultures in vitro deserves to be documented, as a baseline against which the results of experimental manipulations can be compared. This baseline could also be used in a future comparison with in vivo activity patterns. Previous investigations of development in vitro all agreed that population bursts are a major component of cultures' activity patterns, and have each focused on different aspects of the activity patterns exhibited by such cultures. While single-cell bursts commonly occur in dissociated cultures, the MEA literature does not focus on them, since intracellular recording techniques would be more suitable. Segev et al. [3, 15] found that the statistical properties of the distribution of inter-burst intervals (IBIs) and burst sizes resembled those of avalanches. Opitz et al. [16] found that spike bursts are associated with a synchronous increase in [Ca2+]i throughout the neuronal population. Mukai et al. [17] focused on development changes in IBI values and spatial extent of bursts, and found that the complexity of burst patterns increased after about two weeks in vitro. Van Pelt et al. [5, 18] focused on the temporal structure of the firing-rate envelope of bursts during development, finding that bursts gradually grew longer during the first weeks in vitro, but suddenly became very short and sharply defined after about a month. It is worth noting that population bursts have also been observed in cultures from many neural tissues, including spinal cord [19], and retina [20], as well as during mammalian development in vivo, in cortex [21], hippocampus [22], and thalamus [23], but here we will focus on cortical cultures.
Each of the previous papers uses different terminology to describe bursts and burst patterns, resulting in a patchwork of descriptions that is difficult to integrate. This situation is exacerbated by the wide variety of neuronal activity that neuroscientists call 'bursts'. MEA electrophysiologists mostly discuss population bursts, i.e., brief periods during which the spike rate of many cells or electrodes exceeds the baseline rate severalfold. Moreover, most of the previous studies were based on observations of small numbers of cultures from unspecified numbers of plating batches. Therefore they may have underestimated the variety of activity patterns that different cultures can exhibit. Here, we present an in-depth study of the development of burst patterns in cortical cultures over the course of the first five weeks in vitro, based on a dataset encompassing a total of 963 half-hour-long recordings and 36 overnight recordings from 58 cultures of five different sizes and densities. The cultures exhibited a surprisingly wide spectrum of spontaneous activity patterns, characterized by population bursts of qualitatively different shapes, sizes and interval distributions.
Results
Dissociated neurons in culture began growing new neurites immediately after plating, and soon formed densely interconnected circuits. Starting from 3–4 days
in vitro
(div), we recorded half an hour of spontaneous activity on most days. In dense cultures (see Table
1
), cells typically began firing action potentials around 4–5 div. Tonic firing persisted for the lifetime of the culture, but on top of that population bursts emerged after 4–6 div, which dominated the activity throughout the rest of development. During bursts, up to a hundredfold increase over baseline could be observed in the array-wide spike detection rate (ASDR), defined as the number of spikes detected per unit time, summed over all electrodes in the array. Increased activity during bursts was seen on all electrodes that recorded any activity at all. Moreover, direct inspection of recorded voltage traces revealed a greater variety of spike waveforms during bursts, including many apparently resulting from several partially overlapping single-unit spikes, suggesting that many more cells are active during bursts than are tonically active. Thus, it appears likely that most or all active neurons participated in bursting.
Table 1
Plating parameters.
| | 'Dense' | 'Small' | 'Sparse' | 'Small & sparse' | 'Ultra sparse' |
| --- | --- | --- | --- | --- | --- |
| Plating volume (μL) | 20 | 5 | 20 | 5 | 20 |
| Density of suspension (cells/μL) | 2500 | 2500 | 625 | 625 | 156 |
| Number of cells plated (nominal) | 50,000 | 12,500 | 12,500 | 3,125 | 3,125 |
| Culture diameter (mm) a | 4.9 ± 0.4 | 3.1 ± 0.3 | 4.9 ± 0.4 | 3.1 ± 0.3 | 4.9 ± 0.4 |
| Drop thickness (mm)a,b | 1.69 ± 0.24 | 1.06 ± 0.23 | 1.69 ± 0.24 | 1.06 ± 0.23 | 1.69 ± 0.24 |
| Density at 1 div (×103 cells/mm2) c | 2.5 ± 1.5 | 1.6 ± 0.6 | 0.60 ± 0.24 | 0.30 ± 0.16 | 0.11 ± 0.06 |
| Number of cultures followed | 30 | 12 | 10 | 3 | 3 |
| Number of batches | 8 | 3 | 3 | 1 | 1 |
The development of the activity of a typical dense culture is shown in Figure
1
. It passed through various stages, characterized by different degrees of burstiness, different degrees of temporal clustering of bursts, different burst shapes, and different distributions of burst sizes. A particularly striking phenomenon was observed, in this case, at 7–11 div: culture-wide bursts occurred in short, sharply defined trains – or 'superbursts' – with several burst-free minutes between superbursts (DAW, Z. Nadasdy, and SMP,
in preparation
). Similar clustering was again seen at 34 div, although the internal structure of these later superbursts was different: in early superbursts, successive bursts contained fewer and fewer spikes, while in older cultures, spike counts in successive bursts within a superburst often increased (compare panels B6 and B7 in Figure
3
). Note that superbursts in older cultures were a relatively rare phenomenon. Most cultures at this age exhibited more regular burst patterns; see Figure
3A
.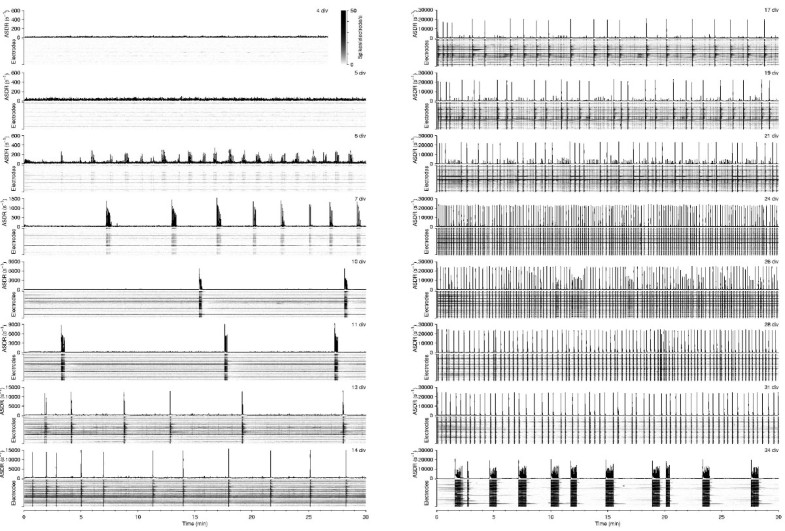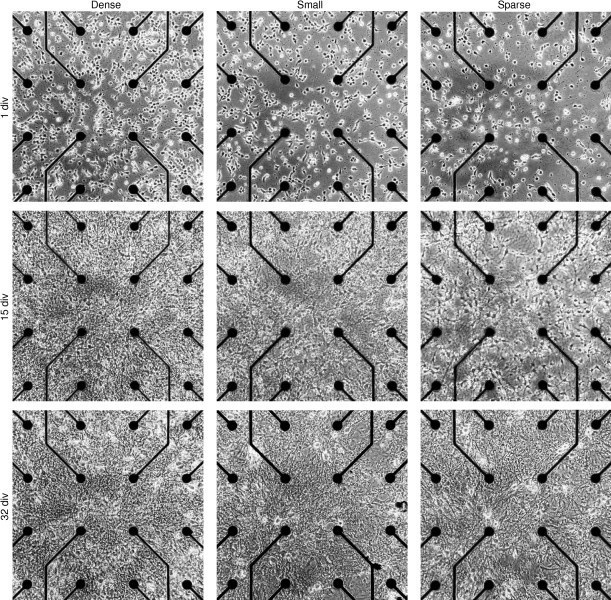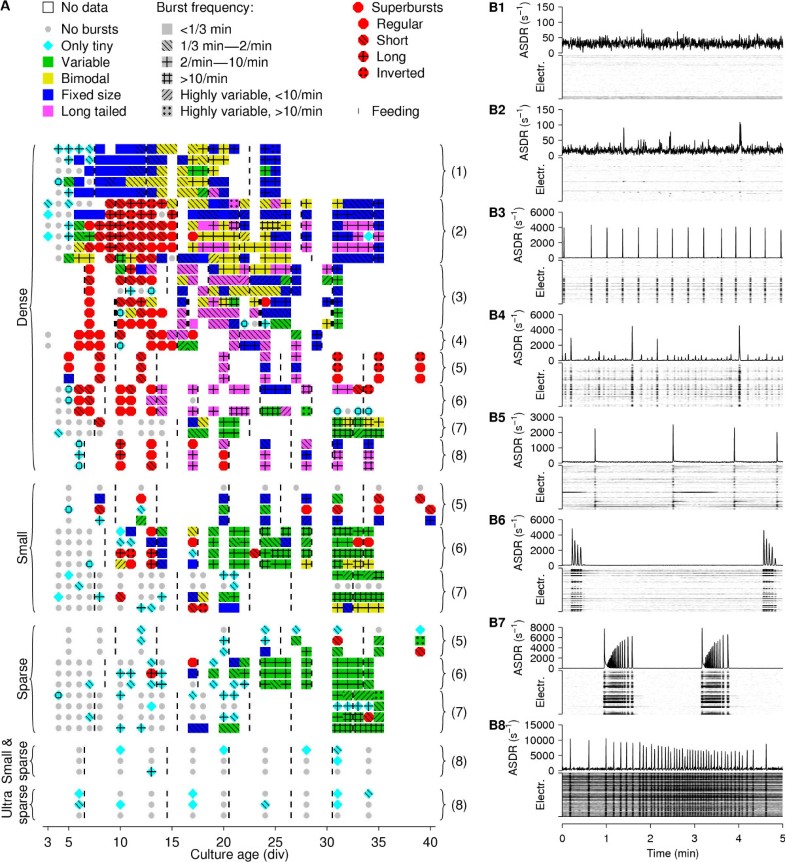 We followed cultures of five different densities (Table 1). Typical cultures of various densities are shown at 1, 15, and 32 div in the phase contrast photographs in Figure 2.
Discussion
The nature of bursts in culture
It appears that the bursts we observed depend on the existence of long-range connections in the culture, because the age at which such connections first appeared in dense cultures (5–10 div, see Figure
9
) corresponded closely to the age culture-spanning bursts first appeared (see Figures
3A
and
7
). It has previously been reported that cortical networks in long-term slice cultures exhibit burst patterns with sizes (number of constituent spikes) governed by a Lévy distribution [
4
]. The dissociated cultures we followed showed very different burst patterns: in a given recording, there would be a clear distinction between tiny bursts and global bursts, the latter often having a relatively constant size (Figure
3B3
and Figure
13A–B
). Furthermore, IBIs were quite narrowly distributed in most recordings (Figure
13C–D
), in contrast to previous reports that they follow a scale-free distribution [
15
]. Moreover, burst patterns often had rich temporal structure. Examples include superbursts as well as dramatic minute-scale changes in burst rate (Figure
3B6–8
). The richness of the structure of burst patterns suggests that bursts may play a role in the information processing required for development. Indeed, a prolonged suppression of bursting using tetrodotoxin (TTX) is known to perturb network formation [
27
].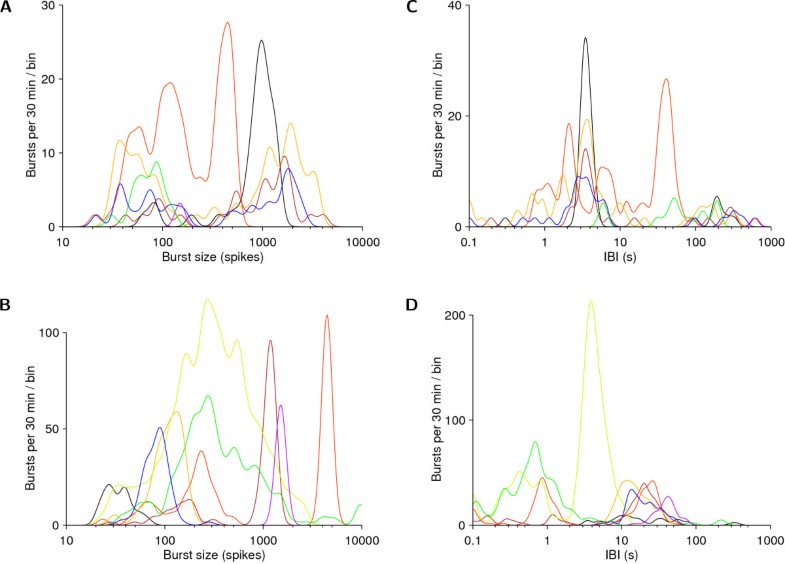 Importance of sampling from multiple platings
Despite our best efforts to keep conditions stable, we found substantial differences between the development of cultures from different platings. These differences may have been due to characteristics preserved from the animals from which the cultures derived, or they may have originated later during development. The fact that cross-plating variability increased with age in vitro (Figure 12) supports the second possibility. Whatever the root cause, the observation that cross-plating variability was larger than variability between sister cultures implies that it is crucial to use cultures from several different platings to obtain unbiased results. Therefore it is critical to report not only the number of cultures used, but also the number of platings from which these cultures stem, whenever dissociated cultures are used in network physiology experiments.
Importance of ensuring a stable recording environment
Even though all our recordings took place inside the incubator in which the cultures were maintained, the physical act of connecting an MEA to the recording device had a substantial synchronizing effect on cultures' activity patterns (see Figure 10 and Figure 11). These effects were generally short-lived (lasting only a few minutes), but for experiments where the effect of a manipulation is compared to baseline conditions, such non-stationarity can pose serious problems. Therefore, it is important to connect MEAs to the recording device well ahead of starting experiments. Great care must be taken that the effect of pharmacological manipulations is not confounded by the effect of physical perturbations.
Future directions
The present results generate a variety of new questions. For instance: Why does stimulation of older cultures yield fewer bursts than in younger cultures? Why does the number of spikes in a burst scale exponentially with the number of participating electrodes, rather than linearly, which one would naïvely expect? Why do sister cultures develop along more similar lines than non-sisters? Is this due to preservation of properties from the tissue from which they were obtained, or due to the inevitable slight inter-batch differences in culture maintenance? Why does mechanical perturbation transiently increase synchronization? And why does that only happen at a certain developmental stage? We have only begun to investigate these questions.
Conclusion
By following the development of a larger number of cultures than any previous report based on MEA recordings, we have found that the range of spiking dynamics exhibited by networks of cortical cells in vitro is much more complex than previous publications suggest. While the activity of all dense cultures became dominated by array-wide bursts as the cultures matured, the sizes, shapes, and temporal patterns of these bursts varied widely. Indeed, the range of behaviors of these cultures is so rich that this paper can only begin to describe the diverse activity patterns present in these recordings. Therefore, we invite others to join us in the study of activity patterns of networks of cortical cells in vitro. To this end, we have made the entire dataset used for this paper available on the web (see Additional files, below). (Send access requests to: Steve Potter steve.potter@bme.gatech.edu.) Researchers may download our recordings of spike waveforms (a total of 45 GB, compressed), or reduced files containing only time stamps and electrode IDs (a total of 4 GB). Example Matlab code to efficiently access the files, and documentation are available as well.
By allowing comparison with activity patterns occurring during healthy development and disease in vivo, an understanding of the development of complex dynamics in the firing behavior of cortical networks in vitro will increase the relevance of culture models to in vivo neuroscience.
Declarations
Acknowledgements
We thank our lab technician, Sheri McKinney. This work was partially supported by NINDS grants NS38628 (to SMP) and NS44134 (to JP), by NIBIB grant EB00786 (to SMP), by the NSF Center for Behavioral Neuroscience, and by the Whitaker Foundation.
Authors' Affiliations
(1)
Department of Physics, California Institute of Technology, Pasadena, USA
(2)
Department of Physics, California Institute of Technology, Pasadena, USA
(3)
Coulter Department of Biomedical Engineering, Georgia Institute of Technology and Emory University, Atlanta, USA
(4)
Division of Biological Sciences, University of California at San Diego, La Jolla, USA
Copyright
© Wagenaar et al; licensee BioMed Central Ltd. 2006
This article is published under license to BioMed Central Ltd. This is an Open Access article distributed under the terms of the Creative Commons Attribution License (http://creativecommons.org/licenses/by/2.0), which permits unrestricted use, distribution, and reproduction in any medium, provided the original work is properly cited.