PeakCaller: an automated graphical interface for the quantification of intracellular calcium obtained by high-content screening
BMC Neuroscience
BMC series – open, inclusive and trusted
2017
18:72
Received: 19 October 2016
Accepted: 10 October 2017
Published: 16 October 2017
Abstract
Background
Intracellular calcium is an important ion involved in the regulation and modulation of many neuronal functions. From regulating cell cycle and proliferation to initiating signaling cascades and regulating presynaptic neurotransmitter release, the concentration and timing of calcium activity governs the function and fate of neurons. Changes in calcium transients can be used in high-throughput screening applications as a basic measure of neuronal maturity, especially in developing or immature neuronal cultures derived from stem cells.
Results
Using human induced pluripotent stem cell derived neurons and dissociated mouse cortical neurons combined with the calcium indicator Fluo-4, we demonstrate that PeakCaller reduces type I and type II error in automated peak calling when compared to the oft-used PeakFinder algorithm under both basal and pharmacologically induced conditions.
Conclusion
Here we describe PeakCaller, a novel MATLAB script and graphical user interface for the quantification of intracellular calcium transients in neuronal cultures. PeakCaller allows the user to set peak parameters and smoothing algorithms to best fit their data set. This new analysis script will allow for automation of calcium measurements and is a powerful software tool for researchers interested in high-throughput measurements of intracellular calcium.
Keywords
Calcium imaging software
High-content screening
Human stem cells
Calcium imaging
Background
Intracellular calcium ([Ca2+]) regulates key neuronal cell cycle and signaling pathways, including development and proliferation, axon guidance, presynaptic neurotransmitter release, and postsynaptic activity-dependent synaptic plasticity [1–4]. Dysregulation of [Ca2+] concentration has been associated with multiple neurodevelopmental, neuropsychiatric, and neurodegenerative diseases, including Alzheimer disease, autism spectrum disorder, and schizophrenia [5–9]. For extensive reviews of the function of Ca2+ in neuronal cells please see [10, 11]. The combination of Ca2+ imaging with the use of human induced pluripotent stem cells (hiPSCs) provides a very powerful toolset for interrogating the role of subsets of neurons and neural circuits in patient-specific disease models. Besides describing the basal function of hiPSC-derived neurons, Ca2+-based imaging can test the hypothesis that hiPSC-based models accurately recapitulate the genetic background and early developmental physiology of the individuals from whom they are harvested [8, 12–14].
The advent of high-throughput imaging technology, such as ThermoFisher's Array Scan platform (ThermoFisher Scientific Waltham, MA, USA), combined with the use of hiPSC-based methods can generate large amounts of raw Ca
2+
imaging data. Critical to accurate measurements of cellular Ca
2+
is the analytics platform through which the raw data is processed. There are currently a number of high-powered Ca
2+
analysis programs that have a wide breadth of functionality addressing this problem (Table
1
). For example, FluroSNNAP is a program that allows for semi-automated analysis of Ca
2+
transient event detection [
15
]. FluroSNNAP also has the ability to use local and global synchronization analysis to identify related neurons in a network and graph functional connectivity. In order to assure unbiased analysis of cellular Ca
2+
spikes, [
16
] developed a MATLAB based program that focuses on single and multiple transient responses by giving quantifiable parameters for time of onset after stimulus application, amplitude of response, response duration, area under the curve, and decay time constant among other measurements. For looking at large number of cells, NeuroCa is able to process ~ 1000 Ca
2+
spikes from a given recording field. This software can allow for the mapping of functional connectivity of large networks of cells by mapping the spatiotemporal Ca
2+
spike patterns amongst the network [
17
]. Another MATLAB-based program developed by [
18
] is designed to distinguish individual cells in densely populated cultures and measure their Ca
2+
activity. The program does this using a segmentation algorithm combined with time-series analysis to measure Ca
2+
transients. Finally, SIMA is a Python-based open source software package designed for 2-photon Ca
2+
imaging experiments. SIMA is able to efficiently correct for motion artifacts as well as background noise while applying segmentation and extraction of Ca
2+
transients from in vitro and in vivo tissue [
19
,
20
].
Table 1
Comparison of software packages that measure intracellular calcium activity
Software package

Major features of calcium dynamics

References

SIMA

Amplitude

Time of onset

Area under the curve

Frequency

Activation and decay time

FluoroSNNAP

Amplitude

Functional connectivity

Synchronization analysis

Correlation coefficient

Frequency

Activation and decay time

Wavelet-based detection

[15]

NeuroCa

Amplitude

Frequency

Background correction

Analysis of ~ 1000 cells

Network dynamics

[17]

PeakCaller

Frequency

Synchronization index

Correlation coefficient

Event rise and fall time

MATLAB dynamics

Amplitude

Frequency

Time of onset after stimulus

Area under the curve

Response duration

Full width half max

Decay time constant

[16]

MATLAB script

Amplitude

Frequency

Automated detection of single cells in dense cultures

Background correction

[18]
There are a number of software packages designed to measure Ca2+ transients in cells, and each program has strengths and weaknesses. Nonetheless, many research labs still use the PeakFinder MATLAB script to do simple peak detection of fluorescent signals from cell populations. In light of having many options for the researcher to choose from when analyzing Ca2+ activity in neurons, we have developed PeakCaller-an enhanced version of PeakFinder.
PeakFinder is a MATLAB script which automates the identification of "peaks" of independent variables over time, and is commonly used in the quantification of Ca2+ signaling. However, PeakFinder has several limitations that can result in an increase in type I and type II errors. To address these limitations, our group has developed PeakCaller, a MATLAB GUI interface and algorithm. In the following manuscript, we present empirical evidence of the efficiency of PeakCaller by demonstrating how the use of PeakCaller reduces the occurrence of type I and type II errors. We test this hypothesis across multiple Ca2+ indicators and analysis platforms. Finally, we provide a step-by-step guide to using PeakCaller, and a detailed justification of the algorithms used in PeakCaller.
Results
In this study we use Fluo-4, a [Ca
2+
] indicator, and analyze Ca
2+
signaling in commercially available hiPSC-derived cortical neurons and dissociated mouse cortical neuron cultures. Raw output files from the Zeiss Spinning Disk and ThermoFisher ArrayScan platforms were analyzed using
PeakCaller
.
PeakCaller
efficiently and accurately imported both data files and calculated the number of peaks per ROI (cell body) and peak intervals as shown in Fig.
8
. Specific parameters were chosen for each file and analyzed accordingly.
PeakCaller
reduced the incidence of type I errors in day 30 cultured iPSC derived cortical neurons (
p
< 0.05) (Fig.
9
) in three separate recordings. The incidence of type II errors was unaffected by the use of the
PeakCaller
script. The representative trace provided in Fig.
9
demonstrates how
PeakFinder
overestimates the number of peaks when presented with a signal that represents a high fluctuation in the background fluorescence. The
PeakFinder
algorithm uses an a priori approach that assumes that a peak is present, as it denotes a peak based on the highest point within a set window, and thus will always produce false positives in an instance where there is a background of fluorescence.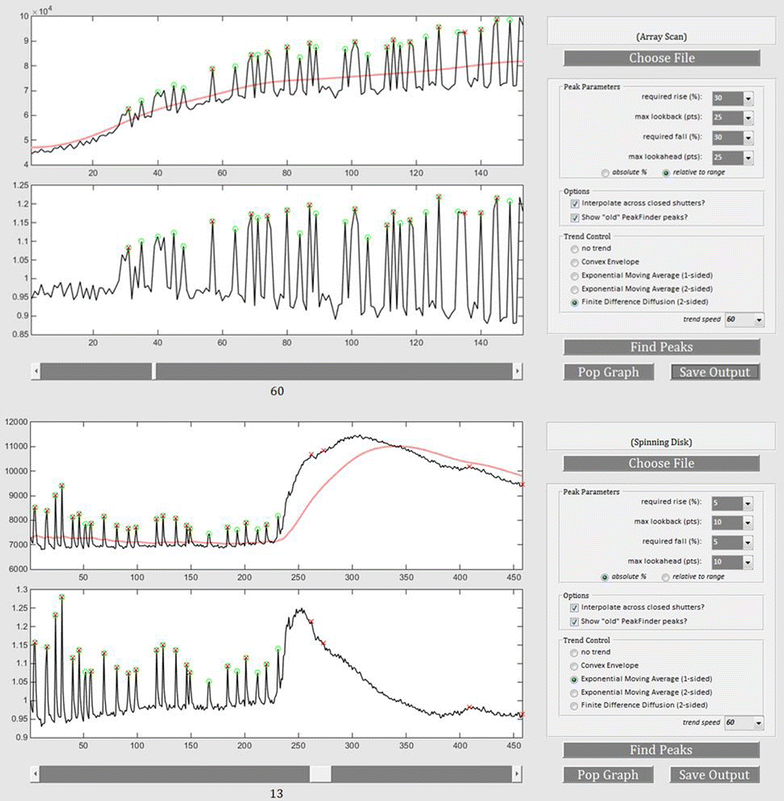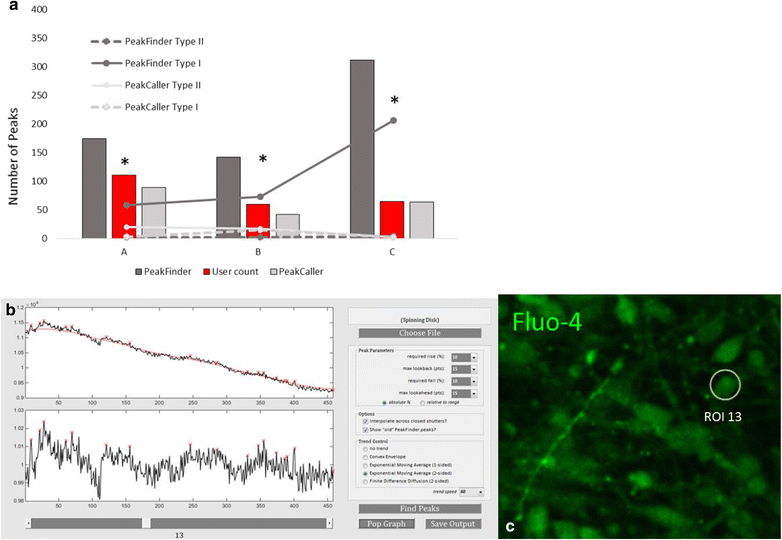 PeakCaller has several advantages over PeakFinder in these instances because the user can set a minimum rise and fall within a window (needed to denote a "peak"), as well as the width of the window to accurately represent the fluctuation of the data. The ability to accurately represent the frequency of Ca2+ signaling in developing neurons by reducing the instance of type I and type II errors is crucial to the identification of cellular phenotypes associated with neurological conditions and experimental manipulation. Once phenotypes associated with aberrant Ca2+ signaling have been identified, the program can be used to accurately measure the efficacy of pharmacological interventions. In Fig. 9, PeakCaller accurately identified 0 peaks in the ROI, while PeakFinder identified 17 false positive peaks.
Pharmacological manipulation is an important tool used to interrogate neuronal function. Picrotoxin (PTX) is a gamma-aminobutyric acid-alpha (GABAA) receptor antagonist that can induce rapid firing of action potentials and potentially glutamatergic excitotoxicity by significantly decreasing the activity of inhibition in neuronal circuits [26, 27]. After the application of PTX to cultured neurons, cells will enter a state of heightened excitability followed by loss of excitation after exhaustion of glutamate stores. This change in excitation and inhibition can be measured by looking at the activity of Ca2+ in neurons [27]. We exploited this function of PTX in two model systems in order to test the functionality of the PeakCaller script and compare it to PeakFinder.
To do this, we exposed d30 hiPSC-derived cortical neurons to 50 μM PTX with a 1 min wash in phase and 40 min recording (four 10 min recordings). The raw data was analyzed using both
PeakCaller
and
PeakFinder
.
PeakCaller
accurately identified windows of high Ca
2+
activity in neurons, while
PeakFinder
consistently over-estimated the number of peaks and number of active cells (Fig.
10
). In this context,
PeakFinder
becomes less accurate and more vulnerable to type I error as the number of true peaks decreases relative to background fluorescence.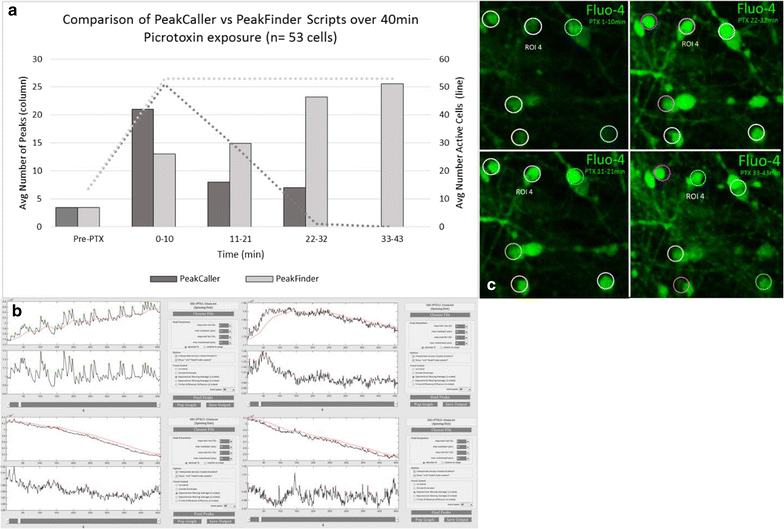 The incidence of type I and type II errors in PeakCaller. PeakFinder scripts were also compared in the analysis of dissociated mouse cortical neurons. While a direct comparison of Ca2+ signaling in mouse and hiPSC-derived cortical neurons has not yet been published, it would be expected that these two cultures may have different Ca2+-transient characteristics.
In four separate recordings,
PeakCaller
reduced the incidence of type II errors in three of the recordings. There was no difference in the incidence of type II errors in the fourth recording (Fig.
11
).
PeakCaller
also indicated a significant (
p
< 0.05) reduction in type I error in recording A, but no difference in type I errors in the other recordings. In the representative trace in Fig.
4
,
PeakFinder
identified only two peaks, whereas the user and
PeakCaller
identified 26 and 28 peaks, respectively. In this instance
PeakFinder
underestimated the number of peaks present for the same reason it over-estimated the number of peaks in the previous experiments.
PeakFinder
selected the two highest points in the data set as peaks and disregarded true peaks that fell below these higher points, due to
PeakFinder's
inability to normalize the data set to changes in fluorescence.
PeakCaller
's smoothing functions can be set to account for global changes in fluorescence and can be set with narrower look-back and look-ahead windows to properly identify the majority of peaks in a given ROI.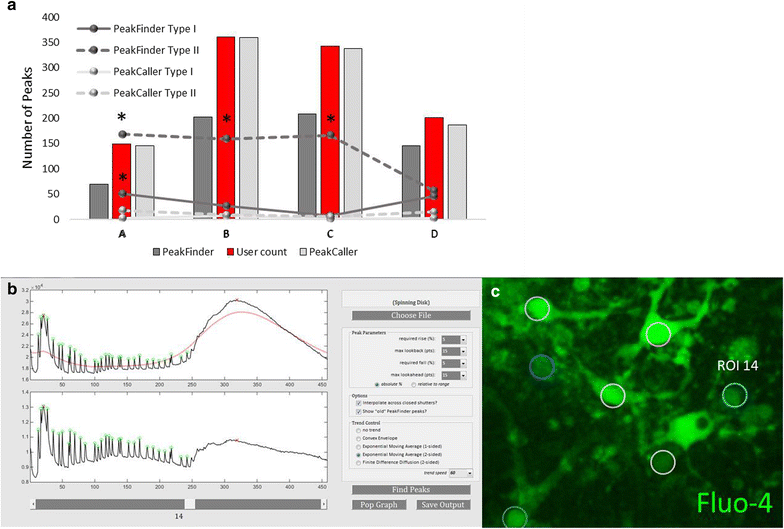 Conclusions
Here we have demonstrated that PeakCaller can reduce the incidence of both type I and type II errors in hiPSC-derived cortical neurons, dissociated mouse cortical neurons, and cells in a state of induced neuronal excitation. PeakCaller's advantages stem from two main features: (1) smoothing functions that can normalize changes in background fluorescence, and (2) settable parameters for minimum peak height and look-back/ahead windows. The script does not achieve perfect accuracy in its designation of Ca2+ peaks, but it significantly outperforms PeakFinder with respect to reduction in both types of statistical error. The fact that PeakCaller can reduce different types of error produced by different cell line characteristics and culture conditions is important to the study of neurodevelopmental, neuropsychiatric, and neurodegenerative diseases, particularly in the context of high-throughput screening. It is foreseeable that a disease condition may produce a phenotype that is more vulnerable to the significant type I or type II error bias introduced by the use of PeakFinder, and as such may confound any data analyzed using this algorithm.
PeakCaller allows the user freedom to designate peak parameters and smoothing functions to most accurately represent the raw data within a GUI that is accessible to users without extensive MATLAB or coding experience. Designed specifically to address the conditions/limitations of Ca2+ signaling in cultured neurons, PeakCaller is a powerful new tool in the hands of the neurophysiologist.
Abbreviations
Ca2+ :

calcium
hiPSC:

human induced pluripotent stem cell
ROI:

region of interest
PTX:

picrotoxin
GABAA :

gamma-aminobutyric acid-alpha receptor
Declarations
Authors' contributions
EA, RJ, MK, MWN, performed experiments. RJ performed the programming. MWN conceived the idea. EA analyzed the data. All authors read and approved the final manuscript.
Acknowledgements
We thank Elizabeth Benevides for proofreading the article and Drs. John Hussman and Gene Blatt as well as members of the Hussman Institute for Autism for helpful discussions and comments. Thank you to Drs. Tom Blanpied and Joe Mauban for help with confocal microscopy.
Competing interests
The authors declare that they have no competing interests.
Availability of data and materials
Project name: PeakCaller.
Project home page: www.hussmanautism.org/resources/software.
Operating System: Platform independent.
Programming Language: MATLAB.
Other requirements: Matlab software R2104a or higher.
License: None.
Any restrictions to use by non-academics: None.
Consent for publication
Not applicable.
Ethics approval and consent to participate
Animal work was reviewed and approved by institutional IACUC committee (IACUC protocol at the Hussman Institute for Autism: #06012015B; IACUC protocol at University of Maryland at Baltimore: #0515016).
Funding
This work was supported by a pilot grant from The Hussman Foundation to MWN and YCL. The Hussman Foundation played no role in the writing of the manuscript, design of the study, collection, analysis or interpretation of the results.
Publisher's Note
Springer Nature remains neutral with regard to jurisdictional claims in published maps and institutional affiliations.
Open AccessThis article is distributed under the terms of the Creative Commons Attribution 4.0 International License (http://creativecommons.org/licenses/by/4.0/), which permits unrestricted use, distribution, and reproduction in any medium, provided you give appropriate credit to the original author(s) and the source, provide a link to the Creative Commons license, and indicate if changes were made. The Creative Commons Public Domain Dedication waiver (http://creativecommons.org/publicdomain/zero/1.0/) applies to the data made available in this article, unless otherwise stated.
Authors' Affiliations
(1)
The Hussman Institute for Autism, Baltimore, USA
(2)
Hussman Strategic Advisors, Ellicott City, USA