Research article

Open Access
Brain-derived neurotrophic factor modulation of Kv1.3 channel is disregulated by adaptor proteins Grb10 and nShc
Received: 04 August 2008
Accepted: 23 January 2009
Published: 23 January 2009
Abstract
Background
Neurotrophins are important regulators of growth and regeneration, and acutely, they can modulate the activity of voltage-gated ion channels. Previously we have shown that acute brain-derived neurotrophic factor (BDNF) activation of neurotrophin receptor tyrosine kinase B (TrkB) suppresses the Shaker voltage-gated potassium channel (Kv1.3) via phosphorylation of multiple tyrosine residues in the N and C terminal aspects of the channel protein. It is not known how adaptor proteins, which lack catalytic activity, but interact with members of the neurotrophic signaling pathway, might scaffold with ion channels or modulate channel activity.
Results
We report the co-localization of two adaptor proteins, neuronal Src homology and collagen (nShc) and growth factor receptor-binding protein 10 (Grb10), with Kv1.3 channel as demonstrated through immunocytochemical approaches in the olfactory bulb (OB) neural lamina. To further explore the specificity and functional ramification of adaptor/channel co-localization, we performed immunoprecipitation and Western analysis of channel, kinase, and adaptor transfected human embryonic kidney 293 cells (HEK 293). nShc formed a direct protein-protein interaction with Kv1.3 that was independent of BDNF-induced phosphorylation of Kv1.3, whereas Grb10 did not complex with Kv1.3 in HEK 293 cells. Both adaptors, however, co-immunoprecipitated with Kv1.3 in native OB. Grb10 was interestingly able to decrease the total expression of Kv1.3, particularly at the membrane surface, and subsequently eliminated the BDNF-induced phosphorylation of Kv1.3. To examine the possibility that the Src homology 2 (SH2) domains of Grb10 were directly binding to basally phosphorylated tyrosines in Kv1.3, we utilized point mutations to substitute multiple tyrosine residues with phenylalanine. Removal of the tyrosines 111–113 and 449 prevented Grb10 from decreasing Kv1.3 expression. In the absence of either adaptor protein, channel co-expression reciprocally down-regulated expression and tyrosine phosphorylation of TrkB kinase and related insulin receptor kinase. Finally, through patch-clamp electrophysiology, we found that the BDNF-induced current suppression of the channel was prevented by both nShc and Grb10.
Conclusion
We report that adaptor protein alteration of kinase-induced Kv1.3 channel modulation is related to the degree of direct protein-protein association and that the channel itself can reciprocally modulate receptor-linked tyrosine kinase expression and activity.
Keywords
Olfactory Bulb
Adaptor Protein
Channel Expression
Current Suppression
Peak Current Amplitude
Background
Voltage-dependent potassium (Kv) channels are regulators of neuronal excitability. The channels are responsible for maintaining the resting potential of cells, they determine the width and maximum amplitude of the action potential, and they govern the interpulse interval or timing patterns of firing in order to relay sensory information to the brain or coordinate motor output [
1
,
2
]. As recently reviewed by Kaczmarek [
3
], Kv channels may lead a "double life" by possessing non-conducting functions, which allow them to participate in coupled biochemical reactions or communicate directly with cytoplasmic and nuclear signaling pathways. Kv1.3, a member of the
Shaker
subfamily of Kv channels, is particularly well poised to participate in multiple cell signaling pathways given a number of molecular motifs that serve as protein-protein interaction domains in the N and C terminal aspects of the channel protein (Fig.
1
). Multiple and different combinations of tyrosine residues become phosphorylated upon activation of cellular and receptor tyrosine kinase signaling cascades to elicit changes in ion channel current magnitude, inactivation kinetics, or cumulative/use-dependent inactivation [
4
–
9
]. Further levels of complexity exist, however, because the channel is not just a substrate for tyrosine phosphorylation. The phosphorylated tyrosine residue(s) now become recognition motifs for a variety of src homology 2 (SH2) domain containing proteins [
10
] that are down-stream signaling molecules, or adaptor proteins, without catalytic activity [
11
], and which functionally subserve to "modulate the modulation" [
12
,
13
]. Two proline-rich domains have been shown to serve as phosphorylation-independent binding domains for src homology 3 (SH3) containing proteins and ubiquitin ligases to change Kv1.3 channel clustering and surface expression [
14
]. Gene-targeted deletion of Kv1.3 demonstrates that the channel's associated scaffold of kinases and adaptor proteins becomes unbalanced in the absence of the channel gene, whereby there is a significant increase in the expression of these modulatory cell signaling proteins, including neurotrophin receptor tyrosine kinase B (TrkB), the cellular kinase Src, the adaptor proteins 14-3-3, neuronal Src homology and collagen (nShc), postsynaptic density protein-95 (PSD-95), and the growth factor receptor-bound protein 10 (Grb10) [
15
]. Because Kv1.3 protein has an abundance of molecular modules for protein-protein interactions (Fig.
1
), it is not surprising to discover a diversity of non-conducting functions following targeted deletion of the core of the scaffold (the channel protein) [
15
,
16
].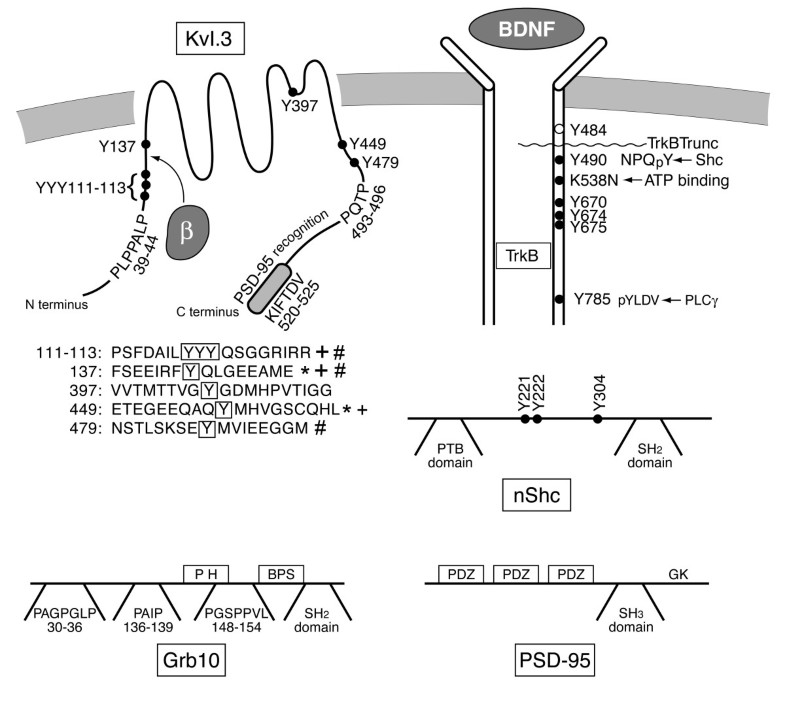 This study focuses upon two adaptor proteins enriched in the olfactory bulb, namely Grb10 and nShc. The adaptor protein Grb10 is a member of a superfamily of adaptor proteins that also includes Grb7, Grb14, and Mig-10 [17]. The characterization of conserved molecular architecture of this family has shown that members all contain a C-terminal SH2 domain, a central segment containing a pleckstrin homology domain (PH domain), and a principle binding region for association with insulin-like growth factor receptor type 1 that also acts to stabilize insulin receptor kinase (IR) binding to the SH2 domain (Fig. 1). The N terminal domain of Grb10 is less well conserved but contains multiple PXXP domains that serve as putative binding sites for SH3 domain containing proteins [18] (Fig. 1). While Grb10 was originally discovered to be an interacting protein with the epidermal growth factor receptor (EGF-R) [19, 20] and later found to be a negative regulator of the IR via ubiquitination [21–24], it may also interact with other RTKs. Grb10 has been linked with human growth retardation and type 2 diabetes when upregulated or mutated [25, 26], which alters Grb10 protein-protein interactions. The adaptor protein nShc belongs to a family that includes three major genes, ShcA (Shc), ShcB (Sck), and ShcC (nShc, or neuronal Shc). All Shc isoforms possess two distinct domains that bind phosphotyrosine containing sequences, namely, the phosphotyrosine binding domain (PTB) and the SH2 domain, and a central domain (called CH1) that contains multiple tyrosine phosphorylation sites [27, 28] (Fig. 1). nShc is specifically enriched in adult brain and has been found to direct survival and phenotypic maturation of neurons via association with neurotrophin receptors [29–32]. More recently, nShc has been also implicated in the modulation of hippocampal synaptic plasticity via modulation of the NMDA receptor, independent of neurotrophin receptor signaling [33].
Previous site-directed mutagenesis studies in heterologous expression systems, have demonstrated that BDNF-activation of TrkB kinase phosphorylates Kv1.3 at three tyrosine (Y) residues or clusters in the N- and C-termini of the channel, Y111–113, Y137, Y479, to cause suppression of current magnitude without changes in channel inactivation or deactivation kinetics [9]. Our current strategy was to co-express channel and kinase with one of two adaptor proteins that varied in their reported interactions: (1) an adaptor protein that was not known to directly associate with the neurotrophin receptor or the channel (Grb10), and (2) an adaptor protein that was known to bind to Y490 (NPQpY motif) of the neurotrophin receptor (nShc). Unexpectedly, we discovered that nShc adaptor proteins reportedly characterized to interact with RTKs also used Kv1.3 channel for a binding partner directly. Grb10 did not interact with either the channel or kinase, but could indirectly modulate the channel by changing its surface expression. In native OB, however, both adaptor proteins co-IP with Kv1.3 and TrkB kinase. Our data suggest that there is a complex regulation between the channel, the kinase, and adaptor proteins such that the expression of Kv1.3 down regulates that of TrkB kinase, while the expression of Grb10 likely acts to induce ubiquitination of the channel thus decreasing channel surface expression.
Discussion
Kv1.3 is a substrate for multiple tyrosine kinase signaling cascades including IR, TrkB, and src kinase [5, 7–9, 35, 36]. Each exerts the phosphorylation of multiple tyrosine residues, and different combinations of residues, to produce a unified response, of Kv1.3 current suppression. Inclusion of adaptor proteins causes perturbation of the channel current suppression [12, 13], and in the case of neurotrophin signaling, we find that disruption of the channel modulation is not directly correlated to the extent of channel phosphorylation. The scenario is more complex. This may be attributed to the fact that the interaction between kinase and channel is no longer a binary relationship, with the added adaptor having the capacity to bind to both channel and kinase to elicit different responses. Not only can an adaptor protein alter how the channel will respond to neurotrophin-induced current suppression, the adaptors alter expression levels of the channel and the channel itself can downregulate TrkB expression and its phosphorylated state. Such a dynamic equilibrium between Kv1.3/TrkB/adaptors may allow a full spectrum of modulation of channel properties dependent upon the compliment of proteins co-expressed in a neuron at a given physiological state.
Biochemically, the degree of channel phosphorylation by BDNF-induced TrkB activation is no longer directly related to the degree of functional current suppression when adaptors are added to the mix. This is very different than what is reported for the cellular tyrosine kinase, Src. Here, phosphorylation was directly linked to the degree of current suppression and one could predict the modulation of the selected adaptor protein based upon how it influenced tyrosine phosphorylation of the channel [12]. This is in stark contrast to RTKs. The addition of nShc to Kv1.3 plus TrkB transfected conditions induced an increase in both channel expression as well as BDNF-induced channel phosphorylation whereas the addition of Grb10 resulted in the opposite. Despite the fact that the adaptors evoke an opposite response biochemically, the functional ramification is identical, the prevention of BDNF-induced current suppression. In fact, nShc/Grb have structurally similar SH2 domains whereas PSD-95 lacks such phosphorylation-dependent interactive domains [13], and yet each has the capacity to functionally perturb the BDNF-induced current suppression. This might suggest that direct interaction of the adaptor and the channel may play a predominant role in preventing kinase modulation and that changed phosphorylation is a secondary effect. In the case of the two SH2 domain containing adaptor proteins, nShc and Grb10, binding of Y490 TrkB by nShc is an additional key regulatory site impacting modulation of the channel. Certainly there are endogenous levels of both nShc and Grb10 expressed in HEK 293 cells, thus our Kv1.3 + TrkB conditions are not completed devoid of adaptor protein, however, when nShc is co-transfected with these conditions, binding of Y490 TrkB induces a block of BDNF-induced channel suppression.
Kv1.3 channel expression is changed in the presence of TrkB kinase without BDNF stimulation and now we can also see that Grb10 adaptor significantly modifies surface expression of Kv1.3. With TrkB kinase co-expression, there is a correlate increase in channel surface expression, increase in channel protein expression, and increase in channel macroscopic current [35]. Interestingly, with Grb10 co-expression (also not BDNF dependent) there is oppositely a decrease in channel surface expression, a decrease in protein expression of the channel, but no change in channel macroscopic current, rather an increased rate of channel inactivation. The adaptor/channel do not form a complex in vitro that we can detect, nevertheless, co-expression apparently changes surface distribution and channel density but not current magnitude or conduction. This would imply that there must be MANY Kv1.3 channels that are not contributing to current. Such a pool of silent or "sleeping channels" has been reported for specific Kv subfamily members (Kv6 and Kv9 family members) [42, 43] and uncovered for other potassium channels during FRAC (functional recovery after chemobleaching) [44]. Our data [35] and that reported by Sun et al. [44] support that molecular/protein density of a channel may not always exhibit linearity with functional density.
Based upon the crystal structure of Grb10 SH2 domain determined at 1.65 Å resolution, it is suggested that binding of Grb10 is dimeric, using turn containing phosphotyrosine sequences [45]. It is unknown (but doubtful) if the Kv1.3 channel contains turn containing phosphotyrosine motifs unless the tetrameric structure of the subunits permitted such an alignment, which would be contrary to positioning of the α transmembrane helices 1 and 6 for Kv1.2, a Shaker family member for which crystal structure has been reported [46]. On the basis of structural analysis and previous biochemical studies for the adaptor, Grb10 and Grb14 have a partially impaired ability to bind phosphotyrosine-containing ligands due to a non-glycyl residue at the end of the BD loop and lack of a P + 3 binding pocket [47]. These combined data are consistent with our findings that we cannot detect Grb10 and Kv1.3 co-immunoprecipition in vitro, albeit the fact that channel/adaptor functional interactions appear to modulate channel expression and can be found as a complex in unstimulated native tissues. The fact that mutation of several Y residues on the N and C terminal aspects of the channel clearly perturbs the negative modulatory affect of Grb10 on channel expression, indicates a specific modulatory role that does not require tight association. Moreover, the modulation does not require channel activity, or at least functional ion conductance. While all Y to F channel mutations blocked Grb10 down regulation of Kv1.3 expression, YYY111-113FFF Kv1.3 and Y449F Kv1.3 appear to be the most robust at blocking down regulation. Both of these sites (along with Y137) were previously reported as targets for BDNF-induced Kv1.3 current suppression and phosphorylation [9] but only Y449 has a large hydrophobic M downstream of the phosphotyrosine, reported as a preferred Grb motif [48].
It has previously been reported that the E3 ubiquitin protein ligase called Nedd4-2 regulates voltage-gated ion channels, including Nav, Kir, and Kv family members [49] via targeting phosphotyrosine motifs located in the C-terminal aspect of the channel. It has also been demonstrated that the SH2 domains of Grb10 form a constitutive complex with Nedd4-1 so as to mediate ligand-dependent ubiquitination of IGF-IR [17]. Since co-expression of Nedd4-2 with Kv1.3 in Xenopus oocytes induces a strong suppression of Kv1.3 current [14] we conjecture that Grb10 might bind to endogenous Nedd4-2 in our system to cause ubiquitination of Kv1.3 and/or TrkB kinase. This might explain a potential mechanism for decreased Kv1.3 surface expression in the presence of Grb10 and correlate decreased channel tyrosine phosphorylation.
We have shown that TrkB and Grb10 act as modulators of channel expression, while others have demonstrated that the Grb10 adaptor acts as a negative modulator of IR kinase activity (reviewed by Holt and Siddle [47]). Ramos et al. [50] elucidated the mechanism by which the SH2 and binding phosphorylated substrate (BPS) domains of Grb10 might induce proteasomal degradation of the IR and subsequent inhibition of its downstream signaling pathways. The question arises as to whether the adaptor or kinases themselves are regulated and if so, how? Our data demonstrate that there is a reciprocal regulation of RTK phosphorylation activity and expression in the presence of Kv1.3. Holmes et al. [4] similarly reported that treatments that induce membrane hyperpolarization (K channel activity) markedly attenuate tyrosine phosphorylation catalyzed by cellular tyrosine kinases. Unlike their report, centralizing on reciprocal downregulation of Kv1.3 and cellular TKs, our data demonstrate that both TrkB and IR kinase protein levels are reduced when co-expressed with Kv1.3, which then in turn, decreases the total amount of kinase phosphorylation. At the same time, we also observe that both nShc and Grb10 adaptor protein expression is reduced when co-expressed with Kv1.3 (data not shown), and that the expression of both adaptors is increased in Kv1.3-null mice [15], offering another tier of regulation of the channel/kinase/adaptor interaction involving receptor-linked as opposed to cellular tyrosine kinases. Another suggested method in which Grb10 action might be terminated is via phosphorylation; in its inactive state it is thought to form tetramers [51, 52]. Although we did not test whether Grb10 was phosphorylated in channel/kinase/adaptor transfected conditions under BDNF-stimulated conditions (Fig. 6), this certainly did not functionally affect downregulation of channel expression.
Grb10 appears to be promiscuous in interacting with multiple receptor and non-receptor TKs and other signaling proteins in vitro [47], therefore, gene-targeted deletion of the adaptor could afford physiological relevance to many of these interactions. Grb10-null mice have disproportionate overgrowth of the embryo and placenta, imbalanced glucose homeostasis, and are approximately thirty percent larger at birth [24, 25, 53]. This is an interesting phenotype given the fact that Kv1.3-null mice, oppositely, are resistant to diet-induced obesity, are smaller and physiologically thinner than age-matched wild-type animals, and have increased mobility and metabolism [15, 54, 55] – while having an increased expression of Grb10 protein that reinforces its function as a growth inhibitor [47].
In heterologous expression systems and in vivo, Shc adaptor protein can bind directly to the channel (where it does not alter function or expression). Shc can also bind to TrkB at Y490 to increase phosphorylation of Kv1.3 and relieve BDNF-induced current suppression. To what extent is this mimicked in native olfactory bulb neurons (OBNs)? We know that exogenous application of BDNF to native OBNs [9, 36], where Shc and TrkB are both present [12, 15], causes an increase in Kv1.3 tyrosine phosphorylation and current suppression that is significantly greater than what we observe in heterologous expression systems [35] (typically 60% (mice) to 40% (rats) of mitral cell outward current is suppressed by acute BDNF stimulation). We also know that RTKs explicitly target Kv1.3, because in mice with Kv1.3 gene-targeted deletion, neither insulin nor BDNF has any affect on mitral cell current. Thus, there is a divergence in gain strength between HEK 293 cells and OB neurons for neurotrophic factor signaling that might lie at a missing adaptor protein not mimicked in the HEK 293 cell system, a lesser abundance of inhibitory adaptor proteins, or perhaps another regulatory molecule as yet not accounted for.
Conclusion
In native OB, adaptor proteins may change with developmental profile, regeneration, or disease [26, 28, 32, 56, 57] – hence expression patterns of co-localization may be non-static, which would result in state-dependent channel properties. For example, it is well documented that neurotrophins are altered with injury [58–60] and that insulin is modified with metabolic state and meals [61], while both are modified with growth or development [62–64]. Therefore, the conductance through a Kv1.3 channel, which underlies the shape and frequency of the action potential output of the OB, would inherently be modified by dynamic change in physiological state. This in turn might predict that odor perception is very state dependent as dictated by its microenvironment of protein partners and adaptors that would influence a major voltage-gated ion channel in this system.
Abbreviations
ANOVA:

analysis of variance
anti-4G10:

phosphotyrosine antiserum
AU13:

antiserum directed against Kv1.3 ion channel
BDNF:

brain-derived neurotrophic factor
BPS:

binding phosphorylated substrate
BSA:

bovine serum albumin
cDNA:

copy DNA
CH1:

collagen homologous region 1
CMV:

cytomegalovirus promoter
C terminus:

carboxyl terminus of a protein
D:

dead TrkB kinase
ECL:

enhanced chemiluminescence
EGF-R:

epidermal growth factor receptor
EPL:

external plexiform layer of the olfactory bulb
F:

phenylalanine
G:

Grb10
GFP:

green fluorescence protein
GCL:

glomerular cell layer of the olfactory bulb
GL:

granule cell layer of the olfactory bulb
G-protein:

GTP-binding protein
Grb10:

growth factor receptor-binding protein 10
h:

hour
HB:

homogenization buffer
HEK 293:

human embryonic kidney 293 cells
HRP:

horseradish perioxidase
IP:

immunoprecipitation
IPL:

internal plexiform layer of the olfactory bulb
IR:

insulin receptor kinase
κ:

voltage dependence
K:

potassium channel
kDa:

kilodalton
Kv :

Voltage-dependent potassium channel
Kv1.3:

Kv subfamily member 1.3
Kv1.3-/-:

Kv1.3 gene-targeted deletion
MCL:

mitral cell layer of the olfactory bulb
MEM:

minimum essential media
Mig-10:

C. elegans gene for cell migration
mK:

myc-tagged Kv1.3
Myc:

myc epitope tag
NA:

numerical aperture
NGF:

nerve growth factor
NPQpY motif:

amino acid sequence of TrkB where nShc binds
nShc:

neuronal Src homology and collagen
N:

terminus amino terminus of a protein
OB:

olfactory bulb
PBS:

phosphate buffered saline
PBST:

phosphate buffered saline + tween
PCR:

polymerase chain reaction
PH:

pleckstrin homology domain
PLC:

phospholipase C
PPI:

protease and phosphatase inhibitor
PSD-95:

post-synaptic density 95 kDa protein
PTB:

phosphotyrosine binding domain
PXXP:

proline-rich amino acid sequence bound by SH3 domains
rt:

room temperature
RTK:

receptor-linked tyrosine kinase
S:

nShc
Sck:

ShcB
SCSB:

sodium citrate stripping buffer
SDS-PAGE:

sodium dodecyl sulfate polyacrylamide gel electrophoresis
SH2:

Src homology 2 domain
SH3:

Src homology 3 domain
Shc:

Src homology and collagen
snk :

Student Newman Keuls post-hoc analysis
Src:

protein encoded by the gene of Rous sarcoma virus
τDeact:

deactivation time constant
τinact:

inactivation time constant
T:

TrkB
TK:

tyrosine kinase
TrkB:

neurotrophin receptor tyrosine kinase B
TrkBShc:

Y490F TrkB kinase (lacking Shc binding site)
V1/2:

voltage at half-maximum activation
Vc:

command voltage
Vh:

holding voltage
W:

tryptophan
W386F:

W386F Kv1.3 (non-conducting channel mutant)
Y:

tyrosine
YYY:

YYY111-113FFF Kv1.3
137:

Y137F Kv1.3
14-3-3:

a signaling protein that binds phosphoserine/threonine residues
449:

Y449F Kv1.3
479:

Y479F Kv1.3
2X:

3X, etc., fold.
Declarations
Acknowledgements
We would like to thank Ms. Kimberly Riddle for imaging assistance through the Florida State University Microscopy Core Facility in the Department of Biological Science. We would like to thank Mr. Robert Daly, Mr. Jeffery Godbey, and Mr. Michael Henderson for routine technical assistance and mouse colony maintenance. We would like to thank Ms. Kristal Tucker for assistance with additional control experiments. This work was supported by National Institutes of Health (NIH) Grants DC03387 and T32 DC00044 from the NIDCD.
Authors' Affiliations
(1)
Department of Biological Science, Programs in Neuroscience and Molecular Biophysics, The Florida State University, Tallahassee, USA
Copyright
© Colley et al; licensee BioMed Central Ltd. 2009
This article is published under license to BioMed Central Ltd. This is an Open Access article distributed under the terms of the Creative Commons Attribution License (http://creativecommons.org/licenses/by/2.0), which permits unrestricted use, distribution, and reproduction in any medium, provided the original work is properly cited.