Research article

Open Access
Rgcs1, a dominant QTL that affects retinal ganglion cell death after optic nerve crush in mice
Received: 04 April 2008
Accepted: 31 July 2008
Published: 31 July 2008
Abstract
Background
Intrinsic apoptosis of neuronal somas is one aspect of neurodegenerative diseases that can be influenced by genetic background. Genes that affect this process may act as susceptibility alleles that contribute to the complex genetic nature of these diseases. Retinal ganglion cell death is a defining feature of the chronic and genetically complex neurodegenerative disease glaucoma. Previous studies using an optic nerve crush procedure in inbred mice, showed that ganglion cell resistance to crush was affected by the Mendelian-dominant inheritance of 1–2 predicted loci. To assess this further, we bred and phenotyped a large population of F2 mice derived from a resistant inbred strain (DBA/2J) and a susceptible strain (BALB/cByJ).
Results
Genome wide mapping of the F2 mice using microsatellite markers, detected a single highly significant quantitative trait locus in a 25 cM (58 Mb) interval on chromosome 5 (Chr5.loc34-59 cM). No interacting loci were detected at the resolution of this screen. We have designated this locus as Retinal ganglion cell susceptible 1, Rgcs1. In silico analysis of this region revealed the presence of 578 genes or expressed sequence tags, 4 of which are highly expressed in the ganglion cell layer of the mammalian retina, and 2 of which are suspected susceptibility alleles in chronic neurodegenerative diseases. In addition, 25 genes contain 36 known single nucleotide polymorphisms that create nonsynonymous amino acid changes between the two parental strains. Collectively, this analysis has identified 7 potential candidate genes that may affect ganglion cell death.
Conclusion
The process of ganglion cell death is likely one of the many facets of glaucoma susceptibility. A novel dominant locus has been identified that affects sensitivity of ganglion cells to optic nerve crush. The allele responsible for this sensitivity may also be a susceptibility allele for glaucoma.
Keywords
Quantitative Trait LocusGlaucomaGanglion CellRetinal Ganglion CellGanglion Cell Layer
Background
Glaucoma is a blinding disease characterized by the progressive death of retinal ganglion cells. The principal risk factor for glaucoma is elevated intraocular pressure (IOP) [1–3]. Biomechanical engineering studies suggest that IOP-related stress is focused on ganglion cell axons exiting the eye through the lamina cribrosa [4, 5]. Current models suggest that optic nerve glia are adversely affected and that this leads first to destruction of the ganglion cell axon, and secondarily, to the apoptotic death of the ganglion cell soma (reviewed by [6, 7]).
Glaucoma is a complex genetic disease [8]. After elevated IOP, family history is the next most important risk factor [9, 10]. While many important studies have revealed a great deal about the genetics of this disease, the majority of these have been restricted to relatively rare forms that exhibit some form of Mendelian inheritance and for which there are large pedigrees that contribute both phenotypic and genotypic information. For most forms of glaucoma, there is limited understanding of the genetics underlying disease susceptibility. One approach to identifying glaucoma susceptibility alleles is to first identify candidate genes using mouse genetics. Specifically, we hypothesized that the process of retinal ganglion cell death may be affected by genetic background. Several studies in mice have documented quantitative trait loci (QTL) that associate with neuronal degeneration. These include loci that affect neuronal susceptibility in the substantia nigra to the Parkinsonian drug MPTP [11, 12] or sensitivity to kainic acid in the hippocampus [13]. Additionally, reduced Bax expression in ganglion cells created in gene dosage experiments, completely abrogates soma death in both acute optic nerve lesion and chronic glaucoma models in mice [14, 15].
In an effort to identify alleles affecting ganglion cell death, we screened inbred mice to examine if genetic background influenced cell loss after optic nerve crush. This lesion stimulates several of the same molecular pathways active in dying ganglion cells in glaucoma [15–19]. A screen of 15 different lines showed that genetic background did affect the loss of these cells. Reciprocal backcross breeding experiments using the most resistant (DBA/2J) and susceptible lines (BALB/cByJ) indicated that the resistant phenotype was attributable to 1–2 dominant loci [20]. In this report, we have extended this observation to show the results of a genome wide screen of a large F2 mapping population generated from these two parental inbred lines. This study reveals a single significant dominant QTL on chromosome 5 that associates with the cell death phenotype. We have designated this locus as Retinal ganglion cell susceptible 1 (Rgcs1).
Results
A single dominant QTL affecting retinal ganglion cell death is located on chromosome 5
A population of 196 F2 mice underwent optic nerve crush and cell loss phenotyping. The distribution of phenotypes in this population (Fig.
1
) matched well with a smaller population of F2 mice examined previously [
20
], indicating that the phenotype was consistently inherited. For genome wide mapping, we selected mice from the F2 population that had 54% or less cells remaining (the most susceptible mice) and 64% or more cells remaining (the most resistant mice). These animals are indicated by the filled bars in the phenotype frequency histograph of the F2 population (Fig.
1
).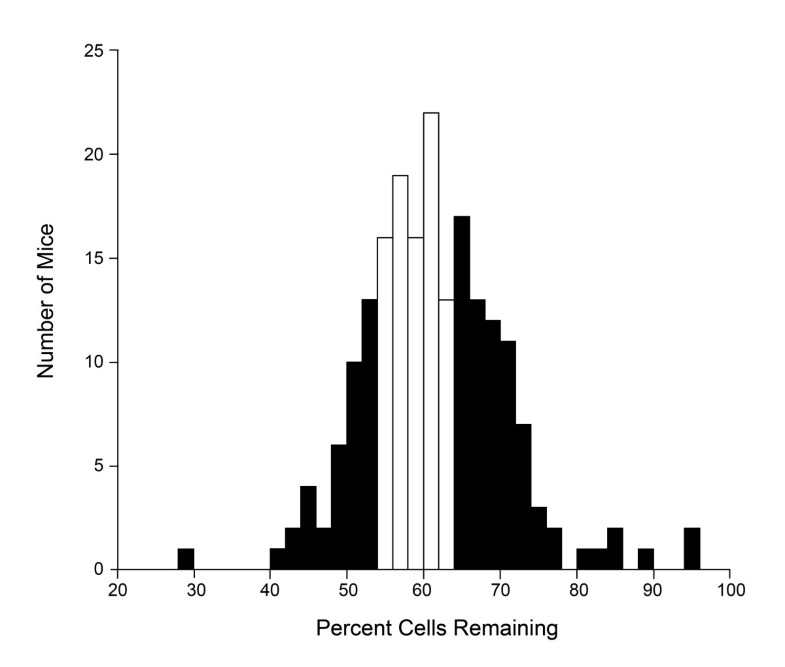 Quantitative trait linkage analysis using 65 microsatellite markers, with and without sex as a covariate, showed a single significant peak on chromosome 5 between markers D5Mit254 (34 cM) and D5Mit338 (59 cM) (Fig.
2
). The maximum LOD score predicted by interval analysis was 5.825 at Chr5.loc38 (inset Fig.
2
), which was the only locus that exceeded the significance level of
P
= 0.05 (
P
= 0.0011 for the peak). The next highest LOD score in the analysis of all the samples modeled without interactive covariates was 3.045 for D6Mit83 on chromosome 6 (Chr6.loc3.5). It is notable that evaluation of larger numbers of animals from the F2 population may have not only increased the significance of the locus on chromosome 5, but also increased the LOD score at Chr6.loc3.5 to above the threshold value. The QTL dataset was also analyzed for interacting loci, again including sex as a covariate. No significant associations were detected at the resolution of this genome-wide screen, thus a single locus on chromosome 5 accounts for 11.61% of the phenotypic variance of this trait. This locus has been designated as Retinal ganglion cell susceptible 1 (
Rgcs1
). For subsequent analyses, we have conservatively defined this locus by the nearest markers used for mapping. This 58 Mb region includes an approximation of the 95% confidence interval as suggested by a 1.5 LOD drop from the peak [
21
].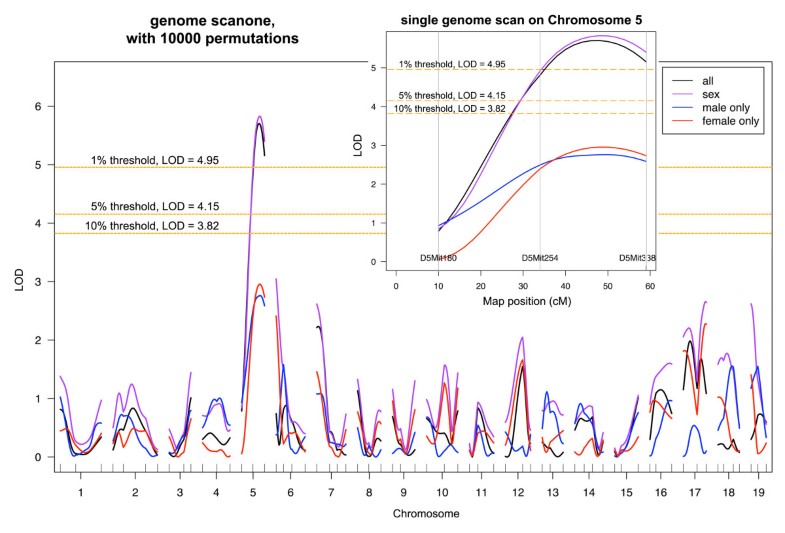 We also examined the inheritance pattern of phenotype as a function of marker D5Mit254, which lies closest to the region with the statistical maximum LOD score (Fig.
3
). Mice inheriting 2 BALB/c alleles have significantly fewer cells remaining than mice inheriting 1 or 2 DBA/2J alleles (
t
-test,
P
= 4.4 × 10
-7
). Conversely, mice heterozygous for the DBA/2J locus exhibited a statistically equivalent phenotype to mice homozygous at this locus (
P
= 0.169). Together, these data are supportive of our original observation of the Mendelian-dominant nature of the
Rgcs1
locus obtained from reciprocal breeding experiments [
20
].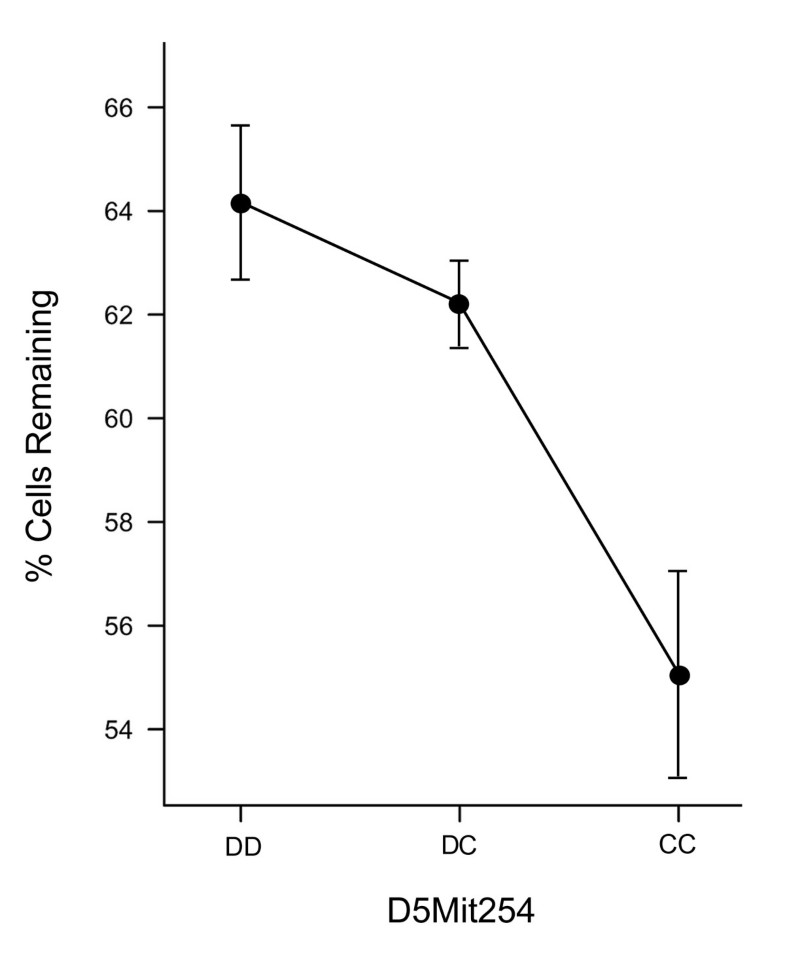 Identification of candidate genes in the Rgcs1 locus
Genomic sequence information, available for multiple different strains of mice (please see Availability & requirements for more information), was examined to identify candidate genes. The region of Chr5.loc34-59 was found to be relatively gene poor, with a total of 578 known genes and/or expressed sequence tags (ESTs) identified. Based on existing sequence data, we used
in silico
analysis to find single nucleotide polymorphisms (SNPs) creating non-synonymous amino acid changes between the DBA/2J and BALB/cByJ strains. This search identified 36 amino acid changes in 25 genes (Table
1
). Of these changes, 12 were conservative changes and 24 were non-conservative, including 2 that change a hydrophobic amino acid in DBA/2J mice to a proline in BALB/c mice (genes
Tlr1
and
Ugt2a3
).
Table 1
Summary of SNP polymorphisms between DBA/2J and BALB/c mice, affecting coding regions of genes and ESTs in the Rgcs1 locus
| Gene Name | DBA/2J | AA | BALB/c | AA | Position | Conserved* | Strain Cluster† |
| --- | --- | --- | --- | --- | --- | --- | --- |
| Tlr1 | C | Q | T | R | 667 | No | Possible |
| Tlr1 | G | L | A | P | 246 | No | Possible |
| Tlr1 | G | L | A | S | 111 | No | No |
| Tlr6 | T | V | C | I | 681 | Yes | Yes |
| 9130005N14Rik | G | T | A | A | 498 | No | No |
| Recc1 | C | N | T | S | 588 | Yes | No |
| Klb | T | T | C | M | 511 | No | No |
| B3bp | A | S | G | G | 1626 | No | No |
| EG545758 | A | S | G | L | 141 | No | No |
| Npal1 | G | H | A | R | 178/197 | Yes | No |
| BC031901 | C | G | T | E | 432 | No | No |
| BC031901 | A | R | C | L | 398 | No | No |
| EG627807 | T | S | C | N | 44 | Yes | No |
| Rest | A | G | G | S | 555 | No | No |
| EG384187 | C | E | G | Q | 67 | No | No |
| EG384187 | G | V | T | G | 91 | Yes | No |
| EG384187 | T | K | A | N | 144 | No | No |
| EG384187 | G | V | T | G | 160 | Yes | No |
| EG384187 | T | T | C | I | 164 | No | No |
| Ugt2b1 | G | L | A | F | 425 | No | No |
| Ugt2a3 | T | T | G | P | 508 | No | Possible |
| Ugt2a2 | G | A | T | E | 500 | No | N/A |
| Ugt2a2 | C | R | G | G | 467 | No | Yes |
| C230008H04Rik | C | K | T | E | 37 | No | No |
| Slc10a6 | C | T | T | A | 2 | No | No |
| Klhl8 | T | R | C | Q | 18 | No | No |
| Sparcl1 | G | R | A | Q | 384 | No | Possible |
| Zfp326 | G | G | A | D | 493 | No | Possible |
| Zfp644 | C | N | T | S | 210 | Yes | No |
| 4921521K07Rik | A | I | G | V | 102 | Yes | Possible |
| 4921521K07Rik | T | F | A | Y | 280 | Yes | No |
| A830010M20Rik | G | D | A | N | 382/630 | No | No |
| A830010M20Rik | G | S | A | N | 762/1010 | Yes | Possible |
| AW060207 | G | D | A | G | 279 | No | Possible |
| AW060207 | G | H | C | Q | 355 | Yes | No |
| Pigg | G | V | A | I | 132 | Yes | No |
We also examined the list of polymorphisms for similarities to other mouse strains with cell death phenotypes similar to either the resistant or susceptible strains. Of the 25 genes identified, 2 genes clearly exhibited strain clustering of a polymorphism, while 7 other genes (totaling 8 SNPs) showed possible clustering. The basis for this latter definition was that only partial sequence data was available for reference strains or intermediate strains (see Methods). Of these 9 potential genes, 7 exhibited non-conservative amino acid changes.
A second layer of analysis was then conducted to identify genes in this region that were highly expressed or enriched in cells of the ganglion cell layer, including ganglion cells themselves, by screening available microarray data. Four genes in the
Rgcs1
region were found as being either highly enriched, or highly expressed, in the ganglion cell layer and optic nerve head, including
Pcdh7
,
Uchl1
,
Sparcl1
, and
Cplx1
(Table
2
). Of these 4,
Sparcl1
appeared on both lists of SNP-containing genes and genes expressed in the ganglion cell layer. All 4 of these candidate genes showed a decrease in expression level in arrays of axotomized or glaucomatous rat retinas [
22
].
Table 2
Summary of all candidate genes.
Gene Name

Chromosome Position

(starting bp)

Retinal Expression

Coding Region SNPc

Strain Associationd

Role in Neurodegeneration

Pcdh7

58006337

GCL enricheda,b

No

N/A

Unknown

Tlr1

65203969

Confirmedb

Yes

Possible

Immune Modulatione

Tlr6

65232241

Confirmedb

Yes

Yes

Immune Modulatione

Uchl1

66955376

GCL enricheda,b

No

N/A

eQTL Susceptibility Allelef

Sparcl1

104319413

GCL enricheda,b

Yes

Possible

Possible Glial Activationg

Cplx1

108760431

GCL enricheda,b

No

N/A

2° Degenerationh

Hspb8

116669490

Confirmedb

No

N/A

Susceptibility Allelei
Finally, a search of the 578 genes was made to identify candidates that had already been identified as susceptibility alleles for other neurodegenerative diseases. This search yielded 2 genes, HspB8 and Uchl1. The latter gene was also identified in the search of genes present in the retinal ganglion cell layer. Collectively, using the criteria of expression in the retina, ganglion cell layer, or other CNS neurons; and/or the presence of strain-specific non-conserved amino acid changes; and/or the involvement of genes in neurodegeneration, we identified 7 genes as possible candidate genes that could affect retinal ganglion cell death after lesion to the optic nerve (Table 2).
Discussion
In an attempt to determine if genetic background influences the process of retinal ganglion cell death after damage to the optic nerve, we conducted a screen of inbred mice for susceptibility to a crush lesion of the optic nerve. Breeding studies conducted as part of this series of experiments, suggested that resistance to crush was inherited in a dominant fashion involving relatively few alleles [20]. This finding was expanded to conduct genome wide mapping of a population of F2 mice generated from resistant (DBA/2J) and susceptible (BALB/cByJ) parental strains. Mapping identified a single QTL on chromosome 5, spanning a region of 25 cM delineated by markers D5Mit254 and D5Mit338, which significantly associated with the dominant inheritance of resistance to the crush procedure. In silico analysis of the 578 known genes and ESTs in this region identified 7 candidate genes that can be studied further, in concert with more detailed mapping studies to narrow the region of interest.
Rgcs1 represents a novel QTL relative to other loci that have been mapped in association with neurodegeneration. These include QTLs on chromosomes 1 [11], 13, and 15 [12], that associate with MPTP toxicity and a QTL on chromosome 18 that affects susceptibility to kainic acid [13]. Interestingly, Rgcs1 lies within a QTL that maps between 26 and 61 cM on chromosome 5 that affects the thresholds for electroshock induced seizures in mice [23]. The causative gene is likely not linked to Rgcs1, however, since DBA/2J mice exhibit greater susceptibility to electroshock. Lastly, inbred strains of mice exhibit a bimodal distribution of retinal ganglion cell number in adult animals that has been genetically mapped to a QTL on chromosome 1 [24]. Since ganglion cell number in adults is influenced by the process of cell death during development, this region has been examined for its effects on both ganglion cell specification and production, and on programmed cell death (PCD) [25]. Examinations of cell number before the onset of PCD, however, showed that strains with large numbers of ganglion cells as adults generally had equally large numbers of immature cells, and vice versa, suggesting that the process of cell death was not affected by this QTL.
Summary of candidate genes and their relevance to retinal ganglion cell death and neurodegeneration
The 7 candidate genes (Table
2
) are distributed in two main clusters, each at either end of the 25 cM interval currently defining the
Rgcs1
locus (Fig.
4
). In response to a lesion of the optic nerve, each candidate gene could realistically play a role in the process of retinal ganglion cell death. However, this does not preclude the possibility that a different gene (or genes) in this region may be responsible for the QTL. Also, it is important to note that our evaluation of candidate genes did not address the possibility that the causative gene could be an expression QTL, where polymorphisms in the promoter region could affect expression levels. Alternatively, non-coding polymorphisms could also create alternative splice variants in some genes that can affect protein structure or transcript stability. Lastly, our
in silico
analysis did not address the possibilities of differences in non-coding RNAs (such as microRNAs) that may exist between the two strains, but which could also affect gene expression and cellular processes. Still, the filters we used for selection criteria were biased towards assessing relevant features that could dramatically account for a QTL between the two strains. A summary of each gene follows: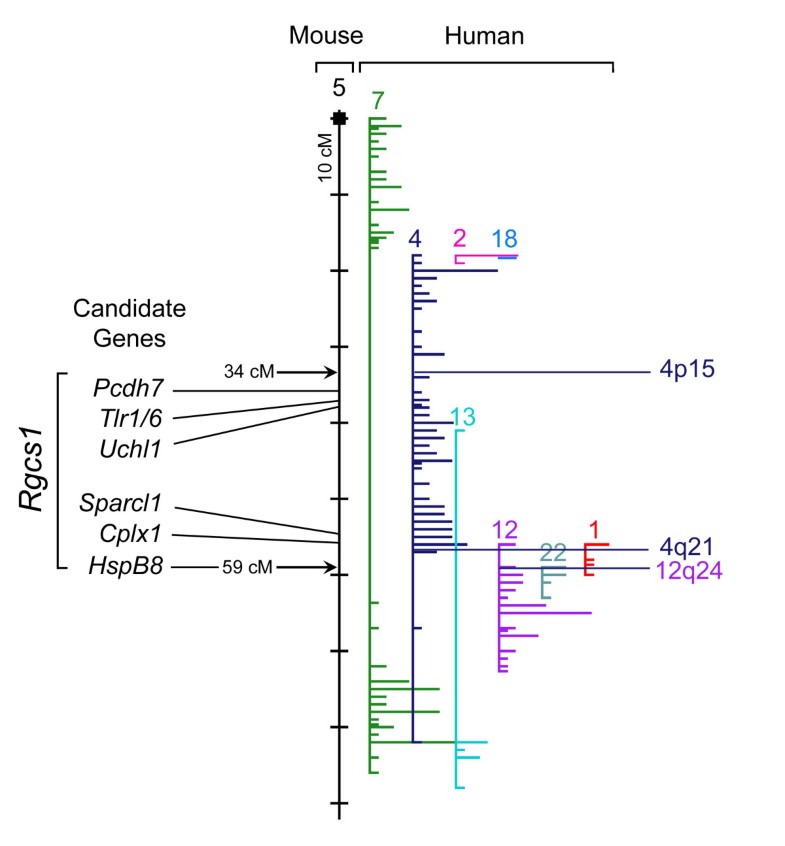 Rgcs1 and retinal ganglion cell death in glaucoma
Although Rgcs1 affects ganglion cell death after acute optic nerve crush, the role of the causative gene in this region as a susceptibility allele in glaucoma is not yet resolved. Acute nerve lesion and elevated IOP appear to activate a similar intrisinc apoptotic program, associated with Bax-dependent mitochondrial changes [14, 15, 47] and the activation of the caspase cascade [17, 48–51]. Additionally, genome wide microarray studies conducted on early, intermediate, and late retinal gene expression changes from both axotomy injured rat eyes and eyes with experimental glaucoma showed significant overlap in the genes that were differentially expressed in both conditions [22]. These changes included early injury response genes (i.e., cJun and Junb), and stress response genes (i.e., Hsp27 and Ceruloplasmin). Additionally, ganglion cell specific genes, such as Thy1 and Sncg, were similarly down-regulated. There were specific differences in the pattern of differentially regulated genes, however, that may reflect different mechanisms of ganglion cell pathology between the two modalities of injury. Most prevalent was the up-regulation of genes involved in neuroinflammation, such as components of the complement cascade, in the experimental glaucoma retinas. Thus, neurinflammation may play a greater role in ganglion cell death during a chronic neurodegenerative process, than in an acute paradigm.
Interestingly, DBA/2J mice, which carry the resistant Rgcs1 genotype, exhibit a glaucoma phenotype characterized by progressive ganglion cell loss [52–54]. Since the dominant Rgcs1 allele does not completely abrogate cell death, we would not expect this strain to be completely resistant to glaucoma. Instead, we speculate that DBA/2J mice would exhibit a more severe phenotype if they carried the BALB/cByJ allele and experiments to create such a congenic strain are underway.
The role of Rgcs1 in glaucoma may also be inferred by comparison of mouse locus with the syntenic region in the human genome. The interval of interest on mouse Chr5 is principally represented on human Chr4 between 4p15 and 4q21 and a short segment of human Chr12, centered at 12q24 (Fig. 4). To date, no linkage studies examining forms of glaucoma with Mendelian inheritance patterns have identified genes or loci in these regions [8, 55]. This is not surprising since these studies have depended on relatively rare forms of glaucoma, while most forms of primary open angle glaucoma exhibit much higher levels of genetic complexity [8]. We predict that the retinal ganglion cell susceptibility allele, if it does influence cell loss in glaucoma, would be just one of several genes that contribute to a more complex genetic disorder.
Interestingly, markers on human Chr4 that map near the region of interest (Fig. 4), showed promising results in a genome-wide screen of DNA from 113 sib-pairs affected with primary open angle glaucoma [56]. In particular, marker D4S2397 (4p15.2) was initially positive in 3 independent analyses, including model-dependent LOD scores and sib-pair maximum LOD scores. Marker D4S400 (4q21.22) was positive in 2 of 3 analyses. These markers on Chr4, however, failed to continue to show positive results when this analysis was expanded to include a second cohort of affected sib-pairs. Given the small size of this sib-pair screen, it may not yet be possible to interpret the relative importance of this region in human glaucoma, but it is encouraging that it has shown some promising results in linkage studies.
Conclusion
Susceptibility of retinal ganglion cell death to a crush lesion of the optic nerve is influenced by genetic background. Linkage analysis of a large mapping population has helped resolve this genetic contribution to a locus on chromosome 5 between 34–59 cM. In silico examination of this region has identified 7 potential candidate genes that may account for the difference in ganglion cell death phenotype exhibited by the DBA/2J and BALB/cByJ strains. Evaluation of the effect of the BALB/cByJ locus in the DBA/2J mouse model of glaucoma will help confirm this gene/region as being a susceptibility allele for glaucoma as well as for acute optic nerve crush.
Availability & requirements
Declarations
Acknowledgements
The authors would like to thank Dr. Christina Kendziorski for discussions regarding statistical design of the project, and Dr. Simon John for helpful discussion of the Mouse Genome Informatics database at the Jackson Laboratory. The authors would also like to thank Dr. Donald Zack and Dr. Elaine Johnson for making available microarray data from their laboratories to compare to the known genes in the Rgcs1 locus. This work was supported by National Eye Institute grants R03 EY016341 (RWN), R01 EY12223 (RWN), and P30 EY016665 (CORE grant to the Department of Ophthalmology and Visual Sciences) and an unrestricted research grant from Research to Prevent Blindness, Inc.
Authors' Affiliations
(1)
Department of Ophthalmology and Visual Sciences, University of Wisconsin, Madison, USA
(2)
Department of Biostatistics and Medical Informatics, University of Wisconsin, Madison, USA
(3)
Department of Physiology, University of Wisconsin, Madison, USA
Copyright
© Dietz et al; licensee BioMed Central Ltd. 2008
This article is published under license to BioMed Central Ltd. This is an Open Access article distributed under the terms of the Creative Commons Attribution License (http://creativecommons.org/licenses/by/2.0), which permits unrestricted use, distribution, and reproduction in any medium, provided the original work is properly cited.