Research article

Open Access
An olfactory demography of a diverse metropolitan population
BMC Neuroscience
2012
13:122
Received: 11 July 2012
Accepted: 28 September 2012
Published: 10 October 2012
Abstract
Background
Human perception of the odour environment is highly variable. People vary both in their general olfactory acuity as well as in if and how they perceive specific odours. In recent years, it has been shown that genetic differences contribute to variability in both general olfactory acuity and the perception of specific odours. Odour perception also depends on other factors such as age and gender. Here we investigate the influence of these factors on both general olfactory acuity and on the perception of 66 structurally and perceptually different odours in a diverse subject population.
Results
We carried out a large human olfactory psychophysics study of 391 adult subjects in metropolitan New York City, an ethnically and culturally diverse North American metropolis. 210 of the subjects were women and the median age was 34.6 years (range 19–75). We recorded ~2,300 data points per subject to obtain a comprehensive perceptual phenotype, comprising multiple perceptual measures of 66 diverse odours. We show that general olfactory acuity correlates with gender, age, race, smoking habits, and body type. Young, female, non-smoking subjects had the highest average olfactory acuity. Deviations from normal body type in either direction were associated with decreased olfactory acuity. Beyond these factors we also show that, surprisingly, there are many odour-specific influences of race, age, and gender on olfactory perception. We show over 100 instances in which the intensity or pleasantness perception of an odour is significantly different between two demographic groups.
Conclusions
These data provide a comprehensive snapshot of the olfactory sense of a diverse population. Olfactory acuity in the population is most strongly influenced by age, followed by gender. We also show a large number of diverse correlations between demographic factors and the perception of individual odours that may reflect genetic differences as well as different prior experiences with these odours between demographic groups.
Keywords
Olfaction
Psychophysics
Demographics
Background
Compared to other senses, olfactory perception is considered to be variable, subjective, and unreliable. Both variability between individuals and within individuals contribute to the overall variability. The same olfactory stimulus can be perceived differently by the same subject on different occasions and, as a consequence, olfactory psychophysics has unusually high within-individual variability [1], which can be of the same magnitude as variability between individuals [2]. However, careful psychophysical experiments have also revealed large, stable inter-individual differences in olfactory perception. There are dramatic differences in subjects' sensitivity to odours [3, 4] and the perceived quality and pleasantness of some odours differs greatly between individuals [5, 6]. The inter-individual differences can be general [3] or they can concern specific odours [4, 7].
Many factors contribute to inter-individual differences in general olfactory acuity, which is a measure of olfactory abilities across different stimuli. A reduced general olfactory acuity can be genetic [8–10] or it can be caused by trauma [11], exposure to toxic agents [12], neurodegenerative diseases [13], or infections [14]. General olfactory acuity declines with age [15, 16] and is lower in men [17, 18]. In contrast, odour-specific inter-individual differences have only been shown to be influenced by variability in the gene for an odorant receptor that is responsive to the odour [19–23] and by previous experience with the odour in question [24–27].
Here we explore all these aspects of variability in a dataset that was collected to identify genetic variations in odorant receptor genes that influence the perception of specific odours [
19
]. This dataset, which is made available here in its entirety for data-mining purposes (Additional file
1
), has three features that make it exceptionally useful for the study of perceptual variability. First, the same psychophysical measures were collected from each subject on two visits on two different days. This allowed us to quantify the relative contributions of inter-individual variability and within-individual variability to overall variability and to control for the latter when desired. To further investigate within-individual variability, 56 of the subjects returned for a third and fourth visit more than one year after the second visit. Second, our subject population was unusually diverse and closely reflected the age structure and ethnicity of New York City (Figure
1
) [
28
]. This is an advantage over typical psychophysical or psychological studies that rely on the comparatively homogeneous subject pool of college students [
29
,
30
]. Third, we have assessed responses to a large panel of diverse odours. This is a marked difference from typical studies of olfactory perception, which often focus on a limited number of odours. Consequently, we have uncovered a large number of odour-specific differences between demographic groups that will inform the study of genetic and environmental influences on olfactory perception.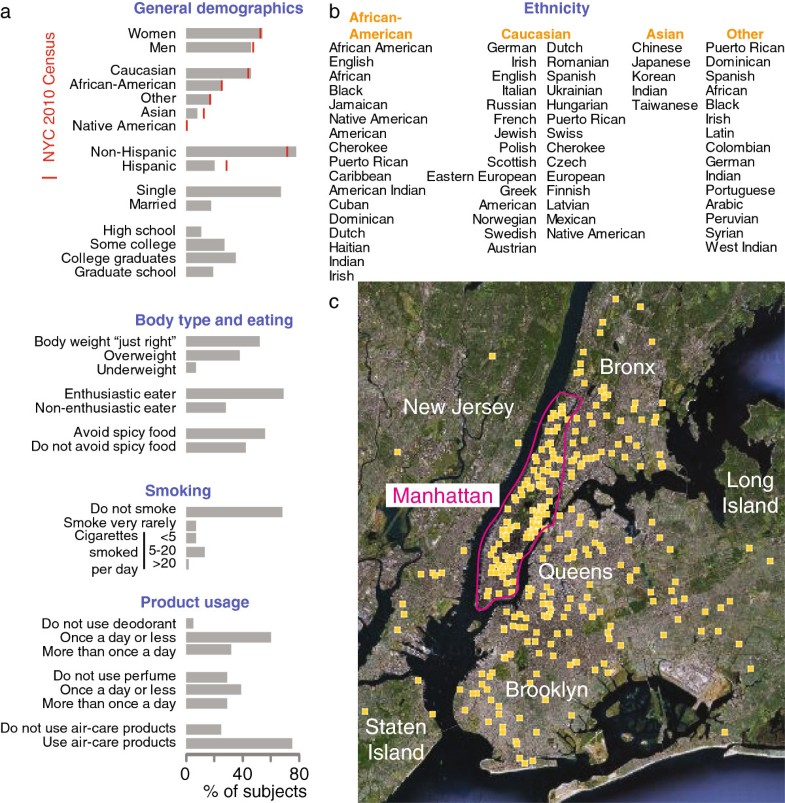 Conclusions
We have investigated the factors that influence olfactory perception in a large set of psychophysical data collected from a diverse population of subjects from the New York City metropolitan area. We found that within-individual variability did not differ more when tests were repeated months apart than when they were repeated minutes apart, suggesting that variability between tests is caused almost entirely by processes operating on a time-scale of minutes or seconds. We showed that general olfactory acuity correlates with age, gender, smoking habits, body type, and race. In addition we have identified over 100 cases in which sensitivity to a specific odour, or the intensity or pleasantness perception of a specific odour, differed significantly between demographic groups. We also studied in detail how the perceived odour quality of three odours differs between demographic groups.
Our results illustrate the complex composition of inter-individual variability in odour perception. If we for example consider the intensity rating of the high concentration of androstenone, which is the most variable of all the ratings reported here, we can assign multiple factors to the variability. One group of factors that contribute to this variability are factors that influence general olfactory function. Among those are genetic factors [8–10], which have been shown to explain about 20% of perceptual variability [66, 67]. In addition there are environmental factors that contribute to the variability of olfactory acuity, such as prior upper respiratory infections, trauma, and environmental toxins [11, 12, 14]. The influence of environmental factors has been estimated to be larger than the influence of genetic factors [67]. However, the variability of the intensity perception of androstenone is not only caused by variability in general olfactory acuity. There are further factors that influence not all odour perception, but specifically the perception of androstenone and similar odours. Among these are environmental and genetic factors. The most important environmental factor that influences androstenone perception in an odour-specific fashion is prior exposure to the odour [46]. The most important genetic factor that has an odour-specific effect is probably variability in odorant receptor genes [68, 69]. For the intensity perception of androstenone at high concentration in the subject population presented here, genetic variability in one of these receptors, OR7D4, has been shown to explain almost 40% of the perceptual variability [19].
The variability, subjectivity, or unreliability of olfactory perception is a major hurdle in understanding this enigmatic sense. Knowledge of the causes of perceptual variability will inform experimental designs in which the variability is controlled for. Recently, progress has been made in elucidating the genetic causes of inter-individual differences in the sense of smell [8–10, 19–23]. Together with large psychophysical studies of demographic influences on smell perception like the one presented here, this research may one day make it possible to predict inter-individual differences in smell perception. Ultimately this approach has the potential to shed light on the innate and cultural factors that influence sensory perception and aesthetic preferences.
Abbreviations
C.A.S.:

Chemical Abstracts Service
B.M.I.:

Body mass index
S.D.:

Standard deviation of the mean.
Declarations
Acknowledgments
We thank Kevin Lee, Joel Mainland, Hiro Matsunami, and members of the Vosshall laboratory for discussion and helpful comments on the manuscript and Emil Gotschlich and members of the Rockefeller University Institutional Review Board for their support and advice. The staff of The Rockefeller University Hospital Outpatient Clinic provided invaluable clinical support in performing the experiments. Chris Vancil of the Rockefeller University Information Technology Resource Center provided custom programming for the Rockefeller University Smell Study smell test computer interface. This research was supported in part by grant # UL1RR024143 from the National Center for Research Resources, National Institutes of Health and by a grant to L.B.V. from the Irma T. Hirschl Trust. A.K. was supported by a Branco Weiss Fellowship from the Society in Science Foundation and by a NARSAD Young Investigator Grant. L.B.V. is an investigator of the Howard Hughes Medical Institute.
Authors' Affiliations
(1)
Laboratory of Neurogenetics and Behaviour, The Rockefeller University, New York, USA
(2)
Howard Hughes Medical Institute, The Rockefeller University, New York, USA
(3)
Synesthetics, Inc, Montclair, USA
(4)
St. Vincent Medical Center, Bridgeport, USA
Copyright
© Keller et al.; licensee BioMed Central Ltd. 2012
This article is published under license to BioMed Central Ltd. This is an Open Access article distributed under the terms of the Creative Commons Attribution License (http://creativecommons.org/licenses/by/2.0), which permits unrestricted use, distribution, and reproduction in any medium, provided the original work is properly cited.