Research article

Open Access
Proteomic analyses of limbic regions in neonatal male, female and androgen receptor knockout mice
BMC Neuroscience
BMC series – open, inclusive and trusted
2017
18:9
Received: 26 January 2016
Accepted: 28 December 2016
Published: 5 January 2017
Abstract
Background
It is well-established that organizational effects of sex steroids during early development are fundamental for sex-typical displays of, for example, mating and aggressive behaviors in rodents and other species. Male and female brains are known to differ with respect to neuronal morphology in particular regions of the brain, including the number and size of neurons, and the density and length of dendrites in nuclei of hypothalamus and amygdala. The aim of the present study was to use global proteomics to identify proteins differentially expressed in hypothalamus/amygdala during early development (postnatal day 8) of male, female and conditional androgen receptor knockout (ARNesDel) male mice, lacking androgen receptors specifically in the brain. Furthermore, verification of selected sexually dimorphic proteins was performed using targeted proteomics.
Results
Our proteomic approach, iTRAQ, allowed us to investigate expression differences in the 2998 most abundantly expressed proteins in our dissected tissues. Approximately 170 proteins differed between the sexes, and 38 proteins between ARNesDel and control males (p < 0.05). In line with previous explorative studies of sexually dimorphic gene expression we mainly detected subtle protein expression differences (fold changes <1.3). The protein MARCKS (myristoylated alanine rich C kinase substrate), having the largest fold change of the proteins selected from the iTRAQ analyses and of known importance for synaptic transmission and dendritic branching, was confirmed by targeted proteomics as differentially expressed between the sexes.
Conclusions
Overall, our results provide solid evidence that a large number of proteins show sex differences in their brain expression and could potentially be involved in brain sexual differentiation. Furthermore, our finding of a sexually dimorphic expression of MARCKS in the brain during development warrants further investigation on the involvement in sexual differentiation of this protein.
Keywords
ProteomicsSex differencesAndrogen receptorNeonatalAmygdalaHypothalamus
Background
There are striking sex differences in many aspects of behaviors, not least in social behaviors such as mating and displaying of aggression [1]. Most psychiatric disorders also display sex differences in prevalence and/or symptomatology [2]. Although it is known that both sex steroids and sex chromosomes are essential for these behavioral differences as well as for sexual dimorphisms in brain anatomy and function [3], the knowledge about the proteins mediating these effects is sparse. The underlying neural circuits of social behaviors are controlled by sensory cues as well as by physiological signals, including the sex steroids. In rodents, these behaviors differ quantitatively as well as qualitatively between males and females, and rely on activity in several sexually dimorphic regions, e.g. in the amygdala and hypothalamus. In short, the medial amygdala neurons receive pheromonal input and subsequently provide afferents to specific hypothalamic nuclei [1, 4, 5], which execute social behaviors, e.g., aggression, parental behaviors and mating behaviors.
One of the most important factors responsible for sexual differentiation of the brain is testosterone. By acting during critical periods of neural development, testosterone and its metabolites cause male and female brains to develop differently [6–8]. In males the level of plasma testosterone peaks during three different time points; in utero, shortly after birth and during puberty [8]. The effects of testosterone are mediated by androgen receptors, and after aromatization to 17-β-estradiol, by the estrogen receptors (ER-α or ER-β). In rodents, estrogens through the ERs are essential for establishing male sexual and territorial behaviors whereas testosterone through the AR rather modulates the extent of these behavioral displays [1, 8]. These steroid receptors are ligand-activated transcription factors, and through the influence on the gene transcription they have the capability to regulate the expression levels of many different proteins. In addition, the sex steroids can bind to membrane bound receptors and thereby activate signal transduction pathways associated with changes in cell physiology [9].
Transcriptional effects during development are believed to be mainly responsible for sex differences in respect to neuronal numbers by differentially inducing apoptosis in the sexes [10–15], while other important sex differences regarding neuronal morphology, such as dendritic spines, dendrite length and the number of synapses are likely modulated both during development as well as later in life [11, 16–20]. Moreover, both neuroimmunological [8] and epigenetic processes [3, 21, 22] are thought to contribute to sex differentiation of these neural circuits.
To understand the origin of sexually dimorphic behaviors it is crucial to identify the proteins, which are responsible for the above mentioned structural and functional differences, and these could be assumed to be expressed differentially in males and females. Sex differences were detected already in early brain expression studies of single genes and proteins and many were due to sex steroid actions [23–25]. Later on, genome-wide studies revealed additional mRNA transcripts regulated by sex [26–33], and/or sex steroids [22, 34–37]. However, approaches such as micro-array technologies allowing large-scale analysis of gene/mRNA expression have limitations. For example, post-transcriptional events, such as alternative mRNA splicing, post-translational protein modifications, as well as regulatory mechanisms of protein translation, all change the diversity and amount of products that can be synthesized from a fixed number of genes, but are not detected on the mRNA level analysis. Regarding mRNA splicing, both sex-specific and lineage-specific alternative splicing has been shown in primates [38]. According to one study the mRNA levels explain around 40% of the variability in protein levels [39]. In contrast to mRNA-based expression analysis, proteomics has the advantage of studying proteins—the functional molecules of the cell [40]. Still, few studies have been performed concerning sex differences in protein expression on large or proteome-wide scale of the mammalian brain [41–44].
The aim of the present study was to identify proteins of importance for the sexual differentiation of amygdala and hypothalamus during early development. The masculinizing and defeminizing effects of pre- and neonatal testosterone are crucial for the sexual differentiation of the brain through actions mediated by the androgen receptor and the ERs. Therefore, we compared protein expression, using an explorative proteomics approach, in amygdala/hypothalamus samples from newborn females, males and male mice lacking androgen receptors specifically in the brain (ARNesDel), at a timepoint when the sex steroid receptors are known to be robustly expressed (i.e. at postnatal day 8, P8) [45]. Since the synaptic connectivity differs between the sexes and probably partly explains sexual dimorphisms in behaviors, one specific focus of our study was to explore if levels of synaptic proteins differ between the sexes.
Results
In the present study, we were able to identify a total of 2998 proteins in hypothalamus and amygdala of neonatal male, female and ARNesDel male mice. After excluding proteins lacking expression values for more than three samples, 2273 proteins were compared between the sexes and 2293 proteins were compared between ARNesDel males and male controls. Based on a nominal p value level of ≤0.05, 173 proteins were differentially expressed in males and females (Additional file 1: Table S1), whereas 38 proteins varied between males and ARNesDel males (Additional file 2: Table S2). Further analyses revealed that 65 of the sexually dimorphic proteins and 13 of the proteins differentially expressed in males and ARNesDel males showed a fold change ≥1.1 (male-biased in males versus females or males versus ARNesDel) or ≤−1.1 (female-biased in males versus females and ARNesDel-biased in males versus ARNesDel). The overlap between the proteins differentially expressed in males vs. females and in males vs. ARNesDel males was found to be small; only the proteins Actin (alpha cardiac muscle 1) and Protein CutA were found to be altered in both comparisons.
Since one specific focus of our study was to explore differences in proteins of crucial importance for the synaptic physiology, seven proteins, among the ones with a fold change of ≥1.1 or ≤−1.1 and related to synaptic connectivity, were chosen for verification analyses with targeted proteomics (Table
1
). The relation with synaptic connectivity relied on the previous literature, as well as expert curated gene sets involving genes active in the pre- and post-synapse [
50
,
51
], found at
http://ctglab.nl/software/genesets
. The result of the targeted proteomics analysis verified that one of the proteins, MARCKS (myristoylated alanine rich C kinase substrate), was differentially expressed in males and females. The concentrations of the MARCKS were significantly changed in the male and AR
NesDel
male groups compared with the female group (p = 0.01 for both comparisons, see Fig.
1
). In line with our results from the iTRAQ analyses, no significant difference in MARCKS expression levels was found between the male and AR
NesDel
male groups.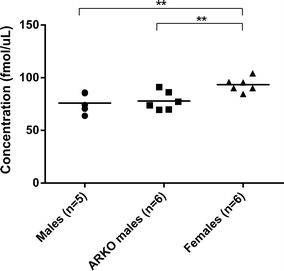 Discussion
To understand more about the molecular mechanisms underlying sexual dimorphisms in behavior and brain function, we here compared protein expression in hypothalamus/amygdala from neonatal males and females. Our explorative proteomic approach allowed us to investigate differences in approximately 2300 of the most highly-expressed proteins in our dissected tissues. No large changes in any specific protein were revealed, but many proteins (>170) displayed small expression differences between the sexes (fold changes of less than 1.34 or more than −1.31). Importantly, considering that approximately 2300 proteins were compared between groups about 115 proteins of these should be expected to be false positives at the selection threshold p = 0.05. Interestingly however, the MARCKS protein was verified as differentially expressed between the sexes using targeted proteomics.
There is consistent evidence for sex differences in morphology and synaptic connectivity in the hypothalamus, the amygdala as well as in many other brain regions [11]. Therefore it is interesting that the synaptic protein MARCKS was identified as sexually dimorphic with both our proteomic approaches, iTRAQ and targeted proteomics. MARKCS is a cellular substrate for protein kinase C and is highly expressed in the brain, especially during development [52, 53]. MARCKS has been shown to be of importance for synaptic signaling [54] and plasticity [55] and is necessary for normal mouse brain development [52]. Previous studies have mainly focused on the role of this protein in processes related to memory [56, 57] and learning [53]. The present study is the first to report sex differences in brain protein levels of MARCKS and this result may provide knowledge regarding the molecular mechanisms involved in the well-established sex differences with respect to, for example, dendritic spines, dendrite length and the number of synapses [11]. Future studies should confirm our finding of sexually dimorphic expression of MARCKS in neonates, but also extend the investigations to other developmental stages and more specific nuclei of the limbic system.
The subtle magnitudes of the sex differences revealed in our study are very much in line with previous exploratory studies of sexually dimorphic gene expression [27, 33, 58–60]. For example, in a microarray study by Yang et al. [27] 613 of 4508 brain expressed genes differed by >onefold between the sexes, and 37 of those 613 genes displayed a fold difference of >1.2. Likewise, also in a recent study of postmortem human brains from men and women only subtle gene expression differences were detected [61]. Small expression differences between the sexes were also confirmed on the protein level in a recent study of approximately 100 proteins in several brain regions [41] showing that only 2 of the 51 sexually dimorphic proteins differed by >30%. As previously suggested [60], this may indicate that differences between the sexes in brain function and behavior may arise from combinatorial effects of a large number of proteins. Moreover, recent studies indicate that the sexually dimorphic and hormone regulated gene expression may mainly be restricted to specific neurons of certain brain nuclei [22, 37, 59, 62]. Hence, our choice of tissue dissection comprising the many nuclei and neuronal types of hypothalamus and amygdala may have compromised the possibility to reveal larger differences in protein expression. Furthermore, as the present study did not include samples from brain areas not expressing sex steroid receptors we cannot evaluate if the subtle sex differences extend to areas of the brain not influenced by gonadal hormones. Thus, inclusion of such control samples in future large-scale studies is warranted. Taken together, future studies should attempt to investigate protein expression in several specifically dissected brain regions in large sets of samples.
To our knowledge, no previous studies have compared expression differences between ARNesDel mice and controls on a genome-wide or proteome-wide basis. However, a number of studies have investigated the effects of sex steroid treatment on gene expression in normal mice [22, 34–37, 63]. By using the ARNesDel mouse line, known to have no or low expression of androgen receptors in the brain already during embryonal development [45, 46, 64–66], it was possible to specifically investigate if differentially expressed proteins were regulated by the androgen receptor. Surprisingly, only small differences of less than 40 proteins were seen between males expressing and not expressing androgen receptors in the brain, indicating that the influence of the androgen receptor on protein levels in the investigated brain areas at the age of P8 is limited. Juntti et al. [45] showed that the androgen receptor is expressed from P7, but our data may indicate that its effects on protein expression occur later on.
In the present study we used iTRAQ (isobaric tags for relative and absolute quantitation) for unbiased proteomics analysis that allows simultaneous relative quantification of proteins in multiple samples. The technique offers reduced systematic error and increased efficiency leading to higher sensitivity [67]. For absolute quantification of the seven selected proteins, targeted quantitative proteomics using parallel reaction monitoring (PRM) was performed. Isotopically labelled peptides containing unique sequences for the selected proteins were spiked at known concentrations into the samples allowing absolute quantification of the peptides and their corresponding proteins. During the PRM analysis the fragment ions of the endogenous and its isotopically labelled peptides were monitored simultaneous at high resolution, which reduces interferences and significantly enhances the selectivity of the method. Using PRM, which also is a more sensitive method compared to iTRAQ, for investigations of proteins differentially expressed in the global proteomic analysis, showed that only fold changes over 20% could be verified. This result suggests that fold changes around 10% detected in the iTRAQ analysis were difficult to verify due to our relatively small sample size. Furthermore, although iTRAQ detects a large number of proteins (up to about 3000 in the tissues investigated in this study), there are most likely relevant proteins which are affected by sex or androgen receptors but which remain undetected by using this approach.
Conclusions
Our results may suggest that a large number of proteins could be involved in the sexual differentiation of the brain, since we observed many subtle but no large sex differences for single proteins. Future analyses using more sensitive detection methods of samples from specific brain nuclei from large number of samples may however modify this view. The importance of our finding of a sexual dimorphic expression of MARCKS for sexual differentiation of the brain needs to be clarified by future research.
Declarations
Authors' contributions
AZ, CS and LW designed the study. AZ, ES, AT and CS carried out all experiments. AZ, SK, AS, PK, AT, CS and LW analyzed and interpreted the data. All authors drafted or revised the manuscript. All authors read and approved the final manuscript.
Acknowledgements
We thank the Proteomics Core Facility, Sahlgrenska Academy at the University of Gothenburg, for help with performing the quantitative mass spectrometry analyses.
Competing interests
The authors declare that they have no competing interests.
Availability of data and materials
The datasets used during the current study are available from the first author upon reasonable request.
Ethics approval and consent to participate
Regarding the animals all procedures were subjected to approval by the Ethics Committee on Animal Experiments, Gothenburg, Sweden (permit number 323-2010) and performed accordingly.
Funding
Funding for the study was provided by grants from the Swedish Research Council, the Swedish Brain Foundation, Svenska Sällskapet för Medicinsk Forskning (SSMF), Fredrik and Ingrid Thurings stiftelse, Magnus Bergvalls stiftelse and Wilhelm and Martina Lundgrens stiftelse.
Open AccessThis article is distributed under the terms of the Creative Commons Attribution 4.0 International License (http://creativecommons.org/licenses/by/4.0/), which permits unrestricted use, distribution, and reproduction in any medium, provided you give appropriate credit to the original author(s) and the source, provide a link to the Creative Commons license, and indicate if changes were made. The Creative Commons Public Domain Dedication waiver (http://creativecommons.org/publicdomain/zero/1.0/) applies to the data made available in this article, unless otherwise stated.
Authors' Affiliations
(1)
Department of Pharmacology, Institute of Neuroscience and Physiology, Sahlgrenska Academy, University of Gothenburg, Göteborg, Sweden
(2)
Department of Psychiatry and Neurochemistry, Institute of Neuroscience and Physiology, Sahlgrenska Academy, University of Gothenburg, Göteborg, Sweden
(3)
Department of Neuropathology, Nuffield Department of Clinical Neurosciences, University of Oxford, John Radcliffe Hospital, Oxford, UK
(4)
The Proteomics Core Facility, Sahlgrenska Academy, University of Gothenburg, Göteborg, Sweden