Research article
Open Access
Olfactory perception of chemically diverse molecules
BMC Neuroscience
BMC series – open, inclusive and trusted
2016
17:55
Received: 23 April 2016
Accepted: 8 July 2016
Published: 8 August 2016
Abstract
Background
Understanding the relationship between a stimulus and how it is perceived reveals fundamental principles about the mechanisms of sensory perception. While this stimulus-percept problem is mostly understood for color vision and tone perception, it is not currently possible to predict how a given molecule smells. While there has been some progress in predicting the pleasantness and intensity of an odorant, perceptual data for a larger number of diverse molecules are needed to improve current predictions. Towards this goal, we tested the olfactory perception of 480 structurally and perceptually diverse molecules at two concentrations using a panel of 55 healthy human subjects.
Results
For each stimulus, we collected data on perceived intensity, pleasantness, and familiarity. In addition, subjects were asked to apply 20 semantic odor quality descriptors to these stimuli, and were offered the option to describe the smell in their own words. Using this dataset, we replicated several previous correlations between molecular features of the stimulus and olfactory perception. The number of sulfur atoms in a molecule was correlated with the odor quality descriptors "garlic," "fish," and "decayed," and large and structurally complex molecules were perceived to be more pleasant. We discovered a number of correlations in intensity perception between molecules. We show that familiarity had a strong effect on the ability of subjects to describe a smell. Many subjects used commercial products to describe familiar odorants, highlighting the role of prior experience in verbal reports of olfactory perception. Nonspecific descriptors like "chemical" were applied frequently to unfamiliar odorants, and unfamiliar odorants were generally rated as neither pleasant nor unpleasant.
Conclusions
We present a very large psychophysical dataset and use this to correlate molecular features of a stimulus to olfactory percept. Our work reveals robust correlations between molecular features and perceptual qualities, and highlights the dominant role of familiarity and experience in assigning verbal descriptors to odorants.
Keywords
OlfactionPsychophysicsCheminformatics Perceptual variabilityStructure-odor-relationshipOdor descriptorsPerceptual familiarity
Background
In olfaction, the conscious percept of a smell is often discussed in terms of perceived intensity, perceived pleasantness, and perceived olfactory quality ("garlicky," "flowery," etc.). The perceived intensity of a stimulus is the most basic and least ambiguous of these measures. Previous research has shown that only sufficiently heavy, volatile, and lipophilic molecules are odorous [1]. Molecular features such as molecular weight or the partial charge on the most negative atom correlate with perceived intensity. Several of these molecular features were used in regression equations that modeled the intensity of 58 molecules with impressive accuracy (R2 = 0.77−0.79) [2]. However this prediction has not been tested in an independent dataset, and a formal model that relates chemical structure to intensity has yet to be reported [3]. Several models have been developed to predict perceived pleasantness of an odorant based on its physical features [4–6]. Both molecular size [4, 6] and molecular complexity [5] correlate with perceived pleasantness. Molecular complexity is estimated from the variety of elements and structural features of the molecule [7]. There are also well-known predictions of olfactory quality. Molecules containing sulfur atoms are predicted to smell "garlicky," whereas molecules containing ester groups are predicted to have a "fruity" smell. However these predictions of individual olfactory qualities have not yet been rigorously verified by testing a large number of subjects.
Two perceptual features complicate solving the stimulus-percept problem for olfaction. The first complication is that different individuals perceive the same molecules with different sets of functional odorant receptors [8–12]. These differences have been shown to influence perception [9, 12–16], and the same molecule is therefore often perceived differently by different individuals. This complication is not unique to olfaction. Colorblind individuals perceive the same visual stimulus differently from standard observers. However, in olfaction, the variability between different individuals is unusually large [17–19]. The second complication is that prior experience, cultural practices, motivational state, and non-olfactory information affect verbal reports of olfactory perception. The common co-occurrence of sweet tastes and odorants that are described as smelling "sweet," for example, has led to the suggestion that odorants such as vanillin acquire their sweet smell quality by being experienced together with sweet tastes [20].
Furthermore, olfactory psychophysics suffers from a paucity of empirical data necessary to formulate theories to relate stimuli to percept. Many past attempts to solve the stimulus-percept problem for olfaction have used the same dataset published in 1985 by Andrew Dravnieks, who asked expert panelists to evaluate 138 different molecules using 146 standard semantic descriptors [21]. The purpose of the Dravnieks study was to develop a standard lexicon for describing olfactory stimuli of interest to the flavor and fragrance industry. Accordingly, both the molecules themselves and the semantic descriptors attached to them represent only a small number of possible odorants and percepts that humans can experience. Although there are alternative sources of data on the perceptual qualities of larger numbers of molecules, these are often based on the judgments of experts from companies that provide fragrance materials [22, 23]. Information from these sources is not standardized, and it can be difficult to assess how the data were obtained and how reliable they are. These constraints have slowed attempts to relate the molecular structure of an odorant to its conscious percept by human subjects.
To improve current predictions, perceptual data for a larger number of diverse molecules is needed. In this study, we present and analyze data on the perception of 480 structurally diverse molecules, many of which have not been tested before, at two concentrations. Another improvement of our dataset is that we provide individual responses in addition to the average perception of the group of subjects so that we do not mask individual perceptual variability. The motivation behind producing this dataset was to increase the number and diversity of molecules that can be used to test formal models that predict perceived smell based on features of the molecules. All raw data are being made freely available with the publication of this work to stimulate further analysis.
We found that intensity perception was strongly related to vapor pressure and molecular weight. We also uncovered correlations in intensity perception between certain pairs or clusters of stimuli whose intensity ratings varied between subjects. The presence of sulfur atoms biased molecules to be perceived as unpleasant. Conversely, pleasantness was correlated with molecular complexity. Finally, we discovered that familiarity strongly biases olfactory perception. Unfamiliar stimuli were less likely to receive a semantic descriptor and tended to be neither pleasant nor unpleasant. This suggests that semantic categorization of olfactory stimuli alone is unlikely to solve the stimulus-percept problem.
Results
We tested the perception of 480 different molecules at two concentrations in 61 healthy subjects. 20 molecules were tested twice at both concentrations, for a total of 1000 stimuli. The molecules ranged in molecular weight from 18.02 (water) to 402.54 (tributyl-2-acetylcitrate) with a median of 144.24 (Fig.
1
a), and in molecular complexity from 0 (water and iodine) to 514 (androstadienone) with a median of 109 (Fig.
1
b). Many molecules had unfamiliar smells. Of the stimuli that subjects could perceive, 70 % were rated as unknown and were given low familiarity ratings (Fig.
1
c, left), while those rated as known had high familiarity ratings (Fig.
1
c, right). The molecules were structurally and chemically diverse, and some have never been used in prior psychophysical experiments. The 480 molecules had between 1 and 28 non-hydrogen atoms, and included 29 amines and 45 carboxylic acids. Two molecules contained halogen atoms, 53 had sulfur atoms, 73 had nitrogen atoms, and 420 had oxygen atoms (Fig.
1
d).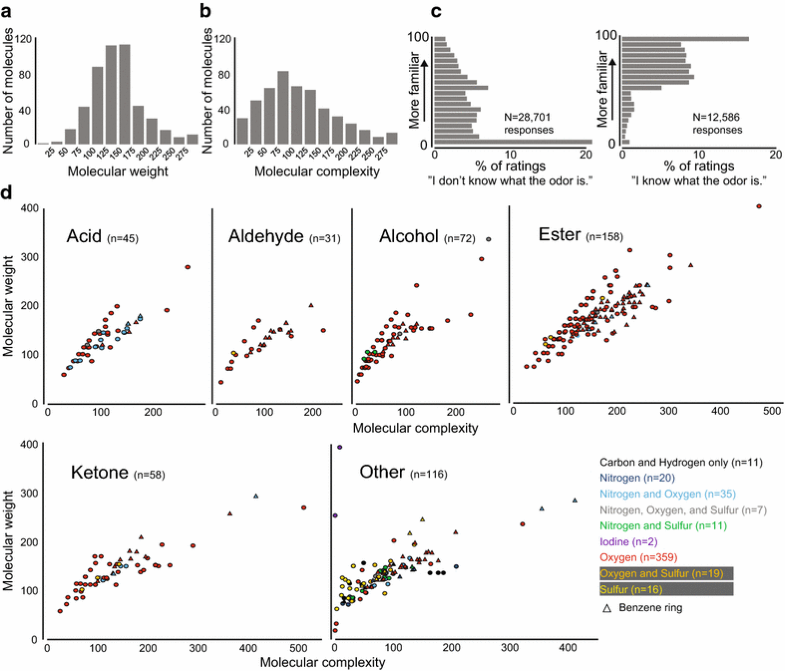 The 1000 stimuli were tested across 10 visits, and the order of visits and stimuli within visits were randomized. The sequence of prompts for each stimulus is shown in Fig.
2
a. For questions about familiarity, intensity, pleasantness, and the 20 descriptors, subjects were presented with a slider that they moved along a line. The final position of the slider was translated into a scale from 0 to 100. The 20 descriptors were "edible," "bakery," "sweet," "fruit," "fish," "garlic," "spices," "cold," "sour," "burnt," "acid," "warm," "musky," "sweaty," "ammonia/urinous," "decayed," "wood," "grass," "flower," and "chemical."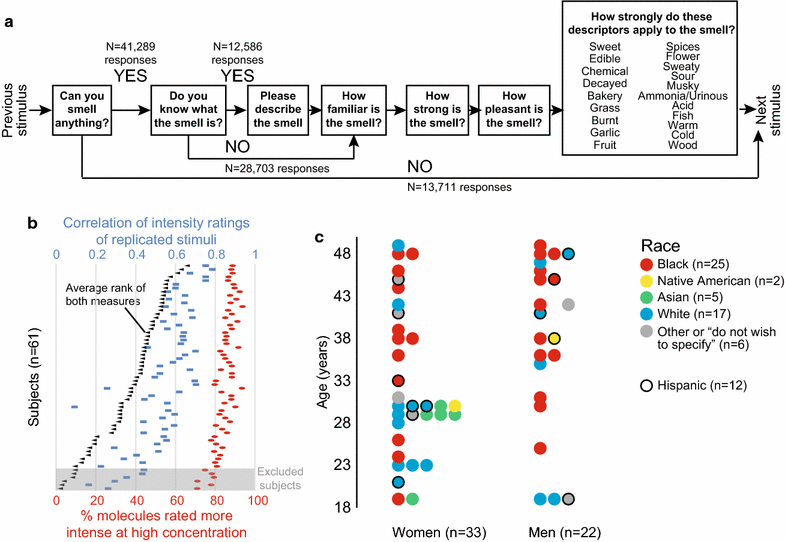 Sixty one subjects completed all ten visits. We calculated and ranked the olfactory performance of all subjects by two measures that reflect the subjects' overall olfactory acuity (for details see "
Methods
"), and excluded the six lowest-ranking subjects from further analysis (Fig.
2
b). By convention in this and previous studies, we considered subjects in the bottom 10 % as possible malingerers or subjects suffering from low olfactory acuity. Data from the remaining 55 subjects formed the basis of all analysis in the paper (Fig.
2
c) (Additional file
1
). Twenty arbitrarily chosen molecules were presented twice at both concentrations throughout the study. In general, intensity and pleasantness (Fig.
3
a) and descriptor usage (Fig.
3
b) were consistent between the two presentations. For reasons that we do not understand, the intensity ratings and descriptors for high concentrations of 2-methyl-1-butanol (odorant 2), isopropyl acetate (odorant 13), and thiophene (odorant 19) differed substantially between the two presentations (Fig.
3
a, b).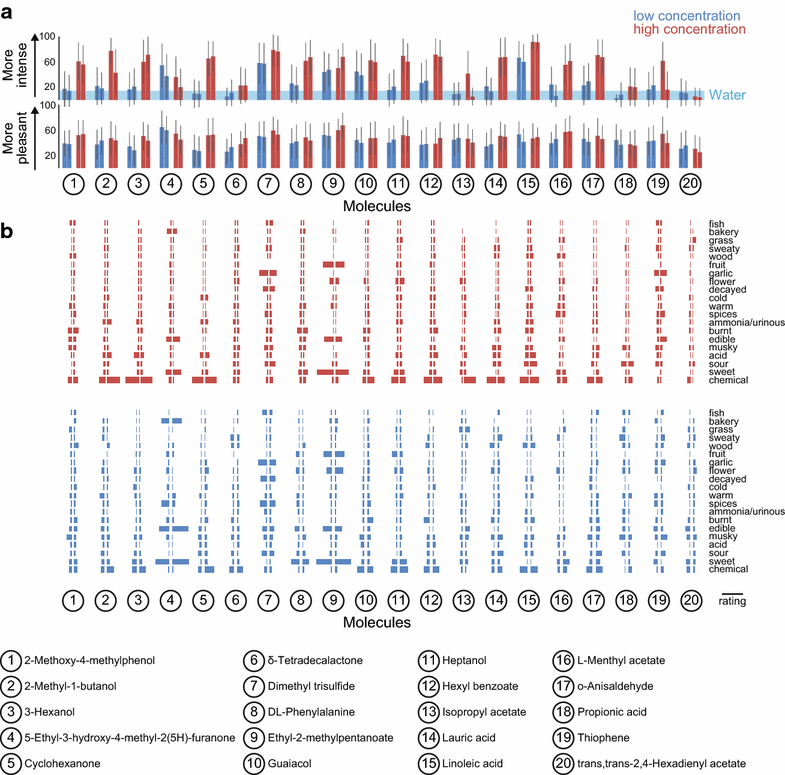 Discussion
We present a dataset that captures the sensory perception of 480 different molecules at two different concentrations as experienced by 55 demographically diverse healthy human subjects. Subjects rated intensity, pleasantness, familiarity, and applied 20 odor descriptors. 40 stimuli (20 molecules at two concentrations) were presented to the subjects twice. Subjects were capable of matching intensity ratings to the concentration of the stimulus molecules: 98 % of the molecules that subjects perceived to be stronger than water (intensity rating of 14.44) were perceived to be more intense at the high concentration than at the low concentration (median intensity rating difference: 33.2).
We discovered a strong influence of familiarity on the semantic description of odorants. In addition, the odor quality descriptors applied to the stimuli replicated how descriptors were applied by experts in many cases [21]. Among the molecules used both in this study and in Dravnieks's study, diethyl disulfide, was the most representative of the descriptor "garlic" in both studies. Similarly, the molecules most representative of "flower" (2-phenylethanol), "decayed" (methyl thiobutyrate), "sweaty" (isovaleric acid), and "spicy" (eugenol), were the same in the two studies.
However, we also found marked differences in how descriptors were used by our untrained subjects and experts. For example, subjects used "musky" to describe unpleasant body odors. In contrast, experts use "musky" to describe compounds naturally sourced from animal glands or their synthetic analogues. These are often used as base notes in perfumery, and experts associate musks with pleasant descriptors such as "sweet," "powdery," and "creamy." However for our subjects, "musky" had a negative correlation with pleasantness, and was instead correlated with the descriptor "sweaty." The molecule rated as most "musky" in this study was isovaleric acid, which experts do not rate as "musky" [21]. The five molecules that Dravnieks lists as representative of the "musk" descriptor are also rated "fragrant" and "perfumery" by experts [21]. Therefore, the word "musky" has a colloquial meaning that is different from its technical meaning in perfumery.
Conclusions
Psychophysical data with a larger number of chemically diverse molecules will increase our understanding of the relationship between stimulus and perception in olfaction. The data presented here can be used to guide experimental design for a variety of olfactory neuroscience research projects such as fMRI studies, or the study of perceptual phenomena like adaptation or mixture interactions. The data can be used, for example, to choose stimuli whose perception is variable or stereotyped, or perceptually similar or dissimilar.
The data presented here reveal that the assignment of descriptors depends strongly on familiarity with the smell. We presume that subjects only applied a given descriptor to a stimulus when they could retrieve the memory of the reference smell that they associated with the descriptor. The specificity of the reference smell depends on the odor quality descriptors. "Spices" is a semantic descriptor that can trigger a variety of different smell associations, whereas "garlic" refers to a more specific type of smell. We anticipate that only descriptors with an unambiguous reference odorant can be predicted based on molecular features.
Another problem with verbal descriptors is that they are culturally biased. The current standard set of 146 Dravnieks descriptors was developed in the United States in the mid-1980s and is increasingly semantically and culturally obsolete. Even if these descriptors were updated to be current and relevant across different nationalities and cultures, it is unlikely that semantic descriptors will ever cover the entire olfactory perceptual space. Moreover, because the existing descriptors were developed with a small list of stimuli, new untested molecules or complex mixtures of molecules may lack appropriate semantic descriptors. To circumvent the limitations of verbal descriptors, an alternative semantic-free approach to predict similarity between stimuli based on molecular features [30] should be pursued. Initial implementations of this method have shown astonishing success, producing a correlation of r = 0.85 between predicted and empirically-determined stimulus similarity [30]. Predicting perceptual similarity between olfactory stimuli would result in a complete and comprehensive ability to predict the perception of any molecule. Once robust methods for predicting perceptual similarity have been developed, it will be possible to predict verbal descriptors for a new molecule by predicting its similarity to a signature odorant representative of a given descriptor.
Studies that aim to predict smell perception based on molecular features have been given a boost by the introduction of Dragon software, which calculates thousands of different molecular features [26, 27]. This large collection of molecular features frees researchers from guessing what features of molecules influence how they are perceived, and makes it possible to test a wide variety of molecular features to find those that play a role in determining a molecule's smell. However, the large number of molecular features available for building formal models of structure-odor relationships also brings the danger of overfitting. An overfitted model fits the data that was used to create it well, but it has poor predictive performance. Overfitting often occurs when a model has too many parameters relative to the number of observations. Reducing the likelihood of overfitting by increasing the number of molecules that can be used to test formal models was a major motivation behind generating this dataset.
Importantly, we have used a subset of the data presented here for a competitive modelling challenge in collaboration with IBM Research, Sage Bionetworks, and DREAM challenges [31]. For this competition, predictive models were built based on a training set containing a subset of the stimuli and then evaluated using a different subset of the stimuli. The DREAM Olfaction Prediction Challenge aims to develop the most comprehensive computational approach to date to predict olfactory perception based on the physical features of the stimuli. The results of this challenge will be published elsewhere.
Declarations
Authors' contributions
AK carried out all the experiments and analyzed the data. AK and LBV together designed the experiments, interpreted the results, produced the figures, and wrote the paper. Both authors read and approved the final manuscript.
Acknowledgements
We thank our research volunteers for their patience in smelling the 1000 stimuli used in this study and Peggy Hempstead for overseeing data collection. We further thank Joel Mainland, Pablo Meyer, Kevin Lee, and members of the Vosshall laboratory for discussion and helpful comments on the manuscript.
Competing interests
The authors declare a competing interest. LBV is a member of the scientific advisory board of International Flavors & Fragrances, Inc. and receives compensation for these activities.
Availability of supporting data
All data supporting the results of this article are included within the article and in Additional file 1.
Consent for publication
Not applicable.
Ethics approval and consent to participate
All behavioral testing with human subjects was approved and monitored by The Rockefeller University Institutional Review Board (protocol LVO-0780). Subjects gave their written informed consent to participate in these experiments.
Funding
The staff of The Rockefeller University Hospital Outpatient Clinic provided invaluable support in performing the experiments. Chris Vancil provided custom programming for the Rockefeller University Smell Study smell testing computer interface. This research was supported in part by Grant # UL1RR024143 from the National Center for Research Resources, National Institutes of Health. AK was supported by a Branco Weiss Science in Society Fellowship. LBV is an investigator of the Howard Hughes Medical Institute. The funders had no role in the design, collection, analysis, or interpretation of data.
Open AccessThis article is distributed under the terms of the Creative Commons Attribution 4.0 International License (http://creativecommons.org/licenses/by/4.0/), which permits unrestricted use, distribution, and reproduction in any medium, provided you give appropriate credit to the original author(s) and the source, provide a link to the Creative Commons license, and indicate if changes were made. The Creative Commons Public Domain Dedication waiver (http://creativecommons.org/publicdomain/zero/1.0/) applies to the data made available in this article, unless otherwise stated.
Authors' Affiliations
(1)
Laboratory of Neurogenetics and Behavior, The Rockefeller University, New York, USA
(2)
Howard Hughes Medical Institute, New York, USA
(3)
Kavli Neural Systems Institute, The Rockefeller University, New York, USA