Co-regulation of a large and rapidly evolving repertoire of odorant receptor genes
BMC Neuroscience
2007
8(Suppl 3):S2
Published: 18 September 2007
Abstract
The olfactory system meets niche- and species-specific demands by an accelerated evolution of its odorant receptor repertoires. In this review, we describe evolutionary processes that have shaped olfactory and vomeronasal receptor gene families in vertebrate genomes. We emphasize three important periods in the evolution of the olfactory system evident by comparative genomics: the adaptation to land in amphibian ancestors, the decline of olfaction in primates, and the delineation of putative pheromone receptors concurrent with rodent speciation. The rapid evolution of odorant receptor genes, the sheer size of the repertoire, as well as their wide distribution in the genome, presents a developmental challenge: how are these ever-changing odorant receptor repertoires coordinated within the olfactory system? A central organizing principle in olfaction is the specialization of sensory neurons resulting from each sensory neuron expressing only ~one odorant receptor allele. In this review, we also discuss this mutually exclusive expression of odorant receptor genes. We have considered several models to account for co-regulation of odorant receptor repertoires, as well as discussed a new hypothesis that invokes important epigenetic properties of the system.
Keywords
Sensory NeuronOlfactory ReceptorOlfactory SystemOdorant ReceptorRepertoire Size
Introduction
Animals depend on chemosensory systems to investigate their environments and to communicate social and reproductive status. In the mammalian olfactory system, two anatomically distinct organs allow these functions: the nose and the vomeronasal organ (VNO) (Fig.
1
). The main olfactory system (the nose) consists of an olfactory sensory neuronal epithelium that detects odorant molecules and transduces odorant information to the olfactory bulb of the brain, where it is processed into the perception of smell. The vomeronasal organ (VNO), located just above the roof of the mouth in most mammals, is thought to be largely responsible for the detection of pheromones that provide subconscious information about the social and sexual status of individuals within the same species.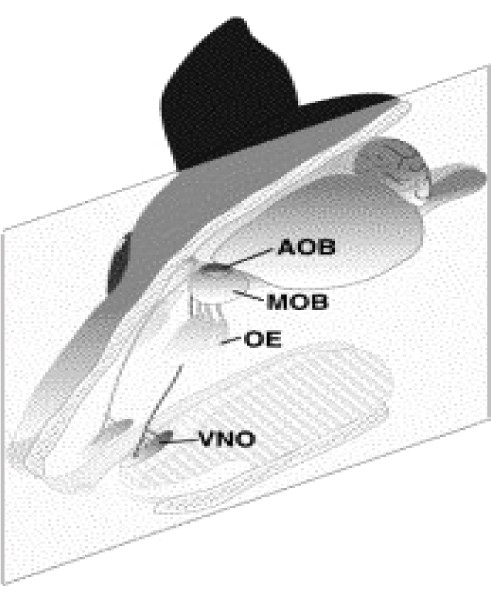 The ability to detect odorants in these two chemosensory organs in mammals is mediated by four families of G-protein-coupled receptor (GPCR) genes. The olfactory sensory neurons (OSNs) of the main nose express two of these families, the olfactory receptor (OR) gene family [1] and the trace amine-associated receptor (TAAR) gene family [2]. The vomeronasal neurons of the VNO express the other two families, named V1R [3] and V2R [4–6]. While the ORs and TAARs couple to the same G-protein [2, 7, 8], the V1R, V2R, and OR/TAAR genes utilize distinct signal transduction pathways [9] and are expressed in anatomically and functionally distinct types of sensory neurons.
How does the brain make sense of a complex odorant world? The repertoires of odorant receptors must be sufficiently large and diverse to detect and distinguish among a vast array of odorant structures, the chemosensory organs and processing centers of the brain must be designed to integrate sensory neuronal activity into coherent "smells", and both the receptor repertoires and the brain must keep pace with changing olfactory requirements associated with niche development and speciation. In this review, we describe the evolution and genome organization of odorant receptor repertoires in various species, as revealed by comparative genomics, to discuss the functional range and adaptive ability of the olfactory system. We also describe the regulation of the expression of these odorant receptor repertoires during development, since, as we will discuss, OR co-regulation is the basis for an organizing principle that permits the brain to interpret smells. Finally, we consider a possible relationship between these two topics – that OR co-regulation might depend on genome organization, as it does for some other large, clustered receptor families in the mammalian genome.
Large and divergent odorant receptor repertoires reflect niche and species specificity
Olfactory receptor repertoires of the main olfactory system
The olfactory receptors (ORs) of the main nose comprise the largest gene family in the mammalian genome. Terrestrial mammals possess a repertoire that is approximately 1,000 OR genes. According to current counts, the mouse genome encodes at least ~1400 OR genes [
10
], the canine genome encodes at least ~1000 ORs [
11
], the chimpanzee genome encodes at least ~1000 ORs [
12
], and the human genome encodes at least ~800 ORs [
13
]. OR repertoires in fish are approximately 10-times smaller: zebrafish has 143 genes, fugu 44 genes, and tetraodon 42 genes [
14
]. Nevertheless, the relatively small OR repertoires in fish species are more diverse than the large mammalian repertoires [
14
,
15
] (Fig.
2a
). In mammals, all ORs fall into two major groups, based on sequence homology. These are termed "Class I" (~10% of the repertoire) and "Class II" (~90% of the repertoire). Fish ORs fall into >5 groups based on this same criterion. Therefore, the fish OR repertoires, while much smaller, probably respond to much more divergent kinds of odorants; the much larger but less diverse mammalian repertoires on the other hand, will likely do better at discriminating between structurally similar odorants.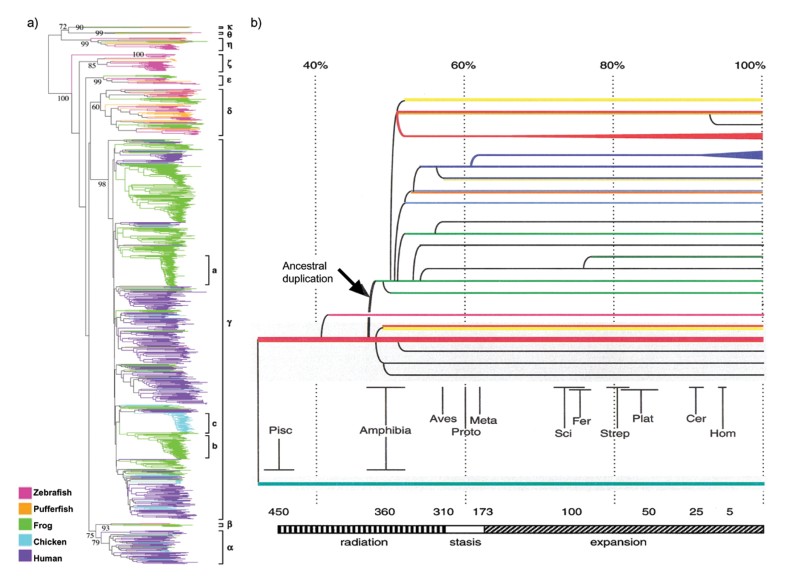 Interestingly, the smaller family of Class I ORs in mammals are described as "fish-like", because they share greatest sequence homology with fish OR families [15–19] (Fig. 2a). This observation raises the possibility that less "fish-like" Class II OR repertoires are more recent adaptations to life on land. Consistent with this hypothesis, the Class II OR repertoires in mammals coalesce to about the time of the common ancestor with amphibians (Fig. 2b). Moreover, the amphibian X. laevis exclusively expresses Class I ORs in the water-filled diverticulum of their nasal cavities, and expresses Class II ORs in the air-filled diverticulum of their nasal cavities [16]. These observations suggest that when our ancestors began to occupy niches on land, much of the current diversity seen in the mammalian Class II repertoires arose, and these more recently evolved ORs were adapted for the detection of airborne (or volatile) odorants [17, 19].
The invertebrate odorant receptor repertoires identified in the fly [20–22] and worm [23, 24] genomes share no sequence homology to each other or to those in vertebrates. The chemosensory receptor repertoire in Caenorhabditis elegans, like mammals, is large (>800 ORs) and diverse (five distinct families). In contrast, the Drosophila melanogaster genome encodes only a single family of ~60 OR genes. Therefore, the absolute size of OR repertoires does not seem to correlate with behavioral sophistication (worms and humans have repertoires that are ~10-times the size of flies and fish). Also, the lack of homology between odorant receptor repertoires of invertebrates and vertebrates suggests that the evolutionary requirement for distinct olfactory abilities in these species is met by recruitment of novel gene families rather than exploiting preexisting families in ancestral genomes.
V1R and V2R repertoires of the vomeronasal organ
The vomeronasal receptor (VR) gene familes, V1R and V2R, expressed in the second mammalian chemosensory organ, the VNO, also exemplify independent gene family recruitment during evolution. These two families share no sequence similarity to each other, nor to any of the numerous, diverse OR families described above. Complete V1R repertoires have been described in a number of mammalian species, including mouse, rat, opossum, dog, cow, chimpanzee, and human [10, 25–29], as well as five fish species [30]. The mouse and human V1R repertoires were the first to be characterized, and the >150 putative functional V1Rs in mouse seemed likely to be representative of mammals, whereas the merely ~5 intact V1Rs in humans seemed exceptional. This perspective was reasonable, since mouse, like most mammals, makes extensive use of their olfactory systems for social and reproductive communication, whereas humans do not seem to be as reliant on these forms of communication. Consistent with this view, the human VNO is probably non-functional [31]. Moreover, the human TRP2 ion channel, required for mouse VNO function, is a pseudogene [32–34], and at least one of the intact human V1Rs is expressed in the main olfactory epithelium [35]. Surprisingly, however, subsequent characterization of other mammalian V1R repertoires suggests that the large functional repertoire in rodents may be more exceptional. Chimpanzee has no intact V1R genes [29], and dog, cow, and opossum have only 8 [29], 32 [28], and 49 [28] intact V1R genes, respectively. Rat, on the other hand, has at least 107 intact V1Rs [29]. These observations suggest that rodents may have evolved specialized and more complex functions for the VNO than these non-rodent mammalian species. Consistent with this perspective, the morphological complexity of the rodent VNO is proportionately greater than other mammalian species [28, 36].
The large rodent V1R repertoires consist of at least 12–13 distinct subfamilies [25]. The duplication events that gave rise to these divergent subfamilies probably took place prior to mammalian divergence, because each of these 12–13 subfamilies is represented in the large V1R pseudogene content of other mammals [29]. Thus, it is proposed that most of the ancestral V1R functions were lost in mammals, except for in rodents where, in contrast, many of these ancestral functions have expanded by extensive gene duplications. Of note is the identification of a single V1R-like sequence in fish [30], which is expressed along with ORs in their single chemosensory organ (fish do not possess a VNO). Although V1Rs have not yet been characterized in amphibians, it is tempting to speculate that V1R diversification, like Class II OR diversification, occurred in vertebrate ancestors as they adapted to land, and evolved a separate VNO that could support more sophisticated pheromonal behaviors, like territorial marking and reproductive display (e.g., [37–39]).
Some of the mouse and rat V1R subfamilies delineate along species lines. Striking examples include two subfamilies in which all of the mouse and all of the rat genes partition into separate clades of a phylogenetic tree [26], suggesting post-speciation expansion and specialization, and two subfamilies in which the rat genes have been deleted [29], suggesting species-specific capabilities exclusive for mouse. Similar lineage-specific diversification of mouse and rat V2R subfamilies is observed [40]. Interestingly, duplication events that produced species-specific delineations in some of the V1R subfamilies have been dated to a short period of evolution approximately when mice and rat speciated [26], suggesting that this diversification might have been favored to reinforce species divergence. These examples suggest strong delineation of VNO function between these two rodent species. Species-specificity in V1R and V2R repertoires could be part of an explanation to account for how pheromone communication occurs within but not between species.
Mouse and rat V2R receptor repertoires are approximately the same size as their V1R repertoires and composed of ~100 intact genes [40]. A recent analysis of several mammalian genome assemblies suggests that V2Rs, like V1Rs, are more prominent in rodent than non-rodent mammals, with opossum being an exception. The comparatively large opossum repertoire of ~49 intact V1R genes [28] and ~90 intact V2R genes [41] appears to be consistent with the presence of a well-developed vomeronasal organ in this marsupial mammal. In fish, V2R repertoires tend to be much larger than V1R repertoires, and comparable to their OR repertoire sizes [42]. As observed for rodent gene families, fish V2R evolution includes lineage-specific expansions, presumably to support adaptations to conspecific small-peptide cues [43].
In summary, the olfactory systems of insects, worms, fish, and mammals utilize at least nine, evolutionarily distinct odorant receptor gene families adapted to their very different niches. In vertebrates, the defining evolutionary moment occurred as amphibian-like ancestors adapted to land, when the Class II ORs expanded and diversified. The repertoires of trace amine-associated receptors and putative pheromone receptors, V1R and V2R, are at least ten-times smaller than the OR repertoire sizes in all mammalian species so far characterized. V1R and V2R repertoire size and diversity, like VNO morphological complexity, is highly variable among mammals, and these differences might contribute to species-specificity in VNO function. We next consider evolutionary mechanisms that have contributed to species specific adaptations in odorant receptor repertoires.
Adaptive evolution of odorant receptor repertoires
Even before genomes were sequenced and complete odorant receptor repertoires had been characterized, the dynamic evolutionary history of odorant receptor genes was evident. Fluorescence in situ hybridization using specific OR probes on metaphase human chromosomes revealed patterns of very recent duplications and chromosomal translocations [44, 45]. Strikingly, some of these OR gene duplications appear to have occurred so recently that they produce copy number polymorphisms in the human population [46]. These observations suggest that OR repertoires are not fixed in populations, and that the olfactory system is constantly generating new genes that are likely to underlie adaptive evolutionary innovations.
Co-regulation of odorant receptor repertoires
In the previous sections, we have discussed the evolution of odorant receptor repertoires. Although there is evidence of fixation of some ancestral functions, such as Class I ORs in mammals [19, 84] or specific OR orthologs between mouse and human (e.g., [47, 85, 86]), this evolutionary history can be described as "volcanic" – frequent gene duplication, gene deletion, recombination, gene conversion, pseudogenization, and positive selection have shaped very different repertoires between and within species. Rapid evolution is also a hallmark of multigene families of the immune system, like MHC gene families [87], which contrasts the evolutionary history of metabolic, regulatory, or developmental genes that tend to be fixed. The olfactory system, like the immune system, functions via interaction with the environment, and thus, must evolve at pace with changes in these environments. Also, since different species live in different niches (with different immune and olfactory requirements), there exists selective pressures to modulate both systems concurrent with speciation. In the olfactory system, the result is an ever-changing and widely distributed repertoire of odorant receptor genes in the genome.
Regulatory and developmental processes, as mentioned, are well buffered from the environment and generally, there is strong selection against "re-inventing" these systems in each species. For example, the assembly of a functional olfactory system is likely to be a conserved developmental process in mammals. Thus, we arrive at an interesting paradox. How might fixed regulatory processes used in the development of the olfactory system accommodate ever-changing odorant receptor components? Specifically, as we will next discuss, the assembly of a coherent olfactory system depends on the mutual co-regulation of odorant receptor repertoires in the genome. Thus, this paradox can be restated in a gene regulatory context: how does the presumably fixed odorant receptor regulatory process keep pace with the dynamic evolution of its target genes? Such a regulatory process would seem to be flexible, to accommodate new target genes, and involve genome-wide surveillance, to accommodate the variability in genome location of these target genes.
Conclusion
The olfactory system meets niche- and species-specific demands by an accelerated evolution of its odorant receptor repertoires. As a result of a dynamic gene birth and death process, odorant receptor families vary significantly in size and quality between animals. In mammals, OR and V1R genes are co-regulated such that each sensory neuron expresses only ~one of the large repertoire of these genes. Singular receptor expression permits sensory neurons to be specialized to the odorant binding qualities of the single receptor expressed in each cell. This specialization of sensory neurons underlies olfactory coding, or the ability of the olfactory system to interpret and make sense of a complex odorant environment. The rapid evolution of odorant receptor genes, the sheer size of the repertoire, as well as their wide distribution in the genome, makes this co-regulatory task particularly daunting: what are the mechanisms of odorant receptor regulation that allow only one gene to be transcribed, while keeping the remaining large number of OR genes silenced? It appears that both deterministic and stochastic regulatory processes contribute to the expression patterns of odorant receptors. We have reviewed several models that have been proposed to account for mutually exclusive OR expression, as well as introduced a new hypothesis that invokes important epigenetic properties of the system. The discovery of a "trans activator", the "H region", is an eagerly awaited breakthrough. Future studies will elucidate how OR regulatory mechanisms accommodate a dynamic evolutionary history of gene birth and death, the importance of genome context and epigenetics, and how the "H region" and "feedback inhibition" collaborate in this fascinating problem of gene regulation.
Declarations
Acknowledgements
The authors thank Mike Getman and Nidhi Pathak for helpful discussion and comments on the manuscript. This work was supported by the National Institutes of Health, grant R01-DC006267-01.
This article has been published as part of BMC Neuroscience Volume 8 Supplement 3, 2007: The chemical senses: recent advances and new promises. The full contents of the supplement are available online at http://www.biomedcentral.com/1471-2202/8?issue=S3.
Authors' Affiliations
(1)
Department of Molecular Biology and Biochemistry, Wesleyan University, Middletown, USA
Copyright
© Kambere and Lane; licensee BioMed Central Ltd. 2007
This article is published under license to BioMed Central Ltd. This is an open access article distributed under the terms of the Creative Commons Attribution License (http://creativecommons.org/licenses/by/2.0), which permits unrestricted use, distribution, and reproduction in any medium, provided the original work is properly cited.