Non coding RNA and brain
BMC Neuroscience
2006
7 (Suppl 1) :S5
Published: 30 October 2006
Abstract
Small non coding RNAs are a group of very different RNA molecules, present in virtually all cells, with a wide spectrum of regulatory functions which include RNA modification and regulation of protein synthesis. They have been isolated and characterized in all organisms and tissues, from Archaeobacteria to mammals. In mammalian brain there are a number of these small molecules, which are involved in neuronal differentiation as well as, possibly, in learning and memory. In this manuscript, we analyze the present knowledge about the function of the most important groups of small non-coding RNA present in brain: small nucleolar RNAs, small cytoplasmic RNAs, and microRNAs. The last ones, in particular, appear to be critical for dictating neuronal cell identity during development and to play an important role in neurite growth, synaptic development and neuronal plasticity.
Keywords
miRNA Target
Embryonic Carcinoma Cell
miRNA Binding Site
DiGeorge Syndrome
Predict miRNA Target
Introduction
In recent years it has become more and more clear that RNA cannot be any longer classified as ribosomal, messenger and transfer RNA (rRNA, mRNA, tRNA); instead a number of different RNA molecules have been characterized, which are involved in a variety of cellular regulatory processes on their own or as a part of ribonucleoprotein particles (RNPs) [1]. Small nuclear RNAs (snRNAs), small nucleolar RNAs (snoRNAs), microRNA (miRNAs), just to name a few, have revolutionized our view of cellular molecular machineries. It is now predicted that as much as 40–50% of mammalian mRNAs could be regulated at the translational level by miRNAs and that 50–60% of mammalian pre-mRNAs could be alternatively spliced, by a process critically involving snRNAs, to form a huge number of different proteins.
A number of small non-coding RNAs have been detected in mammalian brain; among them, some appear to be brain specific. They have been related to brain development, neuronal differentiation and complex functions such as learning and memory; some have also been implicated in neuronal degeneration and mental disorders.
Small nucleolar RNA
All eukaryotic cells contain a large number of small ribonucleoprotein particles (snoRNPs) active in rRNA processing, modification and ribosome assembly. These particles are formed by a single snoRNA molecule and a set of proteins. SnoRNAs, and snoRNPs, can be of two different classes: "C/D box", containing conserved sequences named boxes C and D, and "H/ACA box", again containing conserved sequences with those names (Figure
1
). Different proteins bind to the two classes, forming the ribonucleic particles snoRNPs [
2
]. These snoRNPs, more specifically their snoRNA component, target specific sequences on pre-rRNA for nucleotide modification: box C/D snoRNAs cause 2'-O methylation [
3
] while the box H/ACA ones give rise to pseudouridylation [
4
]. In both these processes, the modification reactions are guided by the joining of complementary regions, extended for 10–21 nt, between the rRNA and the snoRNA. The same reaction of site specific nucleotide modification occurs on rRNA, tRNA, snRNA and, most probably, mRNA. rRNA and tRNA nucleotide modifications are thought to improve translation efficiency while modification of other RNA molecules probably affects their folding.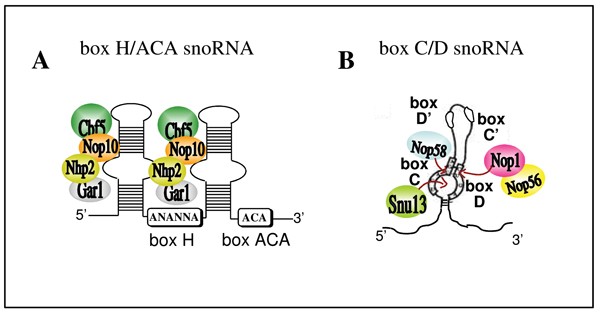 Most mammalian snoRNAs are ubiquitous, but some are expressed exclusively in brain. This suggests that these molecules are not needed for normal housekeeping, but are important for brain function. Six C/D box and one H/ACA box RNAs have been isolated from mouse brain. MBII-13 and MBII-78 are encoded by single copy genes while MBI-36 (H/ACA), MBII-48, MBII-49, MBII52 and MBII85 are encoded by multiple copies [5]. Human homologues of these snoRNAs are also highly expressed in brain while a couple of them, HBII-13 and HBII-85, are also found in other tissues [6]. In situ hybridizations revealed that MBI-36, MBII-48, MBII52 and MBII85 are not expressed uniformly in brain. They are concentrated in hippocampus and amygdala, two areas very important for brain functions such as spatial learning and fear conditioning. Furthermore, inside the hippocampus, a difference exists between dorsal and ventral regions: MBI-36, MBII-48, MBII52 have a higher expression in ventral with respect to dorsal hippocampus, suggesting that these snoRNAs play a differential role [7].
The function and molecular mechanisms of brain specific snoRNAs remain unknown. They have no complementarity to rRNA, so they are probably not involved in rRNA processing or modification. Their peculiar hippocampal expression pattern, however, raises the intriguing possibility that they are involved in memory consolidation. In fact, ventral hippocampus has been demonstrated to be very important in contextual conditioning, a form of association of stimuli with the context [8]. While MBI-36 expression does not change in contextual memory consolidation, MBII-48 and MBII52 expression is transiently regulated, being lower for the first and higher for the second. Furthermore, this variation is strictly associated with contextual conditioning and it is not induced by a different kind of stimulation [7]. As stated above, the molecular mechanism of action of these RNAs remains obscure. However, they have a complementarity to mRNAs for proteins involved in memory processes like for instance 5-HT2C mRNA, coding for the serotonin 2C receptor. This receptor is involved in memory consolidation [9, 10]; editing and alternative splicing of its mRNA have been associated with mental disorders such as schizophrenia [11, 12]. Human homologues of MBII-13, MBII-52 and MBII-85 map on chromosome 15q11-13 region, which is associated with Prader-Willi syndrome (PWS), a neuro-behavioural disorder leading to mental retardation [13, 14]. Later studies restricted the PWS locus to a small region containing only the HBII-85 gene, indicating a strong association of this snoRNA with the disorder [15].
Small cytoplasmic RNA
Brain cytoplasmic RNAs were discovered 20 years ago and are one of the first examples of active genes derived from retro-transposition [16, 17]. BC1, in rodents, and BC200, in primates, have similar expression patterns and probably play similar roles in neuronal cells.
BC1 is encoded by the mouse bc1 gene located on chromosome 7; it is transcribed by RNA polymerase III and derives from a retro-transposition event of tRNAala. This tRNA gene is believed to be at the origin of Short Interpersed Repetitive Elements (SINEs) rodent sequences, which are similar to Alu sequences in primates. Mutations in re-transposed copies of the gene during evolution would have changed the structure of the RNA molecule from a typical tRNA to a complex stem-loop, changing at the same time the functionality of the molecule [18]. The human gene coding for BC200, bcyrn1, is also transcribed by RNA polymerase III and is located on chromosome 2. BC200 is structurally similar to BC1 and contains three structural domains: the 5' domain, similar to the Alu repetitive element, a central domain rich in adenines, and the 43 nt long 3' terminal domain [19].
BC1 RNA is found only in neural tissues [20], and is present in widely different amounts in different brain structures: it is highly expressed in olfactory bulb, hippocampus and cortical neurons, while it is absent or present in very low quantity in other brain areas [21]. The cellular localization of BC1 is also peculiar: it is found in axons and concentrated in somato-dendrites [22]. BC200 share the same localization: it is expressed in neurons and transported to dendrites [19]. The intra-cellular localization of BC1 and BC200 suggests their involvement in regulation of translation in dendrites and synapses. In fact, these RNAs bind to fragile × mental retardation protein (FMRP), a protein that inhibits translation of specific mRNAs at synapses [23, 24]. BC1 and BC200 can probably guide FMRP to specific targets, as they have regions of complementarity to different mRNAs, also localized at synapses, like Arc, MAP1B and αCaMKII. These mRNAs code for proteins involved in synaptic plasticity phenomena such as long term potentiation (LTP), implicated in learning and memory [25, 26]. Furthermore, BC1 and BC200 have been shown to inhibit small ribosomal subunit recruitment on some mRNAs [27] and to associate with the polyA binding protein PABP [28]. BC1 RNA production is regulated during neuronal development and during changes in neuronal activity [29]. BC200 expression seems also to be related to Alzheimer's disease: brains of Alzheimer's patients show a strong reduction of BC200 accumulation, linking these RNAs with neuro-degenerative disorders [30]. Knock-out mice for the bc1 gene have been generated. They develop normally, but show defects in activity and an increased anxiety. On the other hand, they do not show defects in learning and memory processes [31], indicating that, if BC1 is involved in these processes, some unknown activity must be present to replace it.
Conclusion
Despite the fact that non coding RNAs in brain have been characterized only recently, a large amount of experimental data indicate their importance in brain development and function. They clearly seem to be involved in all mechanisms of synaptic plasticity like memory and stress response. Furthermore, anomalous non coding RNA expression has been linked to several brain dysfunctions in humans, suggesting their possible targeting for therapeutic treatment or their use as therapeutic tools.
Acknowledgements
S.N. acknowledges financial support from MIUR FIRS project "Neurobiotechnologies".
This article has been published as part of BMC Neuroscience Volume 7, Supplement 1, 2006: Problems and tools in the systems biology of the neuronal cell. The full contents of the supplement are available online at http://www.biomedcentral.com/bmcneurosci/7?issue=S1.
Abbreviations
3'UTR:

3' Untranslated Region
5-HT2C:

Serotonin 2C Receptor
BDNF:

Brain Derived Neurotrophic Factor
FMRP:

fragile × syndrome protein
LNA:

Locked Nucleotide RNA
mRNA:

messenger RNA
mRNP:

messenger ribonucleoprotein
miRNAs:

microRNA
ncRNA:

non coding RNA
NGF:

Nerve Growth Factor
PABP:

Poly-A Binding Protein
PCR:

Polymerase Chain Reaction
pre-miRNA:

microRNA precursor
pri-miRNA:

microRNA primary transcript
PWS:

Prader-Willi Sindrome
RISC:

RNA-induced Silencing Complex
RNP:

Ribonucleoprotein Particle
rRNA:

ribosomal RNA
SINE:

Short Interpersed Repetitive Element
SLITRK1:

Slit and Trk-like 1
snoRNA:

small nucleolar RNA
snoRNP:

small ribonucleoprotein particle
snRNA:

small nuclear RNA
tRNA:

transfer RNA
Authors' Affiliations
(1)
Dipartimento di Genetica e Biologia Molecolare, Roma, Italy
(2)
IBPM CNR, Università La Sapienza, Roma, Italy
Copyright
© Presutti et al; licensee BioMed Central Ltd. 2006
This article is published under license to BioMed Central Ltd. This is an open access article distributed under the terms of the Creative Commons Attribution License (http://creativecommons.org/licenses/by/2.0), which permits unrestricted use, distribution, and reproduction in any medium, provided the original work is properly cited.