Research article
Open Access
Kalrn promoter usage and isoform expression respond to chronic cocaine exposure
BMC Neuroscience
2011
12:20
Received: 2 November 2010
Accepted: 17 February 2011
Published: 17 February 2011
Abstract
Background
The long-term effects of cocaine on behavior are accompanied by structural changes in excitatory glutamatergic synapses onto the medium spiny neurons of the striatum. The Kalrn gene encodes several functionally distinct isoforms; these multidomain guanine nucleotide exchange factors (GEFs) contain additional domains known to interact with phosphatidylinositides as well as with a number of different proteins. Through their activation of Rho proteins and their interactions with other proteins, the different Kalirin isoforms affect cytoskeletal organization. Chronic exposure of adult male rodents to cocaine increases levels of Kalirin 7 in the striatum. When exposed chronically to cocaine, mice lacking Kalirin 7, the major adult isoform, fail to show an increase in dendritic spine density in the nucleus accumbens, show diminished place preference for cocaine, and exhibit increased locomotor activity in response to cocaine.
Results
The use of alternate promoters and 3'-terminal exons of the mouse Kalrn gene were investigated using real-time quantitative polymerase chain reaction. While the two most distal full-length Kalrn promoters are used equally in the prefrontal cortex, the more proximal of these promoters accounts for most of the transcripts expressed in the nucleus accumbens. The 3'-terminal exon unique to the Kalirin 7 isoform accounts for a greater percentage of the Kalrn transcripts in prefrontal cortex than in nucleus accumbens. Western blot analyses confirmed these differences. Chronic cocaine treatment increases usage of the promoter encoding the Δ-Kalirin isoforms but does not alter full-length Kalirin promoter usage. Usage of the 3'-terminal exon unique to Kalirin 7 increases following chronic cocaine exposure.
Conclusions
Kalrn promoter and 3'-terminal exon utilization are region-specific. In the nucleus accumbens, cocaine-mediated alterations in promoter usage and 3'-terminal exon usage favor expression of Kalirin 7 and Δ-Kalirin 7. The Δ-isoform, which lacks a Sec14p domain and four of the nine spectrin-like repeats found in full-length Kalirin isoforms, increases spine headsize without increasing dendritic spine numbers. Thus cocaine-mediated changes in alternative splicing of the Kalrn gene may contribute importantly to the behavioral, morphological and biochemical responses observed.
Keywords
CocaineNucleus AccumbensDorsal StriatumMedium Spiny NeuronChronic Cocaine
Background
Despite the expression of multiple Rho GDP/GTP exchange factors (GEFs) in the nervous system, the Kalrn gene, which encodes multiple isoforms of Kalirin, plays an essential, non-redundant role. Linkage analyses identified Kalrn as a major risk factor for coronary artery disease and stroke [1–3], as well as for schizophrenia and adult attention-deficit/hyperactivity disorder [4–6]. In addition, Kalirin interacts with many different proteins including deleted in schizophrenia 1 (DISC1), a major risk factor for schizophrenia, the inducible form of nitric oxide synthase (iNOS; NOS2), Huntingtin-associated protein 1 (HAP1) and peptidylglycine α-amidating monooxygenase, an essential enzyme for neuropeptide biosynthesis [7–11]. Chronic cocaine treatment increases levels of Kal7 protein in the mouse and rat striatum [12]. Estrogen treatment of ovariectomized female rats increases Kalirin expression [13], and Alzheimer's Disease is accompanied by a dramatic loss of Kal7 in the hippocampus [14]. Hippocampal Kalirin mRNA is elevated at 4 h following a kainate-induced seizure and remains elevated for a month [15].
Kalirin has been implicated in many functions. Kalirin is one of a small number of RhoGEFs localized to the postsynaptic density (PSD) [16]. In the adult brain, Kalirin 7 (Kal7) is the predominant isoform and is almost exclusively localized to the PSD [17, 18]. Overexpression of Kal7 leads to increases in dendritic spine number in cultured hippocampal and cortical pyramidal neurons [19–21]. Conversely, a specific reduction of Kal7 in primary neurons causes a dramatic decrease in spine density [13, 21]. Studies on Kalirin have focused on cortex and hippocampus, where Kal7 has a clear role in spine formation and maintenance.
With many functional domains, the different Kalirin isoforms are capable of integrating inputs from a variety of surface molecules (ephrins, N-cadherin, Trk receptors), phosphatidylinositides, cytoskeletal components, PDZ domain proteins like spinophilin and PSD-95, plus signaling molecules and growth factors [18, 22–25]. Kal7 is also crucial for the expression of normal long-term potentiation in CA1 hippocampal pyramidal neurons [17].
The rat Kalrn gene encompasses more than 65 exons spanning 600 kb of the rat genome, with at least six promoters and five 3'-terminal exons [26–28]. Alternative splicing yields multiple functionally different isoforms of rat Kalirin. We recently developed a mutant mouse specifically lacking the Kal7 isoform (Kal7KO) [17]; the 3'-terminal exon that encodes a PDZ binding motif known to interact with PSD-95 and AF-6 was eliminated [18, 25]. Kal7KO mice show decreased anxiety-like behavior, impaired acquisition of a passive avoidance task, and abnormal behavioral and morphological responses to chronic cocaine [12, 17]. A total Kalirin knockout mouse (T-KalKO) mice, in which exons 27-28 in the first GEF domain were replaced by a neomycin resistance gene, was also developed [29]. T-KalKO mice also display a number of neurological phenotypes. Use of these mouse models to clarify the role of Kalirin proteins in synaptic plasticity requires better characterization of the major products of the mouse Kalrn gene.
Given the essential role of Kal7 in multiple cocaine-elicited behaviors as well as the interactions of Kalirin with cyclin dependent kinase 5 (Cdk5) and the NR2B subunit of the NMDA receptor [12, 17, 18, 30], proteins important for these behaviors, we chose to examine more closely the effects of cocaine on the expression of different Kalirin isoforms in the striatum and, more specifically, in the ventral striatum or nucleus accumbens. In order to identify the striatal cell types expressing Kal7, we took advantage of mice expressing GFP under control of the D1-dopamine receptor promoter.
Results
Kal7 is expressed in the major neuronal cell types in nucleus accumbens and dorsal striatum
Understanding the role Kal7 plays in the effects of cocaine on locomotor activity and place preference requires knowing the striatal cell types in which it is expressed. Mice expressing GFP under the control of the D1 dopamine receptor (Drd1a-GFP mice) were used to investigate the cellular specificity of Kalirin expression in the dorsal striatum and nucleus accumbens (Figure
1
). In both regions, more than half of the neurons express GFP, identifying them as D1 receptor positive medium spiny neurons; this ratio is consistent with published studies [
34
,
35
]. Over 90% of the D1 receptor neurons express Kal7. About one-third of the neurons in both regions express Kal7 but do not express GFP. D1 receptor negative neurons that are similar in size to the D1 receptor positive neurons represent medium spiny neurons expressing the D2 dopamine receptor [
34
,
35
]. The small population of very large neurons expressing high levels of Kal7 are aspiny cholinergic interneurons (Figure
1D-F
) [
36
]. Kal7 could play a role at excitatory synapses onto each of these different neuronal cell types.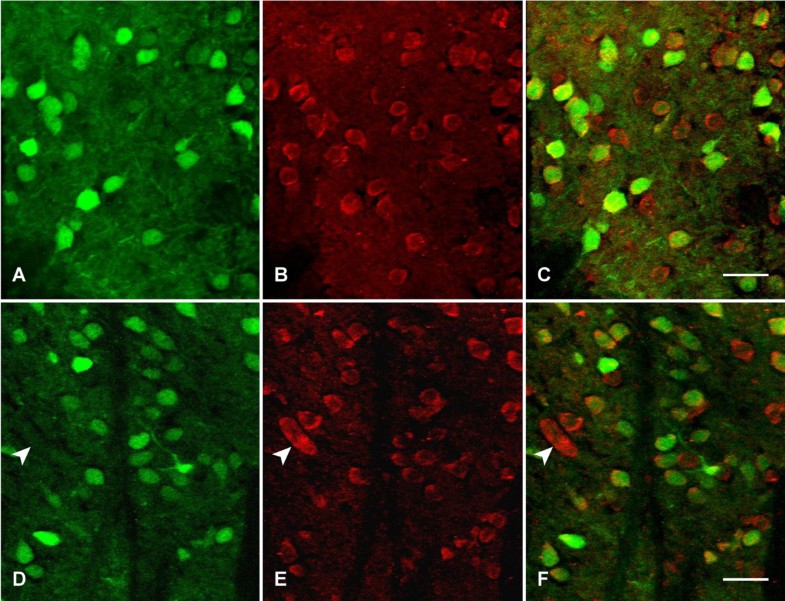 Chronic cocaine treatment alters promoter and 3'-terminal exon expression
Adult male mice were treated with cocaine (20 mg/kg) for 7 days and nucleus accumbens was then harvested for preparation of RNA (Figure
8
). Utilization of full-length
Kalrn
promoters A, B, C and D was first evaluated; following injection of saline or cocaine,
Kalrn
promoter C accounted for most of the full-length transcripts produced (Figure
8A
). Usage of the Δ
Kalrn
promoter was next compared to the total level of full-length
Kalrn
transcript (Figure
8B
). Chronic cocaine treatment increased usage of the Δ
Kalrn
promoter without altering expression of full-length transcripts (Figure
8B
).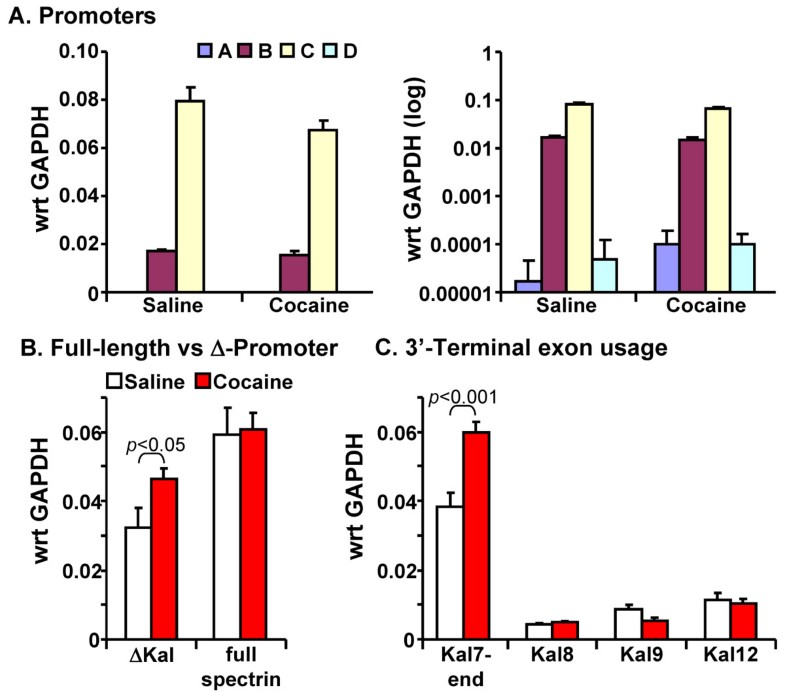 The effect of chronic cocaine on usage of different Kalrn 3'-terminal exons was next evaluated (Figure 8C). In the nucleus accumbens, the number of Kalirin transcripts generated using the Kal7-specific 3'-terminal exon increased following chronic treatment with cocaine. No significant change was seen in the level of transcripts encoding Kal8 or Kal12 and levels of Kal9 fell slightly (Figure 8C).
Effect of chronic cocaine on expression of Kalirin isoforms in striatal neurons
In order to evaluate changes in Kalirin isoform expression, PSDs were prepared from the striata of mice treated chronically with saline or cocaine (Figure
9A
). Analysis of equal amounts of input (S1) and PSD protein revealed increased levels of Kal7 protein in both samples. DARPP32, a soluble protein enriched in striatal neurons, was excluded from the purified PSDs, attesting to their purity. Small amounts of Kal9 and Kal12 could be detected in the purified PSDs, but Kal12 was barely detectable in the input samples. The identification of the Kal7 band was verified with the Kal7-specific antibody (Figure
9B
).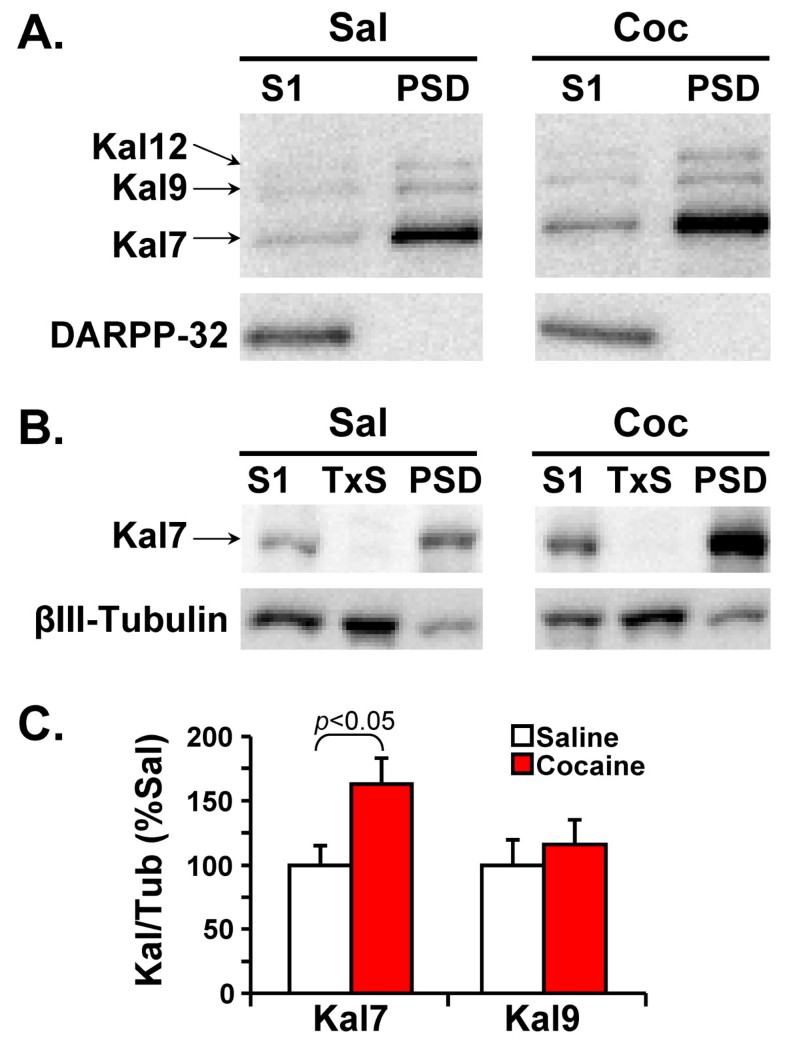 Many of the effects of cocaine involve the nucleus accumbens, or ventral striatum. Since preparation of purified PSDs from this relatively small region would require the use of multiple animals, we evaluated the effects of chronic cocaine on total lysates. Western blot analyses of nucleus accumbens extracts with the Kal-spectrin antibody revealed a 60% increase in Kal7 protein levels (Figure 9C); Kal9 levels were unchanged following cocaine treatment and Kal12 levels were too low for accurate quantification.
Discussion and Conclusions
Tissue-specific use of full-length Kalrn Promoters
The pattern of Kalrn promoter usage differs in NAc and prefrontal cortex; the C-promoter accounts for most of the full-length transcripts in the NAc while the B- and C-promoters contribute equally in the prefrontal cortex. The rat Kalrn A promoter was the first one identified and came from a cDNA library prepared from P21 rat hippocampus and cortex following electroconvulsive shock [11]. Subsequent studies demonstrated that the Kalrn A promoter is a minor contributor in the adult rat, mouse and human tissues examined [27, 28]. The Kalrn D promoter is also a minor contributor in adult brain, but is the dominant Kalrn promoter in the pituitary (not shown). The Duet promoter, which produces transcripts that lack all of Kal7, is rarely used in the rat or human brain [28] and was not examined in this study. Interestingly, the intron sizes shown for mouse in Figure 1 are virtually identical to those reported for rat and human [28].
The N-terminal sequences encoded by the mouse and rat Kalrn B promoters are identical, as are the N-terminal sequences encoded by the mouse and rat Kalrn C promoters. Most of the full-length Kalirin isoforms in the NAc will begin with the more hydrophobic N-terminal sequence encoded by the Kalrn C promoter [48]. The functional consequences of this difference have not yet been explored, but the proximity of this short sequence to the Sec14p domain, which is known to bind phosphatidylinositol-3-phosphate [24], suggests that future studies might identify an important role for the N-terminus of Kalirin.
Cocaine regulation of ΔKalrn promoter and Kal7 3'-terminal exon usage
Chronic cocaine treatment increased the prevalence of transcripts generated using the ΔKalrn promoter (Figure 8B). Neither the level of full-length Kalirin transcripts nor usage of the Kalrn B and C promoters (Figure 8A) was altered by this treatment. Chronic cocaine treatment is known to increase expression of several transcription factors, including CREB, ΔFosB, MEF2 and Sp1, in the NAc [45, 47, 49–51]. Our own analyses demonstrated an increase in transcripts encoding CREB, MEF2 and Sp1 in the NAc of mice treated with this particular regimen of cocaine [52].
We therefore examined 1 kilobase of genomic sequence immediately upstream of the ΔKal, Kal B and Kal C transcriptional start sites for the presence of consensus binding sites for these four transcription factors (Figure
10
). Consensus sites for CREB, ΔFosB and MEF2A were not found in these regions. A consensus Sp1 site (GGGCGG) was identified close to the Δ
Kalrn
transcriptional start site [
53
]; this site is perfectly conserved in mouse and rat. Consensus Sp1 sites, or close matches, were identified in the
Kalrn
B,
Kalrn
C and
Kalrn
A promoters, but are over 300 nucleotides from the transcriptional start site; none occur in the
Kalrn
D promoter (Figure
10
). Because they are GC-rich, Sp1 sites are strongly affected by chromatin methylation [
54
]. Interfering pharmacologically with Sp1 function (e.g. with mithramycin) is known to block psychostimulant sensitization [
51
] and Sp1 binding to the proximal promoters of the mu opioid receptor has been clearly demonstrated [
55
].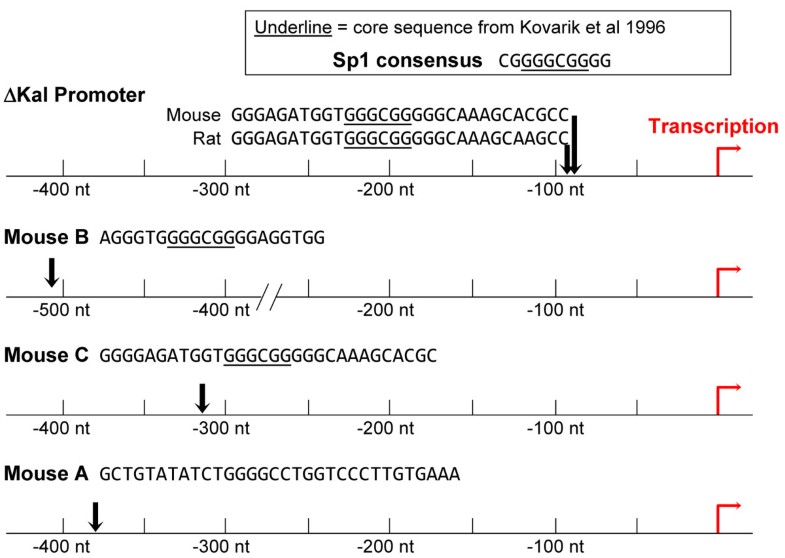 Chronic treatment with cocaine also increased the level of transcripts that include the Kal7-specific 3'-terminal exon (Figure 8). Inclusion of this 3'-terminal exon results in the production of transcripts encoding Kal7 or ΔKal7 and precludes the production of Kal8, Kal9 or Kal12. Since chronic cocaine treatment had no effect on the level of full-length Kalirin transcripts (Figure 8B), an increase in the splicing events that include the Kal7-specific 3'-terminal exon would be associated with diminished usage of other 3'-terminal exons. While usage of the Kal8- and Kal12-specific exons was unaltered, usage of the Kal9-specific 3'-terminal exon declined slightly.
The effects of cocaine treatment on alternative splicing have received little attention. However, acute exposure to cocaine is known to alter splicing of transcripts encoded by the rat BDNF gene [56]. BDNF, acting through its TrkB receptor, plays an important role in the behavioral response to cocaine and enhances responsiveness to glutamate [57–59]. Cocaine- and activity-regulated alternative splicing of the Homer family of scaffolding proteins also affects synaptic signaling [43, 60]. For Kalrn, splicing events that lead to the inclusion of different 3'-terminal exons produce proteins with distinctly different functions. Since the GEF2 region of Kalirin can be activated upon binding Gαq [61], leading to activation of RhoA, even a slight shift in the ratio of isoforms with both GEF domains vs GEF1 alone should be of significance. Cocaine-induced alternative splicing of Kalrn transcripts may be important in the biochemical and/or behavioral response to cocaine.
Kalirin expression in the striatum
The primary site of action of cocaine is the nucleus accumbens and the rest of the striatum [47, 62, 63]. Kal7 is expressed in almost all of the neurons in the dorsal striatum and nucleus accumbens that express the D1 receptor, but its expression is not limited to this population of neurons. Since medium spiny neurons expressing the D1 dopamine receptor and the D2 dopamine receptor receive different excitatory glutamatergic inputs and are part of very different functional pathways [34], examining the role of Kal7 in the effects of cocaine on both neuronal populations will be important. Whether expression of high levels of Kal7 in giant aspiny striatal cholinergic interneurons [36, 63] plays an important role in the actions of cocaine will require additional studies.
Based on Q-PCR analysis, expression of Kalirin in the NAc is lower than in hippocampus or prefrontal cortex. Consistent with a role for Kalirin in spine formation, dendritic spine density on NAc medium spiny neurons is lower than on hippocampal CA1 pyramidal neurons [12, 24]. In addition, PSDs purified from mouse striatum contained substantially lower levels of Kal7 than PSDs from cortex or hippocampus (Figure 7A). While the typical cortical or hippocampal PSD is estimated to have 9-12 molecules of Kal7, the typical striatal PSD would have only five.
Western blot analysis revealed an increase in levels of Kal7 in lysates of NAc and in purified striatal PSDs following chronic cocaine treatment (Figure 9). Many factors contribute to steady state protein levels, but the cocaine-stimulated increase in usage of the Kal7-specific 3'-terminal exon, coupled with maintained usage of the full-length Kalrn C promoter could account for the observed change. No cocaine-mediated alteration in Kal9 protein levels was observed (Figure 9B), despite a decrease in usage of the Kal9 specific 3'-terminal exon (Figure 8C). While ΔKal7 is detectable in mouse cortex, it is far less prevalent than predicted by promoter usage. The presence of four start codons followed by in-frame stop codons in the 5'-untranslated region of mouse ΔKal7 may limit successful translation [64], and increased turnover ΔKal7, a soluble, cytosolic protein, may contribute to this discrepancy.
A transient, cocaine-mediated change in levels of Kal7 vs. ΔKal7 would be expected to have functional significance. While expression of exogenous Kal7 increases spine density in cortical and hippocampal pyramidal neurons and even in interneurons [13, 21, 24], expression of exogenous ΔKal7 does not. Expression of ΔKal7 does increase spine head size [24] and the cocaine-mediated increase in ΔKalrn promoter usage may contribute to the increase in spine width known to occur following cocaine administration [12, 24]. Kal7 binding to its partners might be disrupted by ΔKal7, much as Homer-1a disrupts the clusters of proteins formed with the longer constitutive splice variants of the Homer family [60].
Initial studies on Kal7KO mice confirmed a role for Kal7/ΔKal7 in nervous system function [12, 17]. A slight decrease in linear spine density on CA1 hippocampal pyramidal neurons is accompanied by a decrease in spontaneous EPSP frequency and deficient hippocampal LTP [17]. In contrast, spine density is normal in the Kal7KO NAc under basal conditions [12]. Although chronic administration of cocaine increases spine density on the medium spiny neurons in the NAc [35, 42, 65], this response is absent in Kal7KO mice [12]. The behavioral responses of Kal7KO mice to chronic cocaine are also altered [12]. Levels of both Cdk5 and NR2B, which play essential roles in the structural and behavioral responses to cocaine [17, 30, 41, 66–69], are diminished in PSDs prepared from the cortices of Kal7KO mice. A similar relationship between Kal7 and Cdk5 and NR2B in the NAc may contribute to the behavioral deficits observed.
Although the Na+-dependent plasma membrane dopamine transporter is the immediate target of cocaine, the effects of chronic exposure to cocaine are complex, wide-spread and long-lasting. Since no effective treatment is available, it is essential to develop a better understanding of the molecular, cellular and system-wide changes that lead to addiction. Structural changes at many of the synapses involved in addiction are thought to underlie these long-lived changes. Since dendritic spine morphology is largely controlled by the actin cytoskeleton, attention has turned to the pathways through which cocaine could alter the cytoskeleton. Small GTP binding proteins of the Rho family play an important role in this process and are activated by RhoGEFs and inactivated by Rho GTPase Activating Proteins. There are ~60 RhoGEFs in the human genome, and about a dozen are found in significant amounts at the PSD [16]. We have focused on one of these RhoGEFs, Kalirin, because it is essential for normal synaptic function and mice engineered to lack its major adult isoform exhibit altered responses to cocaine [12, 17].
Declarations
Acknowledgements
Thanks go to Darlene D'Amato for her help with Western blots and Chris Mazzone for help with mouse husbandry. This work was supported by grant DA-15464 from the National Institute Drug Abuse, National Institutes of Health.
Authors' Affiliations
(1)
Department of Neuroscience, University of Connecticut Health Center, Farmington, USA
(2)
Department of Genetics and Developmental Biology, University of Connecticut Health Center, Farmington, USA
Copyright
© Mains et al; licensee BioMed Central Ltd. 2011
This article is published under license to BioMed Central Ltd. This is an Open Access article distributed under the terms of the Creative Commons Attribution License (http://creativecommons.org/licenses/by/2.0), which permits unrestricted use, distribution, and reproduction in any medium, provided the original work is properly cited.