Correction to: Orally delivered water soluble coenzyme Q10 (Ubisol-Q10) blocks on-going neurodegeneration in rats exposed to paraquat: potential for therapeutic application in Parkinson's disease
BMC Neuroscience volume 22, Article number: 79 (2021)
Following publication of the original article [1], it was reported that there was an error in Figs. 2B and 3B. One of the figure panel (PQ2 High Magnification) from Fig. 2B was mistakenly duplicated in Fig. 3B (PQ2 High Magnification) Also a high magnification panel of Fig. 2B (control) was put in in Fig. 3B (PQ + Ubisol Q10 4 weeks). We have corrected this error.
The corrected versions of Figs. 2B and 3B are included in this erratum.
Figure 2B: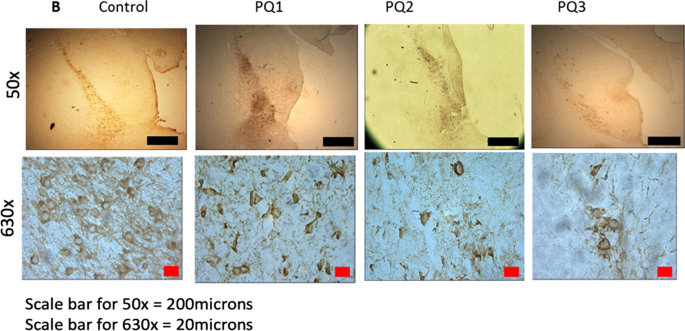 Figure 3B: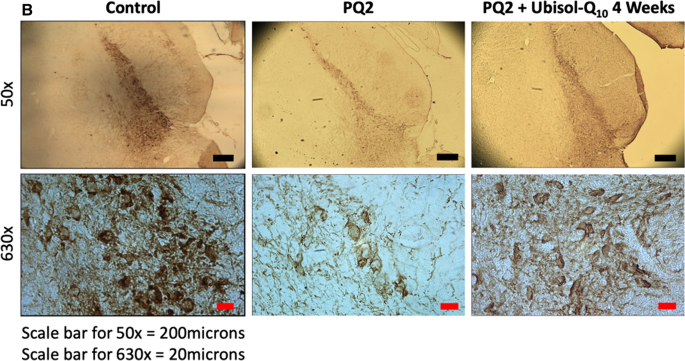 Reference
Muthukumaran K, Leahy S, Harrison K, Sikorska M, Sandhu JK, Cohen J, Keshan C, Lopatin D, Miller H, Borowy-Borowski H, Lanthier P, Weinstock S, Pandey S. Orally delivered water soluble coenzyme Q10 (Ubisol-Q10) blocks on-going neurodegeneration in rats exposed to paraquat: potential for therapeutic application in Parkinson's disease. BMC Neurosci. 2014;15:21. https://doi.org/10.1186/1471-2202-15-21.
Additional information
Publisher's Note
Springer Nature remains neutral with regard to jurisdictional claims in published maps and institutional affiliations.
Rights and permissions
Open Access This article is licensed under a Creative Commons Attribution 4.0 International License, which permits use, sharing, adaptation, distribution and reproduction in any medium or format, as long as you give appropriate credit to the original author(s) and the source, provide a link to the Creative Commons licence, and indicate if changes were made. The images or other third party material in this article are included in the article's Creative Commons licence, unless indicated otherwise in a credit line to the material. If material is not included in the article's Creative Commons licence and your intended use is not permitted by statutory regulation or exceeds the permitted use, you will need to obtain permission directly from the copyright holder. To view a copy of this licence, visit http://creativecommons.org/licenses/by/4.0/. The Creative Commons Public Domain Dedication waiver (http://creativecommons.org/publicdomain/zero/1.0/) applies to the data made available in this article, unless otherwise stated in a credit line to the data.
About this article
Cite this article
Muthukumaran, K., Leahy, S., Harrison, K. et al. Correction to: Orally delivered water soluble coenzyme Q10 (Ubisol-Q10) blocks on-going neurodegeneration in rats exposed to paraquat: potential for therapeutic application in Parkinson's disease. BMC Neurosci 22, 79 (2021). https://doi.org/10.1186/s12868-021-00684-7
Published:

DOI: https://doi.org/10.1186/s12868-021-00684-7