Research article

Open Access
Neurophysiological modulation of rapid emotional face processing is associated with impulsivity traits
BMC Neuroscience
BMC series – open, inclusive and trusted
2015
16:87
Received: 10 September 2015
Accepted: 11 November 2015
Published: 9 December 2015
Abstract
Background
Sensori-perceptual processing of emotional stimuli under attentive conditions effectively prevents response disinhibition. This is observed saliently in low-impulsive people, because of their high sensitivity to warning signals, such as emotional faces. Results from human neurophysiological studies have been used to develop a dual detector model for early sensori-perceptual processing. A transient detector mechanism is related to automatic neurophysiological arousal in response to warning signals, which is reflected by early frontal event-related potential effects. The memory-based detector mechanism is associated with subsequent mismatch negativity (MMN), which reflects a short-term memory trace of signals. Based on previous findings, we predicted that impulsivity affects functional associations among the dual detector mechanisms, and modulates early frontal and/or MMN activities. In the present study, we recorded electroencephalograms for twenty-one healthy adults using a visual oddball paradigm with neutral faces as frequent stimuli, and angry and happy faces as infrequent stimuli. We measured the impulsivity traits by a self-report scale (the Barratt Impulsiveness Scale, 11th version).
Results
Main findings were that only happy faces increased early frontal negativity and subsequent occipital visual MMN (vMMN) for emotional change, and these neurophysiological effects positively correlated with each other in a temporally causal manner. However, an impulsivity sub-trait positively correlated selectively with vMMN for the happy faces.
Conclusion
These findings demonstrate that higher impulsivity is associated with attenuated vMMN for emotional change detection in healthy populations, potentially because of weakened fronto-occipital functional connection that is responsible for the dual detector mechanism.
Keywords
Emotional face processing
Visual oddball paradigm
Electroencephalogram
Event-related potential
Visual mismatch negativity
Impulsivity
Background
Observing emotional expressions in other people frequently evokes involuntary responses. In socially favorable situations, happy faces frequently evoke positive emotions in surrounding people and promote interpersonal interaction [1]. However, even emotionally positive faces, if they are mismatched to the circumstances, sometimes evoke disinhibited impulsive responses that can lead to tragic consequences. While emotional expressions automatically affect sensori-perceptual processing [2–4], sensori-perceptual processing of emotional stimuli under attention may prevent response disinhibition [5, 6]. On the other hand, sensori-perceptual processing under attention may depend on sensitivity to salient stimuli, such as emotional faces as a function of personality [7], and be associated with prefrontal-sensory functional connectivity responsible for top-down processing [8]. Therefore, it might be beneficial to investigate neuropsychological modulation in sensori-perceptual processing of alert signals to develop coping strategies to suppress impulsive responses.
Oddball paradigms have been frequently used to investigate neural foundations for preattentive detection of stimulus change in various sensory modalities, such as visual [9–12], somatosensory [13, 14], olfactory [15, 16], and auditory [17, 18] systems. In the most-widely studied auditory paradigms, frequent and infrequent auditory stimuli are randomly presented. Infrequent stimuli, compared to frequent stimuli, mainly increase an event-related potential (ERP) called mismatch negativity (MMN) for stimulus change that appears around 200 ms after stimulus onset [17, 18]. Because MMN can be observed in preattentive situations [19, 20] and across several sensory modalities, it is considered a neurophysiological marker of automatic sensori-perceptual change detection of stimuli [21].
Previous studies have argued that neural activities for stimulus change detection are based on a dual detector mechanism [22–24]. One is a transient detector mechanism, which automatically evokes an arousal response and facilitates a motor response [23, 25]. The arousal response is generally related to alertness [7], which is evoked by warning signals. This mechanism updates neuronal refractoriness to frequent stimuli by warning signals [24]. In addition, the mechanism may be related to a basic neurophysiological process, for example, early cortical activities or N100 (N1) appearing around 100 ms post-stimulus [22, 26].
The second is a stimulus-change detector mechanism [23, 27], which is associated with a short-term sensory memory trace of stimuli [19]. This detector mechanism is reflected by MMN, which is distinguished from frontal ERP effects of an involuntary attentional shift after stimulus change detection [25, 28]. Taken together, sensori-perceptual change detection is based on the temporally ordered neural activities for automatic arousal and subsequent detection of stimulus change.
The present study investigated the neuropsychological factors affecting neural activities for sensori-perceptual processing of emotional stimuli. Previous studies suggest that impulsivity traits affect the dual detector mechanisms [29–31]. Furthermore, impulsivity traits are considered a complex behavioral trait, difficult to comprehend [32], and are related to various behavioral patterns, such as a lack of concentration or self-control, cognitive instability, disinhibition, non-perseverance, lack of future planning, sensation seeking, and risk taking (see for review, [33]). A number of personality theories have defined impulsivity multifariously as "a sub-trait of extraversion which is a basic dimension of personality," "a basic temperament distinguished from extraversion," or one of the major personalities, "sensation seeking" [34]. More recently, impulsivity has been conceptualized as "a predisposition toward rapid, unplanned reactions to internal or external stimuli without regard to the negative consequences of these reactions to the impulsive individual or to others" [35].
To define the association between impulsivity and the dual detector mechanisms, several theories have been proposed [31], including the general arousal theory [30] and the short-term information transfer/short-term memory theory [7]. These models indicate that impulsivity traits are differently associated with sensitivity to alert signals. That is, low-impulsive people perform better than high-impulsive people in simple perceptual tasks, because higher sensitivity to alert signals suppresses performance decrease in lower impulsive people [31, 36]. This is further supported by neurophysiological observations [34]: low-impulsive people attenuate early-evoked potentials as a function of stimulus intensity [37], because they likely possess an optimal level of sensitivity to alert stimuli. Taken together, these data suggest that impulsivity influences the arousal response and the subsequent sensori-perceptual change detection because a functional connection exists between the two detector mechanisms.
To examine how impulsivity traits affect the dual detector mechanisms, we used a visual oddball paradigm [9]. Similar to auditory MMN, visual MMN (vMMN) is elicited to stimulus change even without direct attention. vMMN effects are observed primarily in posterior occipital sites during the intervals from about 100 to 300 ms after stimulus onset [10, 38]. Among various types of visual stimuli (see for the recent review, [24]), socially meaningful face stimuli have also been used [4, 10, 11, 39–43]. Facial pictures [11] and line drawings [43] induce comparable vMMN effects. Change of face orientations can also elicit vMMN [12]. Thus, vMMN is associated with stimulus- or feature-change detection, which updates a transient memory representation of preceding stimuli with a time span shorter than 300 ms [44, 45].
The present study utilized a short stimulus duration of 200 ms and stimulus-onset-asynchrony of 500 ms, which is adequately short to construct a short-term memory representation of frequent stimuli. Neutral face pictures were used as frequent stimuli and angry and happy faces from the same person were used as infrequent stimuli to investigate neurophysiological correlates of emotional change detection. White circles were used as a distracting target for a button response to prevent participants from paying direct attention to emotional expressions [4]. Electroencephalogram (EEG) was recorded while participants (21 healthy adults) were performing the task. To evaluate frontal and occipital neurophysiological effects for emotional change, we separated the activities localized in these two areas by the independent component analysis (ICA) [46]. Emotional change effects were examined by comparisons of the amplitudes between infrequent and frequent faces. Temporally constrained functional connections between early frontal and subsequent vMMN effects were also examined for top-down emotional face processing, because impulsivity may affect frontal neural activities crucial for top-down processing [47]. Finally, neurophysiological effects were correlated with impulsivity traits, behavioral performances, and emotional assessments of faces.
It remains ambiguous whether positive or negative emotional bias appears more saliently in neurophysiological response for emotional face change and neurobehavioral correlations with impulsivity, because both emotional effects have been reported earlier [10]. However, based on the dual detector model, it is anticipated that early frontal activities generally enhance subsequent vMMN effects. It is also predicted that impulsivity is related to changes in early frontal effects and occipital vMMN for emotional change. This implies that people with higher impulsivity may exhibit lower sensitivity and more rapid habituation to emotional change [34], and hence, likely more attenuate early frontal activities and subsequent vMMN. On the other hand, if impulsivity also affects fronto-occipital functional connectivity because it attenuates top-down processing, differences in impulsivity-related correlations will be visible between early frontal and vMMN activities.
Results
Behavioral results
Emotional facial assessments
Mean scores of emotional assessment were 5.0 ± 0.5 for the NT faces, 2.6 ± 0.8 for the ANG faces, and 8.2 ± 1.0 for the HAP faces. Scores of the three facial types were significantly different [Friedman:
χ
(2)
2
= 40.095,
p
< 0.0001]. Further, pair-wise comparisons showed that all pairs were significantly different (Wilcoxon: NT vs. ANG,
Z
= 3.825,
p
= 0.0001; NT vs. HAP:
Z
= 3.785,
p
= 0.0002; ANG vs. HAP:
Z
= 3.825,
p
= 0.0001; Fig.
2
a). Additionally, absolute emotional distances from the NT faces were compared between the ANG and HAP faces. The HAP faces were more remote from the NT faces than the ANG faces (HAP: 3.3 ± 0.9; ANG: 2.4 ± 0.8;
Z
= 3.312,
p
= 0.001; Fig.
2
b).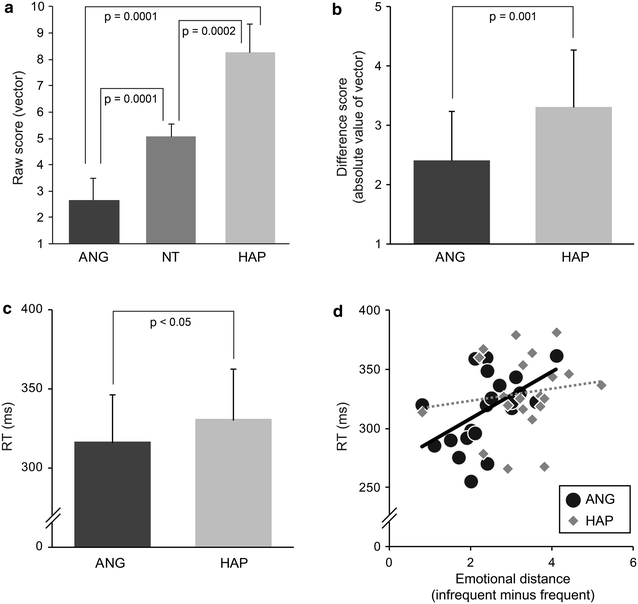 Response times for targets
Mean RTs for targets immediately after three facial types were 325 ± 29 ms for the NT faces, 316 ± 31 ms for the ANG faces, and 330 ± 33 ms for the HAP faces. The RTs for targets after frequent NT and infrequent (ANG and HAP) faces were not significantly different [95 % CI (−1.964 to 2.056): NT vs. ANG, t (20) = 1.132, p > 0.05; NT vs. HAP: t (20) = 1.122, p > 0.05]. In contrast, RTs after the appearance of the HAP faces were significantly longer than those after the ANG faces [95 % CI (−1.964 to 2.056): t (20) = 2.118, p < 0.05], suggesting an interference effect (Fig. 2c). To examine relational properties of intersubject variations of RTs in the ANG and HAP conditions, RTs were correlated with raw and different emotional assessment scores. The RTs for targets after the ANG faces positively correlated with emotional distances [95 % CI (−0.418 to 0.445): r = 0.516, p < 0.05, df = 19; Fig. 2d], which suggests that participants who perceived the ANG faces further than the NT faces responded relatively slower to targets with involuntary attention. On the other hand, the RTs after the HAP faces did not significantly correlate with emotional distances [95 % CI (−0.424 to 0.435): r = 0.146, p > 0.05, df = 19]. As observed in Fig. 2d, more than two-third of the participants (n = 15) judged that emotional distances between the NT and ANG faces were below the mean distance of 3 points. However, only seven participants (about 30 %) judged that distances between the NT and HAP faces were below 3 points. Accordingly, longer remote distances between the NT and HAP faces likely yielded relatively slower RTs (>300 ms) in many participants, which caused a smaller individual variation of RTs.
Impulsivity traits, on the other hand, did not significantly correlate with RTs for either the ANG faces [95 % CI (−0.435 to 0.438): AI, r = − 0.097, p > 0.05, df = 19; MI: r = − 0.132, p > 0.05, df = 19; NPI: r = − 0.20, p > 0.05, df = 19] or the HAP faces [95 % CI (−0.431 to 0.429): AI, r = − 0.114, p > 0.05, df = 19; MI: r = − 0.177, p > 0.05, df = 19; NPI: r = 0.129, p > 0.05, df = 19].
Neurophysiological results
Discussion
The present study conducted the neurophysiological experiment using a visual oddball paradigm to examine how impulsivity traits change emotional neural processing in healthy adults. To the best of our knowledge, this study is the first one to report neural modulation in detection of emotional face change by impulsivity in healthy populations. Based on the dual detector model, the early frontal negative and subsequent occipital vMMN effects likely corresponded to the transient detector mechanism and the stimulus-change detector mechanism, respectively, and hence, were mainly included into analyses. When we compared amplitudes between the infrequent and frequent faces, only the happy faces showed greater EFN and vMMN effects. These effects positively correlated with each other in a temporally constrained manner. An impulsivity sub-trait positively correlated only with vMMN for the happy faces, which indicates that impulsivity is associated selectively with vMMN, likely because of attenuated fronto-occipital functional connection for emotional change detection.
Conclusions
The present study revealed that our healthy participants showed positive bias to happy faces and yielded vMMN effects that were causally connected with early frontal negativity. However, this functional connection was likely affected by impulsivity traits and only vMMN correlated with impulsivity traits. This suggests that the early frontal negativity for the automatic arousal to emotional change can occur, but this frontal activity does not always effectively trigger subsequent mismatch neural activities in a correlated manner, at least, for healthy people with higher but not pathological impulsivity. These findings imply that if vMMN for salient emotional change is strongly attenuated or does not appear in specific populations, it may link to current or future symptoms related to pathological impulsivity. Furthermore, if EFN shows similar patterns of abnormal activities, there may be potential defects in sensori-perceptual monitoring of meaningful information for our lives. Early frontal and middle occipital mismatch neural activities might function as markers used to prevent developing pathological states.
Declarations
Authors' contributions
The present study has been conceived and designed by TS, TN, KA, KN, HT, and TO. The experiments were performed by TS, KN, KA, and HT. Data were analyzed by TS, KN, and HT. Data have been interpreted by TS, TN, KA, and TO. The manuscript was written, revised and approved by TS, TN, KA and TO. All authors read and approved the final manuscript.
Acknowledgements
We appreciate all participants in the present study. We also thank members at the Department of Forensic Psychiatry, National Institute of Mental Health, NCNP, and members of the Clinical Optical Imaging Section, Department of Clinical Neuroimaging, Integrative Brain Imaging Center (IBIC) at NCNP for their help. This study was supported by Intramural Research Grants (24-3), (26-3), and (27-1) for Neurological and Psychiatric Disorders of NCNP.
Competing interests
The authors declare that they have no competing interests.
Open AccessThis article is distributed under the terms of the Creative Commons Attribution 4.0 International License (http://creativecommons.org/licenses/by/4.0/), which permits unrestricted use, distribution, and reproduction in any medium, provided you give appropriate credit to the original author(s) and the source, provide a link to the Creative Commons license, and indicate if changes were made. The Creative Commons Public Domain Dedication waiver (http://creativecommons.org/publicdomain/zero/1.0/) applies to the data made available in this article, unless otherwise stated.
Authors' Affiliations
(1)
Department of Forensic Psychiatry, National Center of Neurology and Psychiatry, National Institute of Mental Health, Kodaira, Japan
(2)
Department of Psychiatry, National Center Hospital, National Center of Neurology and Psychiatry, Kodaira, Japan