Research article

Open Access
The function of Shp2 tyrosine phosphatase in the dispersal of acetylcholine receptor clusters
Received: 10 March 2008
Accepted: 23 July 2008
Published: 23 July 2008
Abstract
Background
A crucial event in the development of the vertebrate neuromuscular junction (NMJ) is the postsynaptic enrichment of muscle acetylcholine (ACh) receptors (AChRs). This process involves two distinct steps: the local clustering of AChRs at synapses, which depends on the activation of the muscle-specific receptor tyrosine kinase MuSK by neural agrin, and the global dispersal of aneural or "pre-patterned" AChR aggregates, which is triggered by ACh or by synaptogenic stimuli. We and others have previously shown that tyrosine phosphatases, such as the SH2 domain-containing phosphatase Shp2, regulate AChR cluster formation in muscle cells, and that tyrosine phosphatases also mediate the dispersal of pre-patterned AChR clusters by synaptogenic stimuli, although the specific phosphatases involved in this latter step remain unknown.
Results
Using an assay system that allows AChR cluster assembly and disassembly to be studied separately and quantitatively, we describe a previously unrecognized role of the tyrosine phosphatase Shp2 in AChR cluster disassembly. Shp2 was robustly expressed in embryonic Xenopus muscle in vivo and in cultured myotomal muscle cells, and treatment of the muscle cultures with an inhibitor of Shp2 (NSC-87877) blocked the dispersal of pre-patterned AChR clusters by synaptogenic stimuli. In contrast, over-expression in muscle cells of either wild-type or constitutively active Shp2 accelerated cluster dispersal. Significantly, forced expression in muscle of the Shp2-activator SIRPα1 (signal regulatory protein α1) also enhanced the disassembly of AChR clusters, whereas the expression of a truncated SIRPα1 mutant that suppresses Shp2 signaling inhibited cluster disassembly.
Conclusion
Our results suggest that Shp2 activation by synaptogenic stimuli, through signaling intermediates such as SIRPα1, promotes the dispersal of pre-patterned AChR clusters to facilitate the selective accumulation of AChRs at developing NMJs.
Keywords
Green Fluorescent ProteinTyrosine PhosphataseAChR ClusterGreen Fluorescent Protein mRNAsShp2 Expression
Background
Synapses facilitate efficient neuronal communication by bringing close together the organelles and molecules involved in the release and detection of neurotransmitters. Thus, to understand how synapses function, it is necessary to elucidate the signaling pathways that regulate the development of cellular specializations unique to synapses. For this purpose, one particular synaptic specialization – found at the vertebrate neuromuscular junction (NMJ) – has been examined extensively over the past several decades. Enriched in the postsynaptic domain of the NMJ are ion channels named acetylcholine (ACh) receptors (AChRs) that open upon binding to the neurotransmitter ACh; opening of AChRs depolarizes the synaptic region of muscle to trigger contraction. The synaptic aggregation of AChRs during NMJ assembly is therefore a process of paramount importance, one that is recognized to be tightly controlled by the combined actions of both muscle- and nerve-derived factors.
AChR clustering in muscle is initiated by the activation of the receptor tyrosine kinase MuSK (muscle-specific kinase) and it is mediated by the cytoplasmic protein rapsyn that binds to AChRs and tethers them to the cytoskeleton [1–3]. During development, rudimentary AChR clusters first appear before innervation in a MuSK-dependent manner and bestride the midline of embryonic muscle fibers [4, 5]; these clusters are referred to as "pre-patterned" clusters because they form in the absence of neural influence. Later, in innervated muscle, AChRs become concentrated at incipient synapses where MuSK is locally stimulated by the nerve-derived factor agrin [4–6]. This synaptic accumulation of AChRs is furthermore coupled with the disassembly of the pre-patterned AChR clusters [7–10], and these two distinct processes together help generate a 1000-fold higher density of AChRs at the NMJ compared to extra-synaptic muscle [11].
The disassembly of pre-patterned AChR clusters, which is our focus here, was first shown to occur independently of AChR activity [7–10]; however, it was also reported that in rat and chick myotubes AChR agonists trigger the loss of AChR clusters [12, 13], an issue that has recently attracted renewed attention. It has been observed that pre-patterned AChR aggregates, which are eliminated by embryonic day 17 or 18 (E17-18) in innervated muscle fibers of normal mice, are retained in the muscles of mutant mice with defective motor innervation [4, 5] and of mice lacking the gene encoding the ACh biosynthetic enzyme choline acetyltransferase (CHAT) [14, 15]. These findings have engendered the view that ACh directs the disassembly of AChR aggregates, and it has been proposed that neural agrin protects synaptic AChRs against ACh-induced dispersal [16]. The dispersal of AChR clusters by ACh is further thought to involve the ser/thr kinase Cdk5 [17, 18] whose activity, in turn, appears to depend on the regulation of the protease calpain by rapsyn [19].
AChR activity-independent AChR dispersal has been well documented in frog and fish muscle where synaptogenic stimuli trigger both the assembly and disassembly of AChR aggregates [7, 9, 10, 20–22]. In our studies we have used embryonic Xenopus muscle cultures to focus on the regulation of the AChR dispersal process by tyrosine phosphatases [23–25] because it is known that tyrosine phosphorylation stabilizes AChR clusters by strengthening links between AChRs and the actin cytoskeleton [26–31]. We showed that tyrosine phosphatases mediate the dispersal of pre-patterned AChR clusters by synaptogenic stimuli and that tyrosine dephosphorylation of pre-patterned clusters precedes the loss of AChRs from these sites in situ [2, 23–25, 32]. To date, however, the specific phosphatases involved in dispersing AChR clusters and the signaling pathways that stimulate them have remained unknown. These issues were addressed here using pharmacological and molecular methods and we describe for the first time a role of the tyrosine phosphatase Shp2, and its activator signal regulatory protein α1 (SIRPα1), in the disassembly of pre-patterned AChR clusters.
Discussion
The disassembly of pre-patterned AChR clusters that occurs in muscle following motor innervation facilitates selective AChR concentration at the NMJ. Here we studied the process by which AChR clusters are disassembled by synaptogenic stimuli using primary cultures of Xenopus muscle cells. We found that AChR cluster dispersal was expedited when active or activatable Shp2, or the Shp2-activator SIRPα1, was introduced into muscle cells, but that cluster dispersal was blocked when cells were exposed to an inhibitor of Shp2 or when they over-expressed a mutant form of SIRPα1 that curbs Shp2 signaling. These results suggest that Shp2 and its regulators such as SIRPα1 promote the disassembly of pre-patterned AChR clusters by synaptogenic stimuli during NMJ development.
Innervation of muscle triggers AChR concentration at the NMJ. For this to occur, three proteins are indispensable: rapsyn, for clustering AChRs [46], MuSK, for initiating the AChR aggregation process [47], and agrin, for enabling synaptic AChR accumulation [16, 48]. AChR clusters are further stabilized by tyrosine kinases [29, 30, 49] and the dystrophin complex proteins [50] that directly or indirectly strengthen AChR-cytoskeleton linkage. Moreover, AChR clustering requires dynamic actin polymerization [45], which is regulated by small GTPases, their effectors and other modulators [51–54], and clustering is also promoted by a transmembrane protein, LRP4 [55], and the MuSK-binder, dok-7 [56].
In addition to AChR aggregation, innervation triggers the dispersal of pre-patterned AChR clusters. In Xenopus primary muscle cultures these two processes can be readily distinguished from one another and the redistribution of AChRs in response to various stimuli can be accurately quantified [23, 25, 32, 41]. We have previously shown that tyrosine phosphatases mediate AChR cluster dispersal [23, 25] and here we identified Shp2 as one of the phosphatases that facilitates dispersal. Treatment of muscle cells with NSC-87877, a selective Shp2 antagonist [40], hindered the dispersal of pre-patterned AChR clusters without preventing the induction of new AChR clusters, as also seen with the general phosphatase inhibitor pervanadate but not other drugs [23, 25, 32, 45].
NSC-treatment enhanced AChR clustering in Xenopus muscle cells whereas the expression of active Shp2 had the opposite effect, consistent with our results in C2 myotubes [43]. In C2 myotubes, however, the expression of dominant-negative Shp2 promoted AChR cluster formation [43] but here no significant effect of this mutant on cluster induction was detected. Additionally, because the inactive Shp2 mutant was only poorly expressed in Xenopus muscle cells, we could not test whether "dominant-negative" inhibition of Shp2 would block AChR cluster dispersal, as suggested by our pharmacological assays. But because Shp2-dependent suppression of AChR clustering in C2 myotubes could be stimulated by the phosphoprotein SIRPα1 [43], we examined if exogenous SIRPα1 proteins can affect the dispersal of pre-patterned AChR clusters in Xenopus muscle cells. Expression of full-length and truncated SIRPα1, which enhance and inhibit Shp2 signaling [37], promoted and blocked AChR cluster dispersal, respectively. These results suggest that SIRPα1 (or a protein related to it) spreads the signal that globally activates Shp2 to facilitate AChR cluster disassembly.
While our results have revealed a novel role of SIRPα1 and Shp2 in AChR dispersal, it is likely that other, as yet unidentified proteins are also involved. This is because inhibition of all tyrosine phosphatases with pervanadate blocks AChR cluster disassembly more effectively [
23
] than reagents that target SIRPα1 and Shp2. However, our current and previous findings suggest a signaling pathway for SIRPα1/Shp2-dependent dispersal of AChR clusters in response to a synaptogenic stimulus. Near innervation sites, for example, Shp2 activated by SIRPα1 in response to agrin-stimulation of MuSK could, in addition to curtailing the AChR clustering signal [
25
,
43
], dephosphorylate and increase the activity of src kinases [
57
] in the surrounding area to trigger more SIRPα1 phosphorylation and Shp2 activation, and so on (Figure
9
). Such a "regenerative" signaling pathway with src, SIRPα1, and Shp2 functioning sequentially was described in integrin signaling [
58
] where it was shown that phosphorylation of SIRPα1 leads to the activation of Shp2, which stimulates src that phosphorylates SIRPα1. Because AChR clusters induced in muscle cells by growth factor-coated beads and agrin contain a similar complement of signaling and scaffolding proteins [
2
,
24
], it is possible that many of the same molecules activated following direct or indirect MuSK stimulation regulate the src, SIRPα1 and Shp2 signaling cascade. A spread of this signaling across muscle could trigger Shp2 to dephosphorylate AChR-associated proteins at pre-patterned clusters or AChRs themselves, which are in vitro substrates of Shp2 [
59
]; dephosphorylation of AChRs and/or other denizens of the pre-patterned clusters could then de-link AChRs from the cytoskeleton [
31
] and allow their redistribution.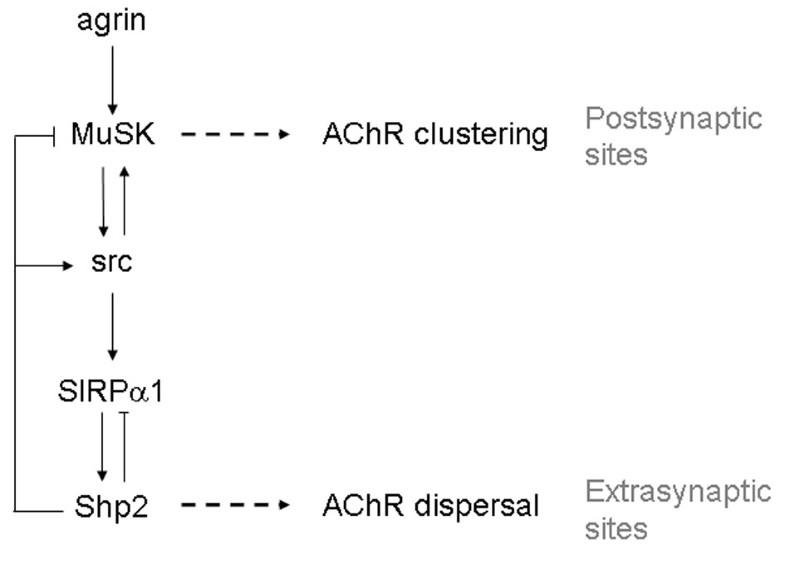 Several studies (in addition to ours) have demonstrated that pre-patterned AChR cluster disassembly occurs in amphibian and fish muscle independently of AChR activity. For example, in Xenopus muscle cells, pre-patterned clusters are dispersed by innervation when all AChR channel activity is blocked using bungarotoxin or curare and no electrical activity or twitching is detected in muscle [7, 9, 20]. Moreover, during NMJ formation in vivo in zebrafish, pre-patterned AChR clusters are redistributed when saturating concentrations of bungarotoxin are used or even when the bungarotoxin is added together with inhibitors of sodium channels to further ensure blockade of all neuronal activity [22]. Thus, in these muscle cells, ACh-dependent AChR channel opening appears to be unnecessary for redistributing pre-patterned AChR aggregates during NMJ formation. Whether ACh can subtly influence the effectiveness with which other synaptogenic stimuli disperse pre-patterned clusters, however, requires further investigation.
In contrast to the above findings, in rodent and chick myotubes AChR agonists reduce surface AChR clusters [12, 13] and muscle electrical activity suppresses extra-synaptic AChR synthesis [60, 61]. Other studies have revealed a more direct role of ACh in AChR cluster disassembly, as summarized by this recent model [19]: ACh elevates muscle intracellular Ca2+ and stimulates the protease calpain, which cleaves a protein named p35 to generate a p25 fragment [19]; p25 potently activates the protein kinase Cdk5, which disperses AChR clusters [17–19]. At the NMJ agrin promotes calpain's interaction with rapsyn, which inhibits calpain and suppresses p25 production to locally limit Cdk5 activity and block AChR dispersal [19]. Thus agrin is thought to protect synaptic AChRs against dispersal by ACh [16]. However, as discussed in these studies, some aspects of this dispersal pathway warrant further investigation. For example, calpain is activated in muscle more rapidly than Cdk5, suggesting that additional unknown factors regulate Cdk5 during dispersal [19]. Since Cdk5 phosphorylation sites have not been found in AChR subunits, it is also unclear exactly how Cdk5 disperses AChR clusters [18]. Intriguingly, AChR activity, which favors dispersal in embryonic muscle, stabilizes AChRs during synaptic competition [62], which could be due to changes in the molecular makeup of AChR subunits or clusters during development [18]. And, the elevation of intracellular Ca2+ by agonists of AChRs and L-type calcium channels actually promote AChR clustering [63, 64], suggesting that Ca2+ can either favor AChR cluster assembly and stabilization or cluster destabilization and dispersal (through calpain/Cdk5).
Roles of Shp2 or other tyrosine phosphatases in ACh-dependent AChR dispersal have not been described, but phosphatase inhibition blocks ACh-independent dispersal caused by defects in src signaling [29, 65, 66] or intracellular Ca2+ flux [67]. Shp2's function at the NMJ in vivo also remains elusive, although one study [68] has reported that NMJs appear normal around birth in mice in which Shp2 expression is reduced in muscle. In that study the presence of residual Shp2 in muscle was not ruled out and the formation of pre-patterned AChR clusters ~E14 and the dispersal of these clusters by ~E17 were not examined [68]. Several other findings, however, argue in favor of Shp2's involvement in NMJ development: Shp2 regulates neuregulin/ErbB signaling and AChR gene expression [44], Shp2 limits agrin/MuSK-dependent formation of new AChR clusters [25, 43], and Shp2 promotes the disassembly of pre-patterned (this study). Interestingly, Shp2 associates with MuSK and is able to stabilize AChR clusters in rodent myotubes [65], which could be due to its ability to activate src. However, excessive src kinase or tyrosine phosphatase activity also destabilizes AChR clusters in these cells [65], which is compatible with our findings vis-à-vis SIRPα1 and Shp2 and the inhibition of AChR clustering [25, 43] and the facilitation of dispersal (this study). Lastly, tyrosine phosphatases have recently also been found to regulate the membrane insertion of AChRs at the NMJ [69] suggesting that additional novel functions of Shp2 and other phosphatase in NMJ development await discovery.
Conclusion
During the earliest stages of NMJ establishment, motor innervation of muscle induces the clustering of AChRs at incipient synapses as well as the disassembly of pre-patterned AChR aggregates formed in muscle before innervation. In amphibian muscle, synaptogenic stimuli direct both of these processes independently of AChR activity, with the former process being suppressed by tyrosine phosphatases and the latter being mediated by phosphatases. In this study we found that pharmacological or molecular manipulation of one specific phosphatase – Shp2 – produced quantifiable changes in the dispersal of pre-patterned AChR clusters in Xenopus muscle cells: whereas dispersal was blocked by inhibitors of Shp2 signaling, it was accelerated under conditions elevating muscle Shp2 protein or activity levels. Our results suggest a role of Shp2 (and its regulators such as SIRPα1) in not only limiting AChR cluster formation [25, 43] but also in promoting the disassembly of pre-patterned AChR clusters by synaptogenic stimuli. Functioning in these two distinct ways Shp2 may enhance the efficiency with which AChRs are concentrated at developing NMJs and depleted from non-synaptic regions of muscle. The participation of other muscle tyrosine phosphatases in the dispersal of pre-patterned AChR clusters, by synaptogenic stimuli or by ACh, and the potential involvement of Shp2 signaling in the dispersal of AChR clusters by ACh remain to be tested.
Declarations
Acknowledgements
We thank Drs. Benjamin Neel and David Clemmons for cDNA constructs and Ms. Frances Chan for excellent technical help. This work was supported by RGC grants HKUST6280/03M, HKUST6401/05M and AoE grant B-15/01.
Authors' Affiliations
(1)
Department of Biology, Hong Kong University of Science and Technology, Kowloon, PR China
Copyright
© Qian et al; licensee BioMed Central Ltd. 2008
This article is published under license to BioMed Central Ltd. This is an Open Access article distributed under the terms of the Creative Commons Attribution License (http://creativecommons.org/licenses/by/2.0), which permits unrestricted use, distribution, and reproduction in any medium, provided the original work is properly cited.