Research article
Open Access
The pedunculopontine tegmental nucleus and the nucleus basalis magnocellularis: Do both have a role in sustained attention?
Received: 03 August 2007
Accepted: 30 January 2008
Published: 30 January 2008
Abstract
Background
It is well established that nucleus basalis magnocellularis (NbM) lesions impair performance on tests of sustained attention. Previous work from this laboratory has also demonstrated that pedunculopontine tegmental nucleus (PPTg) lesioned rats make more omissions on a test of sustained attention, suggesting that it might also play a role in mediating this function. However, the results of the PPTg study were open to alternative interpretation. We aimed to resolve this by conducting a detailed analysis of the effects of damage to each brain region in the same sustained attention task used in our previous work. Rats were trained in the task before surgery and post-surgical testing examined performance in response to unpredictable light signals of 1500 ms and 4000 ms duration. Data for PPTg lesioned rats were compared to control rats, and rats with 192 IgG saporin infusions centred on the NbM. In addition to operant data, video data of rats' performance during the task were also analysed.
Results
Both lesion groups omitted trials relative to controls but the effect was milder and transient in NbM rats. The number of omitted trials decreased in all groups when tested using the 4000 ms signal compared to the 1500 ms signal. This confirmed previous findings for PPTg lesioned rats. Detailed analysis revealed that the increase in omissions in PPTg rats was not a consequence of motor impairment. The video data (taken on selected days) showed reduced lever orientation in PPTg lesioned rats, coupled with an increase in unconditioned behaviours such as rearing and sniffing. In contrast NbM rats showed evidence of inadequate lever pressing.
Conclusion
The question addressed here is whether the PPTg and NbM both have a role in sustained attention. Rats bearing lesions of either structure showed deficits in the test used. However, we conclude that the most parsimonious explanation for the deficit observed in PPTg rats is inadequate response organization, rather than impairment in sustained attention. Furthermore the impairment observed in NbM lesioned rats included lever pressing difficulties in addition to impaired sustained attention. Unfortunately we could not link these deficits directly to cholinergic neuronal loss.
Keywords
Sustained AttentionLever PressThalamic Reticular NucleusNucleus Basalis MagnocellularisNADPH Diaphorase
Background
Understanding the neural basis of attention remains a fundamental goal of neuroscience, of as much importance to studies of information processing as it is to clinical studies of the disorders in which attention is impaired. Research has focused on many brain structures, from the cerebral cortex to the deep brainstem, and on many neurotransmitters, though acetylcholine (ACh) and noradrenaline are the most frequently implicated ones. One structure that has been argued to be involved in attentional processing is the pedunculopontine tegmental nucleus (PPTg), part of the pontomesencephalic tegmentum [1–3]. It consists of cholinergic and non-cholinergic neurons bordered medially by the superior cerebral peduncle, rostrally by the substantia nigra, and caudally by the parabrachial nucleus. Early studies of PPTg function concentrated on motor processes and behavioural state control, but recent work has emphasized its psychological functions (see Winn [4, 5]). In line with this we have demonstrated previously that there are severe deficits in the performance of PPTg lesioned rats on a sustained attention task [3], while others have shown impaired performance on the five choice serial reaction time task following PPTg damage [6].
There is good reason to suspect that an intact PPTg would be necessary for the successful performance of visual attention tasks on anatomical grounds. Firstly, electrical stimulation of PPTg can change the pattern of neocortical EEG from large amplitude, slow oscillations to low amplitude, high frequency activity consistent with cortical activation [7]. In addition, stimulation of PPTg also produces an increase in acetylcholine in the cortex [8]. The presence of ACh in the cortex increases the responsiveness of cortical neurons to excitatory input [9]. One route by which PPTg might achieve this influence over cortical activity is via its connections with the nucleus basalis magnocellularis (NbM) [10]. In intact rats the application of drugs to manipulate the excitability of ACh projections to cortex from the NbM produces correlated changes in the performance of attention tasks [11]. Furthermore, there is evidence that selective cholinergic depletion of NbM by 192 IgG saporin profoundly impairs sustained attention [12]. As a result, damage to the cholinergic neurons of the nucleus basalis magnocellularis represents an "ideal" benchmark against which to assess the functional impact of damage to the PPTg. Of course, if the NbM was the only route by which PPTg might influence the cortical processing of sensory information one could expect that the deficits produced following damage to each of these structures would be qualitatively similar (in much the same way as damage to the dorsal striatum produces performance changes in the 5 choice serial reaction time task that mirrors performance impairments seen following damage to the medial prefrontal cortex [13]).
However, in addition to connections with the NbM, all of the cholinergic neurons of the PPTg innervate thalamic nuclei (in fact the innervation of all other brain sites arises from collaterals of these connections [14]). The contact between cholinergic cells of PPTg and thalamic nuclei is made onto GABAergic inter-neurons, and it has been suggested that there is particularly dense innervation of visual thalamic nuclei [15]. The lateral geniculate nucleus (LGN) receives as much as 40% of its input from PPTg [16, 17]. Uhlrich et al. [18] showed in vivo that stimulation of PPTg neurons projecting to LGN enhances the visual response of relay cells without changing the receptive field size, a mechanism that, according to these authors, would increase the resolution of visual perception.
There is also strong cholinergic innervation from PPTg to the GABAergic cells of the thalamic reticular nucleus (TRN), a structure previously shown to produce deficits in attention when it is damaged [19]. However, TRN also receives a portion of its cholinergic input (approximately two-thirds) from the NbM [20] suggesting possible concerted action of NbM ACh neurons and PPTg ACh neurons on this nucleus. Here the application of cholinergic agonists blocks spindle activity [21]. This is of relevance because spindles occur in the TRN during behavioural immobility, light sleep, and anaesthesia, suggesting that the cholinergic influence on TRN from both NbM and PPTg may function to heighten behavioural arousal. Likewise the release of ACh from PPTg terminals depolarises thalamocortical cells and switches their firing from rhythmic bursting to tonic activation, a function that is proposed to gate the flow of sensory information to the cortex [22–24].
Previous behavioural work from this laboratory appears to support the anatomical evidence for PPTg involvement in attention. The primary effect of PPTg damage in a sustained attention task was an increase in the number of omissions, and a concomitant decrease in correct responses [
3
]. Furthermore, and perhaps crucially, this particular deficit was significantly reduced by lengthening the visual signal. Note that this manipulation is hypothesised to decrease the attentional load. Thus when demands on attention were reduced, PPTg lesioned rats improved their performance. The problem is that it is not entirely clear from these results alone
why
PPTg lesioned animals made such a high level of omissions. One hypothesis that cannot be dismissed is that PPTg lesioned rats suffered a simple motor impairment. This is a particularly pertinent point given early functional work implicating PPTg in locomotion. Unfortunately this alternative hypothesis exists because the visual attention task, developed to examine the effects of frontal lobe lesions [
25
,
26
], confounds both the motor and attention benefits of increasing the signal length: a correct response can only occur during the presentation of the visual signal. As a result, lengthening the visual signal also lengthens the time window allowed for making a response. Regrettably, the latency to make a correct response was not measured in our previous experiment. The current study therefore aimed to overcome this methodological limitation. We aimed also to examine, in detail, the behavioural effects of PPTg lesions in a sustained attention task (schema illustrated in Figure
1
) by including analysis of video data. In particular we wanted to address the question:
why
do PPTg lesioned rats make more omissions? Is it the result of an inability to sustain attention? We also aimed to compare the behaviour of PPTg lesioned rats with that of rats with 192 IgG saporin lesions of the nucleus basalis magnocellularis (192 IgG saporin causes selective cholinergic cell depletion).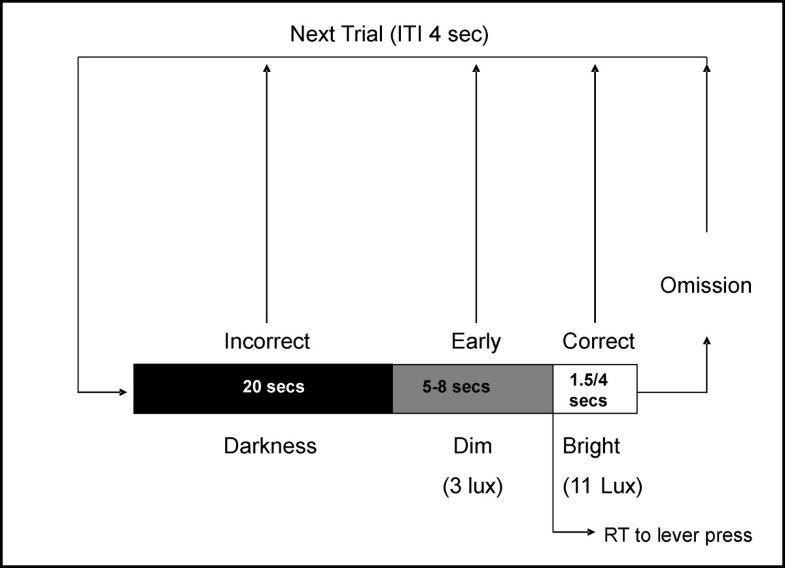 Conclusion
We have studied the effects of ibotenic acid lesions of the PPTg and 192 IgG saporin lesions of the NbM on a sustained attention task. We selected this particular task for use simply because our previous research had shown impaired performance on it following PPTg lesions (increased omissions). However the functional interpretation of this effect in terms of dysfunctional attention was open to alternative accounts such as impaired movement. We took the effects of 192 IgG saporin lesions of the NbM to be a benchmark of impaired attention against which we could qualitatively and quantitatively assess the effects of PPTg lesions, and included video data analysis as a means of determining exactly why PPTg lesioned animals omit trials on this task. Firstly, our results revealed surprising effects of 192 IgG saporin administered to the NbM: impaired lever pressing. However, whether this resulted from the damage sustained to cholinergic neurons, or from the additional non-selective damage focal to the infusion site, cannot be determined. The PPTg lesion results suggest that increased omissions occur in this group due to an increase in unconditioned behaviours such as grooming, sniffing the operant box grid floor, and rearing on the side walls. Although this might be evidence of increased distractibility in these rats we argue that the timing of these behaviours (during the bright signal presentation only) suggests impaired conditioned response selection.
Abbreviations
ACh:

Acetylcholine
ChAT:

Choline acetyltransferase
ITI:

Inter-trial interval
NADPH:

Nicotinamide adenine dinucleotide phosphate
NbM:

Nucleus basalis magnocellularis
NeuN:

Neuron specific nuclear protein
PPTg:

Pedunculopontine tegmental nucleus
TRN:

Thalamic reticular nucleus.
Declarations
Acknowledgements
This work was supported by UK BBSRC project grant no. 49/S18381 to PW. We thank the staff of the School of Psychology Animal Unit at the University of St Andrews for the care of our rats, Dr Helen Alderson for her critical assessment of a draft version of this manuscript, Duncan MacLaren for help with preparation of histology figures and Lesley Mead for her assistance in preparing the video files. A preliminary report of these data was made at the 34th Annual Meeting of the Society for Neuroscience, San Diego, 2004.
Authors' Affiliations
(1)
Life Sciences, The Open University, Milton Keynes, UK
(2)
School of Psychology, University of St Andrews, St Mary's College, St Andrews, UK
Copyright
© Rostron et al; licensee BioMed Central Ltd. 2008
This article is published under license to BioMed Central Ltd. This is an Open Access article distributed under the terms of the Creative Commons Attribution License (http://creativecommons.org/licenses/by/2.0), which permits unrestricted use, distribution, and reproduction in any medium, provided the original work is properly cited.