Methodology article

Open Access
Signal analysis of behavioral and molecular cycles
Received: 17 November 2001
Accepted: 18 January 2002
Published: 18 January 2002
Abstract
Background
Circadian clocks are biological oscillators that regulate molecular, physiological, and behavioral rhythms in a wide variety of organisms. While behavioral rhythms are typically monitored over many cycles, a similar approach to molecular rhythms was not possible until recently; the advent of real-time analysis using transgenic reporters now permits the observations of molecular rhythms over many cycles as well. This development suggests that new details about the relationship between molecular and behavioral rhythms may be revealed. Even so, behavioral and molecular rhythmicity have been analyzed using different methods, making such comparisons difficult to achieve. To address this shortcoming, among others, we developed a set of integrated analytical tools to unify the analysis of biological rhythms across modalities.
Results
We demonstrate an adaptation of digital signal analysis that allows similar treatment of both behavioral and molecular data from our studies of Drosophila. For both types of data, we apply digital filters to extract and clarify details of interest; we employ methods of autocorrelation and spectral analysis to assess rhythmicity and estimate the period; we evaluate phase shifts using crosscorrelation; and we use circular statistics to extract information about phase.
Conclusion
Using data generated by our investigation of rhythms in Drosophila we demonstrate how a unique aggregation of analytical tools may be used to analyze and compare behavioral and molecular rhythms. These methods are shown to be versatile and will also be adaptable to further experiments, owing in part to the non-proprietary nature of the code we have developed.
Keywords
Locomotor Activity
Circadian Clock
Butterworth Filter
Phase Response Curve
Courtship Song
Background
Eukaryotic organisms evolved clocks as an adaptation to geophysical cycles such as day and night or high and low tides or the passing seasons [1]. These clocks are oscillators that control timing in a broad range of processes such as rhythms in gene expression [2], and navigational mechanisms for migratory flight [3]. Studies on the nature of such clocks – whether at the level of gene expression or behavior – most often rely on the measurement of rhythmic processes by repeated sampling over time. Thus, the analysis of circadian clock function becomes the analysis of time series.
The fruitfly, Drosophila melanogaster, has been the outstanding model organism for studying genetic, molecular, neural and behavioral substrates of circadian rhythms [reviewed, for example, in [4–6]]. Recent studies have demonstrated that many molecular components of a circadian clock, several of which were initially identified in Drosophila, exhibit clock function in mammals as well. Thus, the fruitfly has provided mechanistic hypotheses that can be used to evaluate other organisms [2, 7].
In any metazoan organism, the timing system is increasingly appreciated to be complex. For example, whereas rhythmicity of locomotor activity is governed by a pacemaker within a discrete set of neurons in the
Drosophila
brain [
8
,
9
], molecular and physiological studies have also established the presence of autonomous circadian clocks in isolated appendages and excretory structures [
10
–
12
]. Moreover, the molecular mechanisms underlying clock function in these tissues may not be identical [
13
]. Finally, many rhythmic phenotypes expressed in flies can occur on different time scales. Figure
1
portrays 6 examples to illustrate the different levels of rhythmicity commonly studied in
D. melanogaster.
Each of these rhythms has heretofore been analyzed using a separate analytical technique. The periodic pattern of eclosion (emergence of the adult at the end of metamorphosis) and the pattern of adult locomotion (Figure
1a,b
) are classic examples of circadian rhythms, which are typically analyzed by application of periodogram functions [
14
–
17
]. Figure
1c
and
1d
display examples of daily molecular rhythms for a whole fly and a pair of dissected wings, as reported in real time by luciferase-encoding DNA fused to regulatory sequences of the
period (per)
clock gene; these gene-product fluctuations have been analyzed using functions other than periodograms [
10
,
18
].
Drosophila
rhythms are also evident on other time scales besides
circa-24
hours. Courtship song, for example, consists of a series of sinusoidal hums and trains of pulses that come from the male's wing vibrations. The intervals between these pulses (interpulse intervals, or IPIs) have been shown to vary rhythmically with a period near one minute in
D. melanogaster
[
19
,
20
]. The trace shown in Figure
1e
is taken from a digitized recording of the male courtship song, and such acoustical data have been subjected to still further kinds of time-series analysis [
20
–
22
]. Finally, at the highest frequency among these examples of periodic biological fluctuations, the heartbeat of the fruitfly exhibits a rhythm depicted in Figure
1f
. It is driven by a pacemaker oscillator with a frequency on the order of about 2 Hz [
23
,
24
]. Although heartbeat, courtship song, and locomotor-activity rhythms occur on different time scales, the mechanisms underlying these different rhythms could be related. For example, mutations of the
per
gene affect both circadian and courtship song rhythms [
19
,
20
], but not heartbeat [
25
].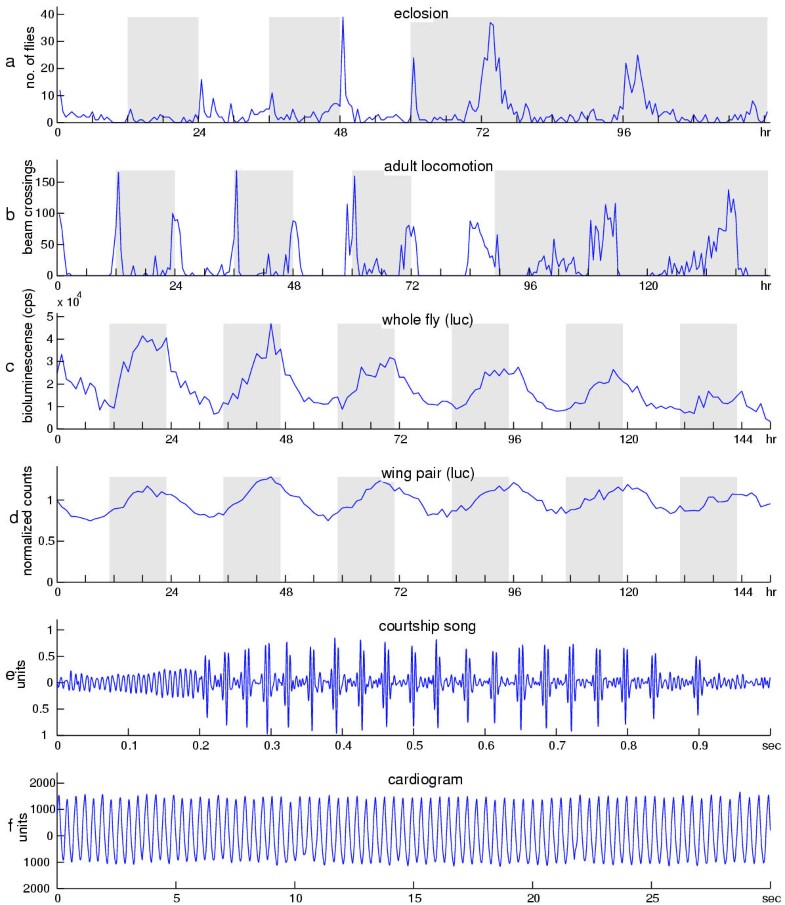 Precise quantitative tools are needed for the analyses of such rhythms. In addition, a unified set of analytical methods would allow for comparisons to be made between rhythms of different types (e.g., behavioral vs. molecular) and time scales (e.g., circadian locomotor rhythm vs. the rhythmic IPI in courtship song). However, we have been unable to find such methods for the analysis of rhythms. This deficiency extends to the analysis of changes in the phase of rhythms induced (usually) by environmental stimuli. Although the resulting "phase response curves" are routinely plotted (showing the elementary magnitudes and directions of phase shifts), additional matters revolving round phase analysis are rarely addressed.
To make such comparisons possible we have substantially modified, extended, and integrated a set of computational tools, such that they may be applied to the analysis of any rhythmic process. We not only describe these tools, and apply them in several specific examples, but also present the reasoning and goals underlying our choice of tools.
We cover four general topics in time-series analysis. First, signal acquisition: sampling and inspection of the raw data. Second, signal conditioning: preparation of the data for further analysis by removal of high frequency noise, long-term trends and other extraneous and confusing perturbations in the data. Third, estimation of rhythmicity and period. Fourth, analysis of phase, including determination of phase response curves, phase coherence, and the comparison of phase among groups.
Conclusions
We have presented a collection of methods for analyzing aspects of biological time series data across all modalities of data acquisition. Although we discuss the application of these tools to oscillating phenomena in one organism, they could as easily be applied to data involving other kinds of rhythms in any species. The collection of analytical processes we employed for evaluating rhythmicity and estimating period or phase represent, as far as we know, a unique aggregation of analytical tools for the analysis of biological data.
We were motivated to assemble this method for several reasons. First, it is likely that insights into the biology of circadian timing systems will emerge from the use of normalization procedures; this facilitates direct comparisons among behavioral, biochemical, molecular, and other signals – a possibility that has not been well-explored in the literature. Second, while some – but nowhere near all – of these tools are available in commercial packages, such products are expensive. More important, they proved unsatisfying to us, because such canned programs do not address the full range of temporally related questions one wishes to ask (and modifying these programs' code is usually not possible). Now that real-time, long-term methods are available to study molecular rhythms in mammalian tissues as well as in microbes, plants, and insects, methods such as ours will facilitate studies in a widening array of organisms.
Materials and Methods
Experimental data
All of the data used for analysis of luciferase activity in whole flies or body parts has been published previously [13].
Adult locomotor activity data are all presented here for the first time. Data used to assess the effects of trends (as depicted in Figure 3 and in the text) were collected using the Trikinetics Drosophila Activity Monitoring System (see below). In these experiments Canton-S males were reared in LD 12:12 at 25° C and collected as 2–3 day old young adults. These subjects were then moved into an incubator where they were placed in constant darkness; after 3 days they were loaded into the activity monitors under a dim red safe-light.
The experiments described in Table 1 employed Canton-S as a wild type control along with cyc01/+ [56] and cyc-deletion/+, a deficiency strain Df(3L)kto2 obtained from the Bloomington Stock Center. In these studies, 2–3 day old males were collected and loaded into the activity monitors. Locomotor activity rhythms were assessed in the incubator under LD 12:12 for either 5 or 6 days before the interval of constant darkness began (see Table 1).
Eclosion data were obtained from the wild type (Canton-S) using the Trikinetics system [65].
Heartbeat was recorded optically by placing a PI pupa on a temperature-controlled stage of a binocular microscope, one eyepiece of which was fitted with a phototransistor. Changes in illumination caused by the beating of the heart were registered by the phototransistor, amplified, and recorded directly on the disk of a desktop computer. The output is a direct plot of voltage as a function of time over a 30 s span of time [25].
Male mating song was recorded in an Insectavox [66] microphone system. A male previously housed to elicit maximal courtship was placed in the recording chamber with a female. Song was recorded directly through an AD converter into a microcomputer.
Data analysis system
Most of the analytical tools outlined below have been applied individually to previous Drosophila circadian rhythms data, most saliently MESA and autocorrelation were used in both behavioral and molecular studies [39, 15, 13]. Butterworth filters have been employed in studies of locomotor rhythms [13]. The Rhythmicity Index (RI) was devised to facilitate studies on Drosophila heart function behavioral studies [46, 25] and extended to the Drosophila luciferase assay [13]. Phase coherence and comparison analyses [32], have appeared in Yang et al. [17]. Cross correlation [37] has not been employed previously for the study of biological rhythms.
Input
The data files from eclosion and activity studies were generated using the Drosophila Activity Monitoring System (Trikinetics, Inc., Waltham MA) [for ex., [33]]. Data files generated by the DAM system provides a header to identify the name of the experiment, the location of the subject in the monitoring device, the date, the number of bins and the length of the bin in minutes. Immediately beneath this header, a string of numbers is arranged as a single column with the number of activity counts per bin listed for the duration of the experiment. In addition, there are special code numbers associated with being offline. These appear in place of the activity counts until the offline status has changed. These codes appear in association when the power goes down or a short circuit occurs in the system.
Our code reads these files by skipping the header and identifying any warning codes. We handle the occasional anomaly by using the average of the points on either side of the missing bin. In addition, the data are linked to a file that describes the lighting conditions (lights on or off) for each experiment, so that the data can be plotted (using data-display software newly written for this study) against a background with shading appropriate to the lighting condition.
The luciferase assay data were generated by a benchtop scintillation counter (Topcounter, Packard) [10, 18]. The Topcounter generates a file for each collection point that contains all the samples evaluated at that time; our code reorganizes this original data file such that a distinct record is retrieved for each sample (individual fly or tissue specimen dissected from it) with values listed in the order of occurrence from the beginning until the end of each experiment; the values are stored internally as a matrix whose columns represent individual subjects and whose rows represent observations at equally separated time frames.
The description given above applies typically to the files we analyze. However, there is nothing special about these files and we wish to emphasize that our analysis routines act on the matrix or data points we obtain from the data collection files. In principle then, the only barrier to analyzing data collected in any format is a way to read the data into a matrix and so our system could be easily adapted to other data collection schemes.
Processing
We used existing library functions (Matlab and Signal Processing Toolbox, Mathworks, Inc.) to implement the Butterworth filter, autocorrelation, crosscorrelation, and Fourier analyses. For these methods, we wrote functions to specify details such as the high and low frequency cutoffs with the filter, for example.
We wrote the code to analyze trends; to perform MESA; to identify peaks in the data and evaluate a phase shift by comparing two data sets; to plot such peaks around a circle and calculate mean vectors associated with a given set of peaks; to perform statistical tests on these vectors; to plot the data as shown above in Results and Discussion.
Output
In addition to numerical output associated with the analysis of a data set, all of the methods in our ensemble generate graphic output. We found this output to be an important part of our analytic process, in that looking at straightforward numerical outputs is a powerful aid to facilitate an intuitive understanding the results of the mathematical manipulations. At least for us, the statistical analysis is most meaningful when supported by what the human eye can infer (see text for more detail) from the graphical presentation of the data.
The phase plots and actograms are generated by functions written anew for this study. Actograms plot counts per bin as a histogram across the day. All of the actograms shown here are formatted as double plots with day 1 and day 2 on the first line, day 2 and day 3 on the second line and so on. These can be reformatted to change the daylength on the horizontal axis to the nearest increment defined by the sampling rate (for example, we can plot the data modulo...23.5 or 24.0 or 24.5 or..., when data are collected every 0.5 hours).
The present package was developed using MATLAB (Mathworks, Inc., Natick MA), version 5 and version 6, along with the Signal Processing tool box. While our code was written in Matlab, it could be adapted for use with similar products.
Declarations
Acknowledgements
The authors thank B. Talyn for her unpublished courtship song data, A. Pilgrim for her eclosion data, M. Mealey for her adult behavioral data used in analysis of phase response and OJ LeClair for her behavioral experiments used in the analysis of the cyc locus. We also thank John Ewer for his comments on the manuscript. This work was supported by grants to JCH from the US NIH (GM33205) and the US NIMH (MH51573).
Authors' Affiliations
(1)
Department of Biology, Brandeis University and NSF Center for Biological Timing, Waltham, USA
(2)
Department of Biological Sciences, University of Maine, Orono, USA
(3)
Department of Mathematics and Statistics, University of Maine, Orono, USA
Copyright
© Levine et al; licensee BioMed Central Ltd. 2002
This article is published under license to BioMed Central Ltd. This is an Open Access article: verbatim copying and redistribution of this article are permitted in all media for any purpose, provided this notice is preserved along with the article's original URL.