Poster presentation

Open Access
Computational modelling of micro-seizures and focal seizure onset
BMC Neuroscience
2013
14 (Suppl 1) :P14
Spatial Scale
Computational Model
Control Patient
Local Activity
Seizure Activity
Pathological micro-domains have been proposed to underpin the generation of local pathological activity, as seen in focal seizures in the epileptic cortex [1–3]. Specifically, so-called micro-seizures have been suggested to be markers for these micro-domains [2, 3]. Astonishingly, micro-seizures have also been observed in non-epileptic control patients [3]. This suggests that local activity, such as micro-seizures, only become pathological when in a specific arrangement.
We hypothesize that pathological dynamics could be due to an increased density of micro-domains. To test this, we introduce a computational model on the mesoscopic scale of a 5 × 5 mm2 cortical sheet [4]. The units are modelled as excitable minicolumns. This model also incorporates realistic connectivity schemes observed at this spatial scale [5].
The model shows occasional, non-pathological micro-seizure occurrences, as well as recruitment of normal tissue into full-blown seizure activity in the presence of dense clusters of hyperactive micro-seizure domains. A specific prediction of this model is that the transition to full-blown seizures can be prevented by using micro-incisions to separate the clusters of abnormally active micro-domains (Figure.
1
) [
6
].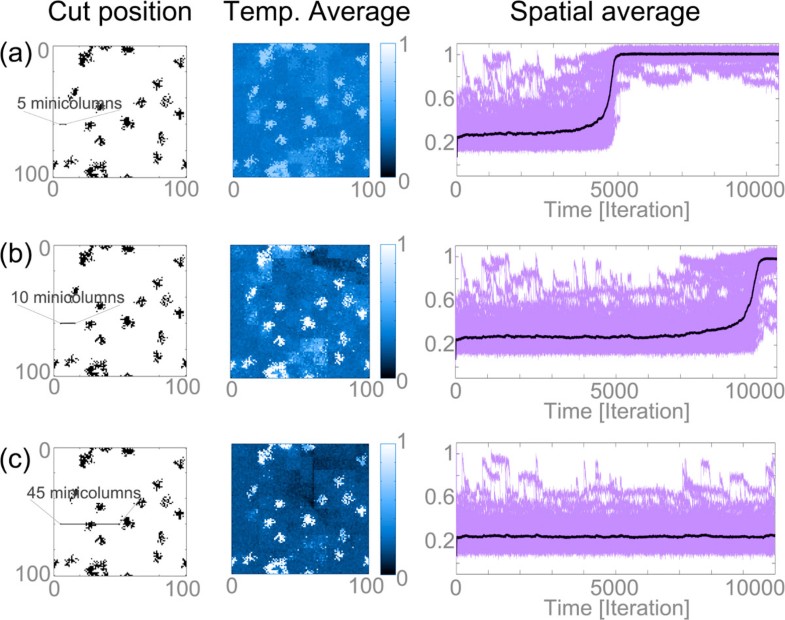 (1)
Manchester Interdisciplinary Biocentre, 131 Princess Street, Manchester, M1 7DN, UK
(2)
School of Electrical & Electronic Engineering, Nanyang Technological University, Singapore
(3)
Division of Bioscience, Faculty of Life Sciences, University College London, London, WC1E 6BT, UK
© Wang et al; licensee BioMed Central Ltd. 2013
This article is published under license to BioMed Central Ltd. This is an Open Access article distributed under the terms of the Creative Commons Attribution License (http://creativecommons.org/licenses/by/2.0), which permits unrestricted use, distribution, and reproduction in any medium, provided the original work is properly cited.