Interlaminar processing in auditory cortex before and after auditory trauma: spontaneous and evoked responses of independent sources
BMC Neuroscience volume 14, Article number: P125 (2013)
The interaction of neural populations within the neocortex is mainly characterized by which layer they located in. For instance: thalamocortical input projects to layer 4 cells, which in turn project to layer 2/3 cell. Layer 2/3 cells then forward signals onto layer 5 cells [4]. However, it is difficult to see interactions within layers, or even which neural populations in one layer may be interacting with other layers. Very fast oscillations (VFOs, $>$80 Hz) have been associated with neocortical processing [1, 3], and have distinct roles in different cortical layers [3]. Moreover, VFOs increase in temporal lobe epilepsy [2, 6], which is associated with trauma [5]. In this study, we take a more detailed look at interlaminar interactions, VFOs, and the effects of trauma by applying independent component analysis (ICA) to recordings from rat auditory cortex.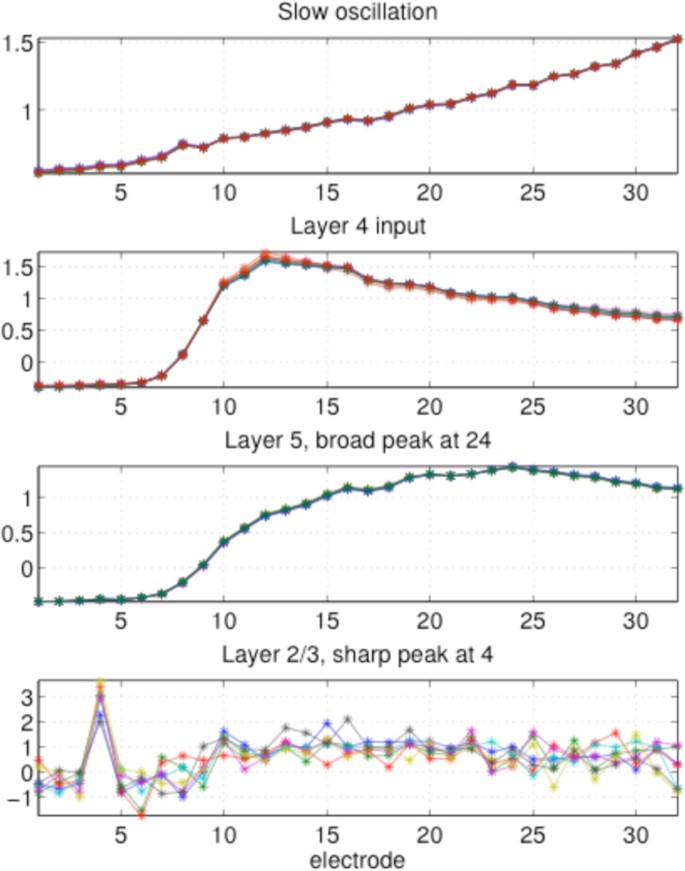 References
Edwards E, Nagarajan SS, Dalal SS, Canolty RT, Krisch HE, Barbaro NM, Knight RT: Spatiotemporal imaging of cortical activation during verb generation and picture naming. NeuroImage. 2010, 50 (1): 291-301. 10.1016/j.neuroimage.2009.12.035.

Jacobs J, LeVan P, Chander R, Hall J, Dubeau F, Gotman J: Interictal high-frequency oscillations (80-500 Hz) are an indicator of seizure onset areas independent of spikes in the human epileptic brain. Epilepsia. 2008, 49 (11): 1893-1907. 10.1111/j.1528-1167.2008.01656.x.

Jones MS, MacDonald KD, Choi B, Dudek FE, Barth DS: Intracellular coreelates of fast electrical oscillations in rat somatosensory cortex. J Neurophysiol. 84 (3): 1505-1518.

Sakata S, Harris KD: Laminar structure of spontaneous and sensory-evoked population activity in auditory cortex. Neuron. 2009, 64: 404-418. 10.1016/j.neuron.2009.09.020.

Scharfman H: The neurobiology of epilepsy. Curr Neurol Neurosci Rep. 2007, 7: 348-354. 10.1007/s11910-007-0053-z.

Traub R, Contreras D, Whittington MA: Combined experimental/ simulation studies of cellular and network mechanisms of epileptogenesis in vitro and in vivo. J Clin Neurophys. 2005, 22 (5): 330-342.
Rights and permissions
This article is published under license to BioMed Central Ltd. This is an Open Access article distributed under the terms of the Creative Commons Attribution License (http://creativecommons.org/licenses/by/2.0), which permits unrestricted use, distribution, and reproduction in any medium, provided the original work is properly cited.
About this article
Cite this article
Munro, E., Sakata, S. & Toyoizumi, T. Interlaminar processing in auditory cortex before and after auditory trauma: spontaneous and evoked responses of independent sources. BMC Neurosci 14 (Suppl 1), P125 (2013). https://doi.org/10.1186/1471-2202-14-S1-P125
Published:

DOI: https://doi.org/10.1186/1471-2202-14-S1-P125
Keywords