Research article

Open Access
It's not what you say but the way that you say it: an fMRI study of differential lexical and non-lexical prosodic pitch processing
BMC Neuroscience
2011
12:128
Received: 18 May 2011
Accepted: 20 December 2011
Published: 20 December 2011
Abstract
Background
This study aims to identify the neural substrate involved in prosodic pitch processing. Functional magnetic resonance imaging was used to test the premise that prosody pitch processing is primarily subserved by the right cortical hemisphere.
Two experimental paradigms were used, firstly pairs of spoken sentences, where the only variation was a single internal phrase pitch change, and secondly, a matched condition utilizing pitch changes within analogous tone-sequence phrases. This removed the potential confounder of lexical evaluation. fMRI images were obtained using these paradigms.
Results
Activation was significantly greater within the right frontal and temporal cortices during the tone-sequence stimuli relative to the sentence stimuli.
Conclusion
This study showed that pitch changes, stripped of lexical information, are mainly processed by the right cerebral hemisphere, whilst the processing of analogous, matched, lexical pitch change is preferentially left sided. These findings, showing hemispherical differentiation of processing based on stimulus complexity, are in accord with a 'task dependent' hypothesis of pitch processing.
Keywords
Temporal Cortex
Inferior Frontal Gyrus
Superior Temporal Gyrus
Inferior Parietal Lobule
Middle Frontal Gyrus
Background
Non-verbal components of language, included under the collective term prosody, play a central role in human communication [1]. First defined by Monrad-Krohn in 1947 [2], prosodic elements of speech can be subdivided into the two broad categories of linguistic and emotional prosody. Linguistic prosody conveys information about semantic meaning, such as pragmatic category - e.g. determining if a sentence is a statement, a question or a command - and syntactic relation - e.g. determining clause boundaries within sentences [3, 4]. Emotional prosody is the mechanism by which humans convey attitudes and emotions in speech. There has been debate about how clearly these two categories can be delineated.
Initial behavioural and lesion studies implicated both right [5–9] and left [10–12] hemispheric regions, likely confounded both by the inherent difficulties in comparing lesion studies [13, 14] and assessing "global" prosodic function without considering specific subcomponents.
PET data first suggested that prosodic content and judgement activated the prefrontal cortex bilaterally [15, 16], more so on the left, and hemispheric asymmetry has been demonstrated for most regions of activation [17]. Subsequent imaging studies have implicated right superior temporal regions [16, 18–21] - most recent work suggesting particularly within Brodmann's area [22], with additional, partially bilateral responses within the frontal cortex [18, 20, 23–25], the anterior insula [16, 23, 25], amygdalae [26], and the basal ganglia [27, 28]. Emotional speech produces greater cortical activation than that which is prosodically neutral [16, 22, 29]. Electrophysiological work has supported neuroimaging findings that the right temporal cortex displays enhanced event-related potentials to emotional stimuli [30].
Variations in results, due in no small part to different experimental paradigms, have failed to definitively clarify whether cerebral regional and hemispheric activation are specific to prosodic subcomponent analysis or the functional demand of the task, known as the cue dependent [31, 32] and task dependent [17, 33–36] hypotheses respectively.
However by far the majority of work has been on emotional prosody, and it's unclear how well such data can be applied to linguistic prosody that, in comparison, has had a paucity of research. Furthermore, work on linguistic or semantic aspects of prosody have typically focused on psychometric measures of language conceptualisation and understanding [37, 38] rather than the underlying neurobiology. Most authors have recognized the difficulties of the confounding influences of the lexical content of the stimuli and the problem of the higher level cognitive processes involved in the more global process of emotional prosody [39].
The neuroimaging data that exist for linguistic prosody typically favour hemispheric specialisation [40], with left fronto-temporal regions subserving 'simpler' short [41] syntactic and lexical segments of speech [42], and right hemispheric analogues processing larger suprasegmental elements at a sentence level [43], most in keeping with the task dependent hypothesis.
In light of this, this study set out to utilise fMRI to examine a single crucial element of linguistic prosodic comprehension; pitch change. We specifically looked at internal pitch changes, or "emphasis shift", as our earlier work suggested that these were more sensitive markers of subtle neurological deficits and less confounded by working memory primacy and recency phenomena [44]. As the name suggests, internal pitch changes occur within - as opposed to at the beginning or end of - a sentence. Furthermore, in an effort to try eliminate the major confounder of lexical comprehension, following the work of Patel et al [45] we introduced an analogous tone-sequence paradigm that contained a delexicalised pitch pattern. By removing the lexical content but keeping the tone sequence otherwise matched this design would also allow testing of the validity of the task dependent hypothesis as the same prosodic element, pitch, was being tested, but at different levels, with the tone sequence involving suprasegmental data analysis.
We hypothesised that a) there are common cortical regions including bilateral prefrontal and temporal cortices associated with pitch processing in both speech and tone-sequence analogues; b) the more "pure" pitch processing associated with tone-sequence analogues would preferentially recruit right sided frontal and temporal cortices while more lexically loaded speech would preferentially recruit left temporal cortex; and c) increasing demands on prosodic comprehension would be associated with enhanced activation in the right frontal and temporal cortex.
Results
Behavioural data
There were no significant differences in response time or accuracy rates between sentence and tone-sequence categories either overall, or when analysed in the subcategories of same and different tasks, using a two tailed t-test (α = 0.05). The subjects were generally highly accurate (0.75 - 0.98 on the tone-sequence task, 0.83 - 1.00 on the sentence task), with four individuals getting 100% accuracy on the sentence task, suggestive of a possible ceiling effect. However, subjects were more accurate during same tasks (mean accuracy 0.948) than during different tasks (mean accuracy 0.866) overall.
Neuroimaging data
The conjunction analysis showed significant activation common to both sentence and tone sequence prosodic processing in the bilateral Inferior Frontal Gyri, Middle (MTG) and Superior Temporal Gyri (STG), in addition to bilateral Inferior Parietal lobule and the right Superior Frontal Gyrus (Figure
1
; Table
1
).

Table 1
Areas of activation shown in Figure 1.
Size

Talairach Coordinates

Hem

BA

Cerebral Region

X

Y

Z

62

-43

-33

48

L

40

Inferior Parietal Lobule

60

-54

-22

37

L

2

Postcentral Gyrus

48

51

7

-7

R

22

Superior Temporal Gyrus

43

-54

-15

9

L

41

Middle Temporal Gyrus

42

47

-48

26

R

40

Inferior Parietal Lobule

40

-54

0

-2

L

22

Superior Temporal Gyrus

32

-32

-26

59

L

4

Precentral Gyrus

32

-7

-81

-13

L

18

Lingual Gyrus, Occipital Lobe

30

51

15

-2

R

47

Inferior Frontal Gyrus

12

58

-37

-7

R

21

Middle Temporal Gyrus

10

32

15

4

R

Claustrum
Activation was significantly greater within the right frontal and temporal cortices during the tone-sequence stimuli relative to the sentence stimuli (Figure
2
, bottom half; Table
2
). Regions of greater activation in the sentence task relative to the tone sequence task (Figure
2
, top half; Table
3
) were predominantly left hemispheric, including the cingulate gyrus, left MTG, STG, inferior parietal lobule as well as the basal ganglia; with additional activation in the right precuneus, right cingulate gyrus and right lingual gyrus.

Table 2
Areas of activation shown in Figure 2, BOTTOM HALF.
Size

Talairach Coordinates

Hem

BA

Cerebral Region

X

Y

Z

71

32

30

-13

R

47

Inferior Frontal Gyrus

41

7

19

42

R

32

Cingulate Gyrus, Limbic Lobe

40

11

41

37

R

7

Medial Frontal Gyrus

29

51

11

-2

R

22

Superior Temporal Gyrus

22

36

22

4

R

13

Insula

17

14

11

53

R

6

Superior Frontal Gyrus

10

18

-19

-18

R

28

Parahippocampal Gyrus

9

-7

4

53

L

6

Medial Frontal Gyrus
Table 3
Areas of activation shown in Figure 2-TOP HALF.
Size

Talairach Coordinates

Hem

BA

Cerebral Region

X

Y

Z

97

-14

-48

26

L

31

Cingulate Gyrus, Limbic Lobe

58

7

-63

31

R

7

Precuneus

47

-29

-11

9

L

Putamen

44

-54

-19

-7

L

21

Middle Temporal Gyrus

32

-47

-26

37

L

2

Postcentral Gyrus

27

-18

-22

15

L

Posterior Thalamic Nucleus

26

4

-44

37

R

31

Cingulate Gyrus, Limbic Lobe

24

14

-78

4

R

18

Lingual Gyrus, Occipital Lobe

19

-54

-52

9

L

39

Superior Temporal Gyrus

18

-29

-4

-13

L

Amygdala

15

-22

-56

42

L

7

Precuneus

12

-40

-33

26

L

40

Inferior Parietal Lobule
A statistically significant interaction between
factor
condition (tone sequence, sentence) and stimulus pair
type
(same, different) was evident in the right Inferior and Middle Frontal Gyrus and right STG (Figures
3
; Table
4
).

Table 4
Areas of activation in Figure 3.
Size

Talairach Coordinates

Hem

BA

Cerebral Region

X

Y

Z

21

43

7

-13

R

38

Superior Temporal Gyrus

11

43

15

-2

R

47

Inferior Frontal Gyrus

9

36

33

20

R

46

Middle Frontal Gyrus
Discussion and Conclusions
As hypothesized, there was activation in bilateral MTG and STG common to prosodic pitch processing across both sentence and tone-sequence stimuli. There was more prominent right inferior frontal cortex activation, although left inferior frontal activation was also present (Figure 1; Table 1). This was in accordance with previous imaging data of prosodic comprehension [18, 20, 23–25]. There was a large bilateral activation in the Inferior Parietal Lobule, a region associated with storage within the working memory system [1]. Such a role is in accordance with our data, as differential activation maps fail to show differences in parietal activation between the two tasks, coinciding with a purely working memory role. Left precentral and postcentral gyral and basal ganglia activity were common to both conditions, something which would be anticipated in an experimental paradigm involving a right handed finger press.
Comparison between the tone-sequence and sentence stimuli aimed to clarify the relative contribution of cortical regions associated with a purer linguistic prosodic pitch analysis (tone sequence > sentences) and those associated with greater lexical or phonological analysis (sentence > tone sequence), which has been recognised as a major confounder in such studies generally [45, 54–59]. Stripped of this lexical information, the tone-sequence demonstrated significant activation in the right inferior and medial frontal, and right STG compared to the sentence task (Figure 2, bottom half; Table 2). Wildgruber et al [1] suggested that at lower levels of both linguistic and emotional prosody processing, the same right hemispheric network is accessed but that the explicit judgment of linguistic aspects of speech prosody is more associated with left hemispheric language regions and explicit evaluation of emotional prosody is related to bilateral orbitofrontal regions. Our data support this assertion, with evident overlap between the regions preferentially activated by the tone-sequence and those elicited during emotional prosodic tasks. Explicit analysis of linguistic aspects preferentially evoked appraisal by left hemispheric regions, fitting with other work [34, 55, 60–62] and this may reflect the processing of this lexical content of the stimuli.
Our third hypothesis was that 'increased demand' would be associated with enhanced activation in the right frontal and temporal cortices. Subjects reported finding tone-sequence trials harder than sentence ones - fitting with Patel's notion of extra 'redundancy' cues in the lexical trials [45, 58] - and that same pairs were 'more difficult' than different ones. Interestingly, behavioural data conflicts with subjective perception, demonstrating that subjects more accurate in same tasks: during these subjects needed to hold the entire same trial pair in working memory, and examine these for subtle (non-existent) differences; as opposed to different pairs where participants could discard the stimuli once any pitch difference was noted. As such, same and tone-sequence may have been proxy markers for cognitive demand rather than 'difficulty' per se, as well as tone-sequence exploring 'purer' pitch processing.
During the tone-sequence task there was
relatively
increased right STG and left precuneus activation when paired tone stimuli were the
same
, compared to when different. The interaction analysis (Figures
3
; Table
4
) looked at the effect of one factor (
stimulus type: sentence or tone sequence
) on another factor (
trial type: same or different
). Regions which can differentiate between these factors are all right sided: the STG, Inferior Frontal Gyrus and Middle Frontal Gyrus. Each of these discriminatory regions show increased activation in tone-sequence, as opposed to sentence, tasks, and during
same
compared to
different
stimuli (Figure
4
).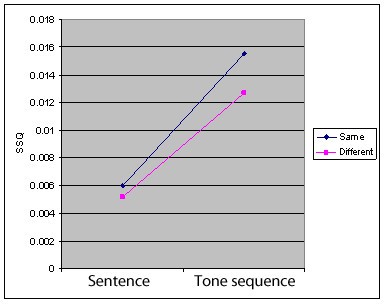 The authors' interpretation of our data is that it best fits with the task dependent hypothesis that the left hemisphere is hemispherically specialized for lexical and short syntactic aspects of pitch whilst the right hemisphere is superior at processing suprasegmental pitch. Subjects' reports place tone sequence and same trials as being more difficult and the interaction analysis of activation in the right inferior frontal gyrus (Figure 4) shows increasing activation for these: in both instances subjects are processing a larger, full trial, sequence at a suprasegmental level.
In conclusion, our data support the premise that prosodic pitch perception is subserved by the bifrontal and temporal cortices, specifically the Superior Temporal Gyrus, Inferior Frontal Gyrus and Middle Frontal Gyrus, with the degree of hemispheric involvement dependent upon the task. These areas were activated when both tone-sequence and sentence paradigms were used, thus confounding lexical stimuli were removed, though the former preferentially activated the right hemispheric regions, the latter the left. There was a relative increase in activation in the right frontal and temporal cortices during 'same' stimuli tasks, which was deemed to be more demanding, as subjectively reported by subjects, in terms of prosodic comprehension and this, in our opinion, is due to the need to analyse pitch at a broader 'sentence level'. Our data is in agreement with the assertion [40] of hemispheric specialisation fitting with the task dependent hypothesis, which would have predicted the lateralization [63] found in this study.
Language prosody processing is complex and consists of multiple components. Current understanding of it involves several competing theories, neither of which has garnered consistent support. The vast majority of the literature focuses on emotional prosody: further work is needed to provide a more coherent and distinctive conceptualization of linguistic prosodic processing.
Declarations
Acknowledgements
SSS was supported by an Advanced Clinical Training Fellowship from the Wellcome Trust (SSS) and a Young Investigator Award from NARSAD. OOD was supported by the Psychiatry Research Trust. The authors gratefully acknowledge the provision of original stimuli by Dr. A. Patel, The Neurosciences Institute, San Diego CA 92121.
Authors' Affiliations
(1)
CSI Lab, Institute of Psychiatry, King's College London, UK
(2)
Department of Psychiatry, Tohoku University School of Medicine, Sendai, Japan
Copyright
© Tracy et al; licensee BioMed Central Ltd. 2011
This article is published under license to BioMed Central Ltd. This is an Open Access article distributed under the terms of the Creative Commons Attribution License (http://creativecommons.org/licenses/by/2.0), which permits unrestricted use, distribution, and reproduction in any medium, provided the original work is properly cited.