Research article

Open Access
Sexual differentiation of the zebra finch song system: potential roles for sex chromosome genes
BMC Neuroscience
2009
10:24
Received: 17 August 2008
Accepted: 23 March 2009
Published: 23 March 2009
Abstract
Background
Recent evidence suggests that some sex differences in brain and behavior might result from direct genetic effects, and not solely the result of the organizational effects of steroid hormones. The present study examined the potential role for sex-biased gene expression during development of sexually dimorphic singing behavior and associated song nuclei in juvenile zebra finches.
Results
A microarray screen revealed more than 2400 putative genes (with a false discovery rate less than 0.05) exhibiting sex differences in the telencephalon of developing zebra finches. Increased expression in males was confirmed in 12 of 20 by qPCR using cDNA from the whole telencephalon; all of these appeared to be located on the Z sex chromosome. Six of the genes also showed increased expression in one or more of the song control nuclei of males at post-hatching day 25. Although the function of half of the genes is presently unknown, we have identified three as: 17-beta-hydroxysteroid dehydrogenase type IV, methylcrotonyl-CoA carboxylase, and sorting nexin 2.
Conclusion
The data suggest potential influences of these genes in song learning and/or masculinization of song system morphology, both of which are occurring at this developmental stage.
Keywords
Zebra Finch
Dosage Compensation
Song Learning
Dimorphic Expression
Singing Behavior
Background
Sexually dimorphic behaviors including types of displays, such as vocal or sexual behaviors, occur across diverse species. Particularly elegant work exists on the development of song and the brain regions associated with it in zebra finches. Adult behavior is highly dimorphic. Only males sing, and they learn songs from their fathers beginning around day 25 (Figure
1
; [
1
–
4
]).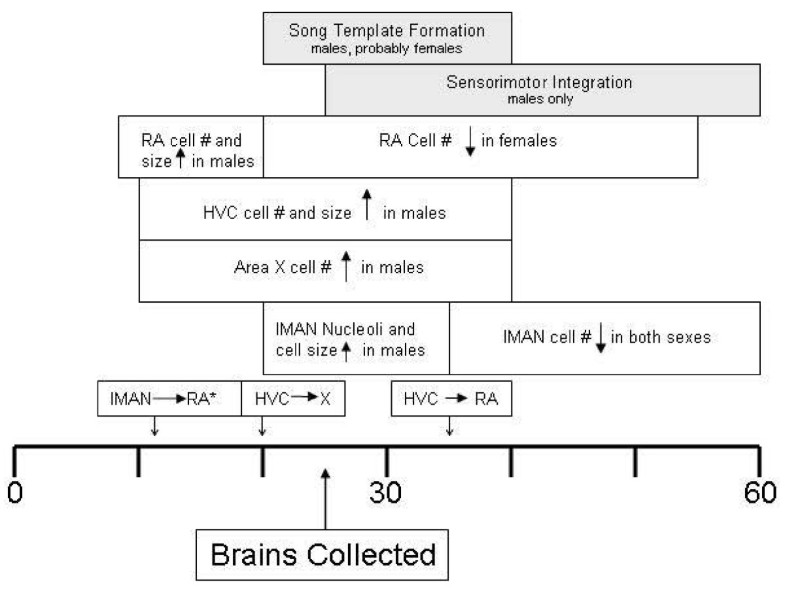 Most brain regions that control song are sexually dimorphic in adults [5]. They include the lateral magnocellular nucleus of the anterior nidopallium (lMAN), area X in the basal ganglia, the robust nucleus of the arcopallium (RA), and HVC (proper name; [6]). Area X and lMAN are important in song development, as lesions to these areas impair song learning [7]. Area X, while large in adult males, is not visible in females [8]. lMAN volume is sexually monomorphic, although as in other brain regions soma size is increased in males compared to females [9]. HVC and RA are involved in the motor production of song, and are substantially smaller in adult females than males [10].
Mechanisms regulating sexual differentiation of the song system are unclear. Administering estradiol to females early in development partially masculinizes song nuclei, and if followed by testosterone treatment in adulthood, allows females to perform rudimentary song [5]. These results have implicated steroid hormones in the masculinization of both structure and function. However, other data are inconsistent with this idea. For example, initial sexually dimorphic development of HVC appears independent of androgen and estrogen [11]. Castration of young males [12, 13] and treatment with anti-estrogens [14–16] or with estrogen synthesis inhibitors [17, 18] fail to inhibit masculine development. Additionally, sex differences in plasma steroid levels during development have not been conclusively identified [19–21].
Genotypic sex directly influences the relative expression of many sex-linked genes in birds; gene dosage compensation is limited [22]. The potential impact of cellular genotype on brain development was illustrated by a rare gynandromorphic zebra finch in which gonads and plumage were masculine on the right side but feminine on the left [23]. Brain cells on the right appeared to have a male (ZZ) genotype, but on the left were female (ZW), and HVC morphology was also lateralized. More recently, several genes have been discovered to exhibit increased expression in the song nuclei of juvenile males, including tyrosine kinase B [24], secretory carrier membrane protein 1 [25], estrogen coactivator L7/SPA [26], and ribosomal proteins 17 and 37 [27]. Thus, it is likely that genes and hormones, acting together within the song system, produce sex differences in singing behavior.
The goal of the present study was to identify additional genes involved in masculinization of the song system. To accomplish this, we screened developing zebra finch brains using a species-specific cDNA microarray, and followed up on 20 of those exhibiting the greatest sex difference. This male-biased expression was validated in a separate set of individuals by real-time quantitative polymerase chain reaction (qPCR). For the genes with expression that remained significantly different, in situ hybridization was used at day 25 post-hatching to evaluate localization in song control nuclei as in [28], to capture a period when morphological differentiation is enhanced as well as early phases of song learning.
Results
Microarrays
We detected 2419 spots on the array that showed significant effects of sex (FDR p < 0.05), half of them (49%) with increased expression in males compared to females. However, of the targets with average effect sizes of 1.5-fold or greater, 300 were increased in males and 51 increased in females. A very large number (16,497) of the cDNAs exhibited a significant effect of age. This result is not particularly surprising, as the four ages investigated span the entire period of maturation for these birds, thus countless structural and functional changes in the brain would be expected. A relatively small number of cDNAs expressed a significant sex × age interaction, just 114 of the more than 20,000 spots on the array. These will be pursued in the future.
As our present goal was to identify genes involved in any aspect of masculinization of the song system, we chose to follow up on a set of 20 with increased expression in males compared to females across all ages. Most of these genes were initially selected based on substantially greater expression in males compared to females and location of the orthologous sequence in chicken on the Z chromosome (which was the only information available for birds at the time). In a few cases, genes were chosen for further analysis due to a high degree of sexual dimorphism in the absence of additional information. Because some gene identities have not been established (see above), we use GenBank accession numbers here to label genes.
qPCR
Of the 20 cDNAs chosen for further analysis, 12 showed male-biased expression via qPCR (Table
2
). Two of these, with GenBank accession numbers DV946640 and CK306803, represented cDNAs from the same gene, sorting nexin 2 (SNX 2). Therefore, DV946640 was excluded from further analyses. GAPDH expression never differed significantly between the sexes.
Table 2
Sexually Dimorphic Expression in Day 25 Zebra Finches Detected with cDNA Microarrays and Real-time qPCR
| GenBank Accession Number | Z or W* | Tentative Identification** | Male/Female Ratio on Array (across ages) | Array pFDR | Male/Female Ratio using qPCR | qPCR t, p-values |
| --- | --- | --- | --- | --- | --- | --- |
| CK313884 | Z | 17-beta-hydroxysteroid dehydrogenase type IV | 2.05 | .023 | 2.37 | 7.09, 0.0001 |
| CK310795 | Z | Methylcrotonyl-CoA carboxylase beta chain | 1.20 | <.0001 | 2.25 | 5.30, 0.0003 |
| CK303566 | Z | Unknown | 2.03 | <.0001 | 2.05 | 5.95, <0.0001 |
| CK310754 | Z | Aprataxin/forkhead-assoc.domain | 2.06 | .0002 | 2.53 | 4.65, 0.0008 |
| DV956689 | Z | Unknown | 2.00 | .0013 | 1.89 | 5.44, 0.0002 |
| CK308959 | Z | Unknown | 2.20 | <.0001 | 2.8 | 3.79, 0.0022 |
| CK306648 | Z | Unknown | 1.99 | <.0001 | 2.18 | 5.54, 0.0002 |
| CK303187 | Z | KIAA 1797 (large protein family) | 2.43 | <.0001 | 1.96 | 4.44, 0.0012 |
| CK306803 | Z | Sorting Nexin 2 | 2.19 | .0015 | 2.19 | 6.97, 0.0001 |
| DV946640*** | Z | Sorting Nexin 2 | 2.10 | .0004 | 2.07 | 5.11, 0.0003 |
| DV947064 | Z | Unknown | 1.98 | .006 | 2.32 | 4.33, 0.0012 |
| DV948036 | Z | Unknown | 2.00 | .015 | 2.29 | 4.91, 0.0005 |
In situ Hybridization
Of the 11 cDNAs carried forward in the analysis, expression of 8 was detected in one or more song nuclei. Labeling was also detected in restricted regions outside of the song system, but was not quantified in the present study. The remaining 3 [GenBank: CK310754, DV947064, and DV948036] showed no specific staining in song control regions; they will not be discussed further.
DV956689 was also expressed in area X and lMAN, but not in HVC or RA. Males showed significantly higher levels of expression than did females in both areas (area X: t = 3.85, p = 0.004; lMAN: t = 3.86, p = 0.004).
CK308959 mRNA appeared specific to lMAN and HVC. In HVC, it was increased in males compared to females (t = 3.38, p = 0.007). Males also showed somewhat higher levels of expression than did females in lMAN, though this difference was not statistically significant (t = 2.25, p = 0.048).
Only one area, lMAN, showed specific labeling for CK306648, with the intensity substantially greater than in surrounding tissue. It, however, did not significantly differ between the sexes (t = 0.51, p = 0.619). Results for CK303187 were the same (t = 0.47, p = 0.651).
Southern Blot Analyses
The corrected optical density representing each of the six genes with sexually dimorphic expression in the song system was significantly higher in males compared to females (all t > 3.464, all p < 0.004; data not shown). In parallel, each of the sequences represented in Table 2 shared substantial identity with portions of the zebra finch Z-chromosome (2008 map, not yet annotated).
Discussion
We found robust sex differences in gene expression in the developing zebra finch brain, and identified six genes that are both sex-linked and differentially expressed in the male compared to female song system. This is the period when song memories are first forming and morphological differentiation is occurring at a rapid rate [29, 30, 40].
All six of these genes map to portions of the Z chromosome in zebra finches (as well as chicken), and our Southern blot analysis confirmed they are Z-linked in zebra finches. Most Z-chromosome mRNAs in birds exhibit increased expression in male compared to female birds, as dosage compensation is limited [22, 41, 42], unlike the analogous situation in mammals where dosage compensation prevents enhanced expression in females of most X-linked genes. We anticipate that a number of the ~2400 sex-biased genes we detected in our microarray study will map to sex chromosomes. However, local dosage compensation does exist in birds and varies across ontogeny and tissues, which suggests some active regulation associated with key functions [43].
Out of the eleven genes we initially chose for analysis by in situ hybridization, three [GenBank: CK310754, DV947064, DV948036] showed sexually dimorphic expression via qPCR on RNA/cDNA from the whole telencephalon, but the mRNA was neither confined to nor enhanced in song nuclei. Of the eight remaining, two [GenBank: CK306648, CK303187] appeared to show specific expression in lMAN, but significant sex differences were not detected via in situ hybridization. The results from these five genes thus might reflect either a generalized increase in males, or stem from specific, functional increases in regions of males outside of the song control system.
The other six genes appear important for the song system specifically, since expression was higher in song system nuclei relative to surrounding tissue. Importantly, sexually dimorphic expression of each of these genes is localized to particular brain areas. For example, while some mRNA was detected outside of the song nuclei, expression of all six was clearly enhanced in lMAN compared to neighboring tissue, yet significant sex differences within lMAN existed for only half of them. Similarly, five of the genes showed increased expression in Area X compared to the surrounding tissue, and of these, four exhibited significantly greater expression in males than females while one did not. If one considers the six individual genes across the four song nuclei investigated, not one of them showed sexually dimorphic expression in all of the areas (see Table 3). These indications of specificity imply restricted functions, and the pattern of expression provides some clues as to the details regarding mechanism.
Conclusion
The present study identified more than 2400 putative genes with sex differences in expression across multiple ages in zebra finches; of a subset analyzed with qPCR, 12 mRNAs (2 of them representing the same gene) with substantially greater expression in males were validated using qPCR. Sex differences in mRNA expression for six were localized to one or more song control regions. The patterns of gene expression were not uniform across the song system, which allowed the formulation of some hypotheses regarding the function of these genes. In particular, we have identified genes that may facilitate cell incorporation and cell survival, or that may enhance or maintain learning and memory circuitry. As all are located on the Z-chromosome, they have the potential to be early players in the cascade of events causing masculinization of the structure and/or function of the song system. Future studies will focus on the mechanisms through which that occurs, including whether and how they may alter the way the brain responds to steroid hormones in the sexual differentiation process.
Declarations
Acknowledgements
We are indebted to Art Arnold for participation in development of the array portion of the study, and to Yong-Hwan Kim from the Arnold lab for collecting the tissue used in those hybridizations (supported by NIH R01-DC000217). We would like to thank Yu Ping Tang for assistance with in situ hybridization. This research was supported by NIH R01-MH55488 and K02-MH65907 (JW), NIH R01-NS045264 (DFC), and USDA NRI 2005-35604-15628 and Project MICL 01822 from the Michigan Agricultural Research Station (RJT).
Authors' Affiliations
(1)
Department of Psychology & Program in Neuroscience, Michigan State University, East Lansing, USA
(2)
Department of Zoology, Michigan State University, East Lansing, USA
(3)
Department of Cell and Developmental Biology, Institute for Genomic Biology, Neuroscience Program, University of Illinois, Urbana-Champaign, USA
(4)
Department of Animal Science, Michigan State University, East Lansing, USA
(5)
Department of Psychology, Wayne State University, Detroit, United States
Copyright
© Tomaszycki et al; licensee BioMed Central Ltd. 2009
This article is published under license to BioMed Central Ltd. This is an Open Access article distributed under the terms of the Creative Commons Attribution License (http://creativecommons.org/licenses/by/2.0), which permits unrestricted use, distribution, and reproduction in any medium, provided the original work is properly cited.