I1 The Neapolitan Brain Group
M. Cataldi1, E. Di Schiavi2, C. Lucini3, E. Del Giudice4
1Department of Neuroscience, University of Naples "Federico II", Napoli, Italy; 2Institute of Bioscience and BioResources, IBBR, CNR, Napoli, Italy; 3Department of Veterinary Medicine and Animal Productions, University of Naples "Federico II", Napoli, Italy; 4Department of Translational Medicine, Section of Pediatrics, University of Naples "Federico II", Napoli, Italy
Correspondence: E. Del Giudice (endelgiu@unina.it)
BMC Neuroscience 2018, 19(suppl 3):I1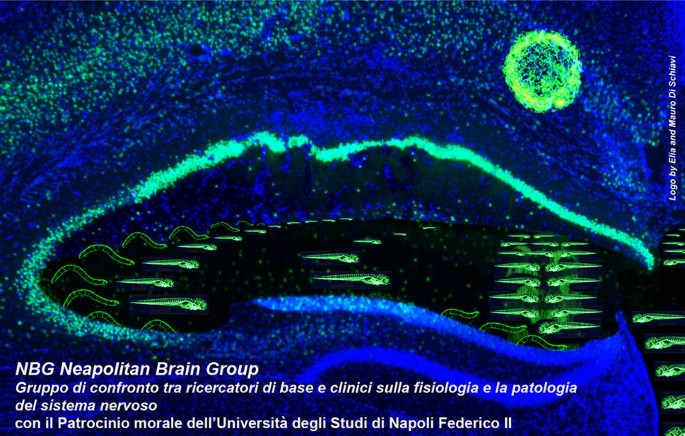 The Neapolitan Brain Group (NBG) is a discussion group including basic and clinical researchers of the Campania area (and, more generally, Southern Italy), interested in the study of the physiology and the pathophysiology of the diseases of the nervous system. The group was founded in 2015 by Professor Ennio Del Giudice of the University of Naples Federico II, Department of Translational Medical Sciences (Section of Pediatrics).
The group wants to provide an opportunity to meet, in an informal atmosphere, scientists from clinical and basic research who wish to improve their mutual knowledge and, as far as possible, explore fruitful collaborations.
NBG is open to all those who are interested in clinical and basic neurosciences, in particular young training people, such as doctoral students, postdocs, post-graduates, students and trainees of universities and other research institutions.
On June 4, 2015, February 4 and April 28, 2016 and December 15, 2016, the first five meetings were held with short communications, while on June 9, 2016 a monothematic meeting for general interest was organized on "Molecular, pathophysiological and clinical mechanisms in the neuroprotection of neonatal hypoxia ". In these meetings more than 90 scientists presented their research projects: among them basic and clinical researchers, PhD students, postdocs and specialists from all the Universities of Campania as well as from research Institutions such as CNR, TIGEM, SZN and CEINGE.
The NBG past meeting organizers were: Ennio Del Giudice (endelgiu@unina.it), Carla Lucini (carla.lucini@unina.it), Mauro Cataldi (mauro.cataldi@unina.it), Elia Di Schiavi (elia.dischiavi@ibbr.cnr.it).
Acknowledgements
The organizers wish to thank the SZN President Roberto Danovaro for kindly accepting to host the meeting and for supporting it, the Italian Society for Neuroscience (SINS) and "University of Naples Federico II" for patronage, Dr. Graziano Fiorito (SZN, Napoli) for support, the sponsors for coffee and lunch breaks and the precious collaboration of the Scientific Committee, in particular the external reviewers for selecting the abstracts: A. Cellerino (Scuola Normale Superiore di Pisa), E.M. Valente (Università di Pavia), M.A. Hilliard (QBI, Australia).
The Abstracts are presented on behalf of the Neapolitan Brain Group (NBG).
Further information about the conference
For more information please visit:
[http://www.neapolitanbraingroup.it/]